Working It: How Kathleen Parrish Recovered From a Suicide Attempt and Became the Architect of Her Reality
Too often we hear from people who are worried that they can't achieve their dreams or have a successful career because of their mental health issues. We hope our "Working It" interview series proves that it's possible to do that and so much more.
You can read previous interviews here.
TWLOHA: For our readers who aren't familiar with you or your work, can you tell us a little about who you are and what you do?
KATHLEEN: I'm a musician, artist, and writer. I find great importance in advocacy work with eating disorders and self-harm. My music often reflects my own struggle with depression and overcoming bulimia.
TWLOHA: How does mental illness affect your life and work?
KATHLEEN: Mental illness plays a huge role in my life! Aside from depression and bulimia, I deal with depersonalization. This often makes being in my surroundings hazy and, though it may seem positive, it prompts me to turn off my emotions. While it can be useful, a build up of this over time can trigger panic attacks and make it difficult to create, work, or express how I'm feeling.
TWLOHA: Do you ever feel wary about speaking so openly your mental health? If so, why did you decide to do so anyway?  
KATHLEEN: I do. I've been open about most of my mental health history as I feel it's important for those currently suffering or looking for help to see that it's possible to obtain and overcome or manage their mental illnesses. This said, I've faced a lot of preconceived notions about who I am from people reading my articles or those who know of me, but don't know me. You never know who's going to be comfortable with hearing about mental health, but that's exactly the reason I feel it should be discussed more in our society. Those living with it need to feel comfortable saying, "You know what, today is really hard but I'm going to try—and that's a step for me" and recognize their little victories along the way.
TWLOHA: What would you tell someone who doesn't think they can manage their own schedule or support themselves while dealing with mental illness?
KATHLEEN: I think routine is important and has been helpful for me. For a time leading up to and after my suicide attempt, I found it difficult to manage daily tasks and my health. Making a list of a few things to accomplish each day, even if there's only one thing on it for a while, was very helpful for me and encouraged me to manage my time to fit that task in. I understand we all want to be independent, and it can be scary reaching out, but supporting yourself through severe mental illness is not possible in my opinion and is why it's crucial to reach out to therapists, friends, family, and hotlines that can offer advice, solutions you may have not thought of, and ears to vent to.
TWLOHA: What inspired you to write your latest single, Architect of Reality? Can you talk about your process with making that song?
KATHLEEN: I was hospitalized last New Years for attempting suicide. At the time, I had been going through a terrible breakup followed by months of increased emotional abuse. His behavior of leaving me and coming back, going silent on me for days or weeks in our shared home, causing financial crises, and then showing extreme affection left me in constant confusion and desperately seeking his affection.
After my suicide attempt, I enrolled in therapy as well as treatment for my bulimia/anorexia (it had re-emerged due to stress and emotional trauma from the breakup and emotional abuse). "Architect of Reality" was drafted on a trip I took to England he was meant to accompany me on. I felt it was finally time for me to move forward and craft my own future. The track has been such an evolution of myself from my suicide attempt and the treatment I allowed to now. My journey wasn't meant to end with my suicide attempt and embracing the fear of the unknown has been the greatest achievement I've made through this chapter of my life.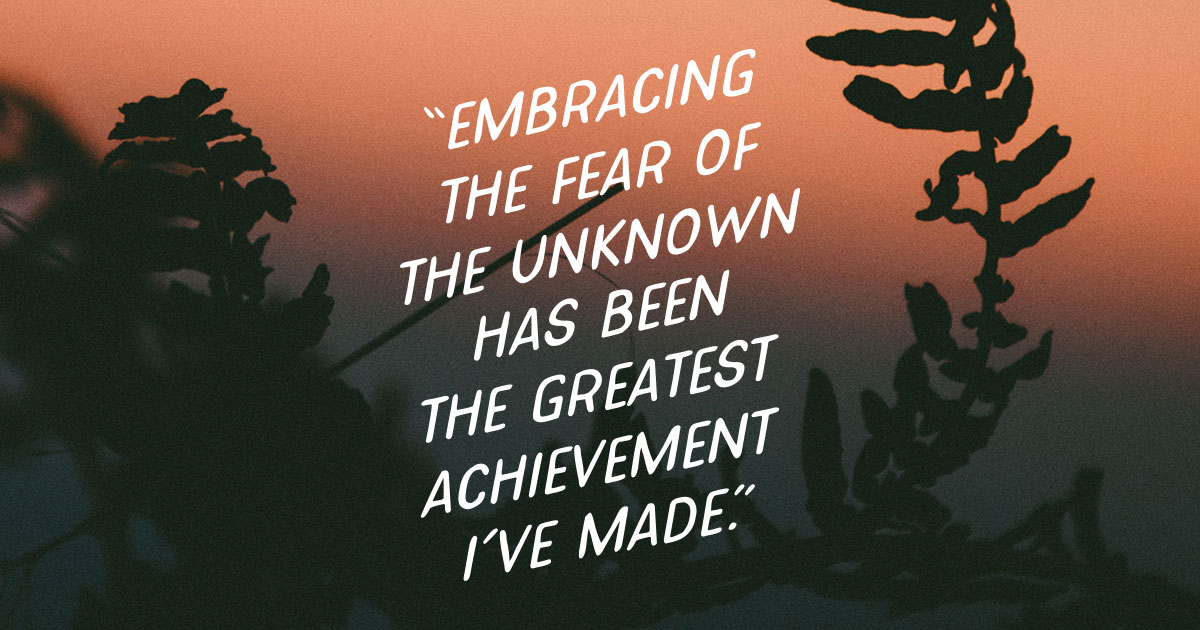 TWLOHA: Finally, is there anything you wish someone would have told you when you were struggling? Or something you'd like to share with our readers who are struggling right now?
KATHLEEN: I couldn't envision a life any different than a major depressive hell, which is why I tried to end my life; I was wrong. It's not that I wish someone would have told me something, because there were many great pieces of advice given to me when I was struggling at my worst. It's that I wish I listened. People told me that they understand I can't hear them right now, but with the right resources, time, and effort, it will get better. I didn't listen.
Slowly over time though, I began to regain that energy to eat, to shower, to socialize, to be creative. Then I gained the energy to find a therapist, because if you have mental illness, you know that's exhausting in and of itself. From there, I've had help, and I've finally arrived at the point everyone around me told me would happen but I couldn't see at the beginning.
I think the reality that we're all afraid to accept is depression and mental illness are terrible, but that doesn't mean things can't be altered or learnt over time. It doesn't mean it's the end or that you'll always feel this way. I'm still diagnosed with major depressive disorder, bulimia, and depersonalization, but my quality of life is miles better than it was a year ago. I can laugh, see friends, eat, shower, create; I can also have days that are incredibly tough to manage, but I push through because I know with even more time and effort it will only continue to get better until maybe someday I don't deal with these mental illnesses anymore. I encourage those struggling to seek help. I know, I know from the bottom of my heart and soul it is hard, it can be embarrassing; but it is worth it.
If you're interested in connecting with Kathleen, you can visit her website and follow her on Instagram.