Know the Signs
|

Ask the Questions

One of the most frequent questions we receive is "how do I know if someone is struggling?" There may not always be clear and obvious signs that someone is having suicidal thoughts, so it's important to understand what behaviors, changes, or situations might suggest someone is at risk.

Today, at the start of National Suicide Prevention Week, we're asking you to visit the American Foundation For Suicide Prevention website to learn the risk factors for suicide. You can also share the warning signs on social media with the graphic below.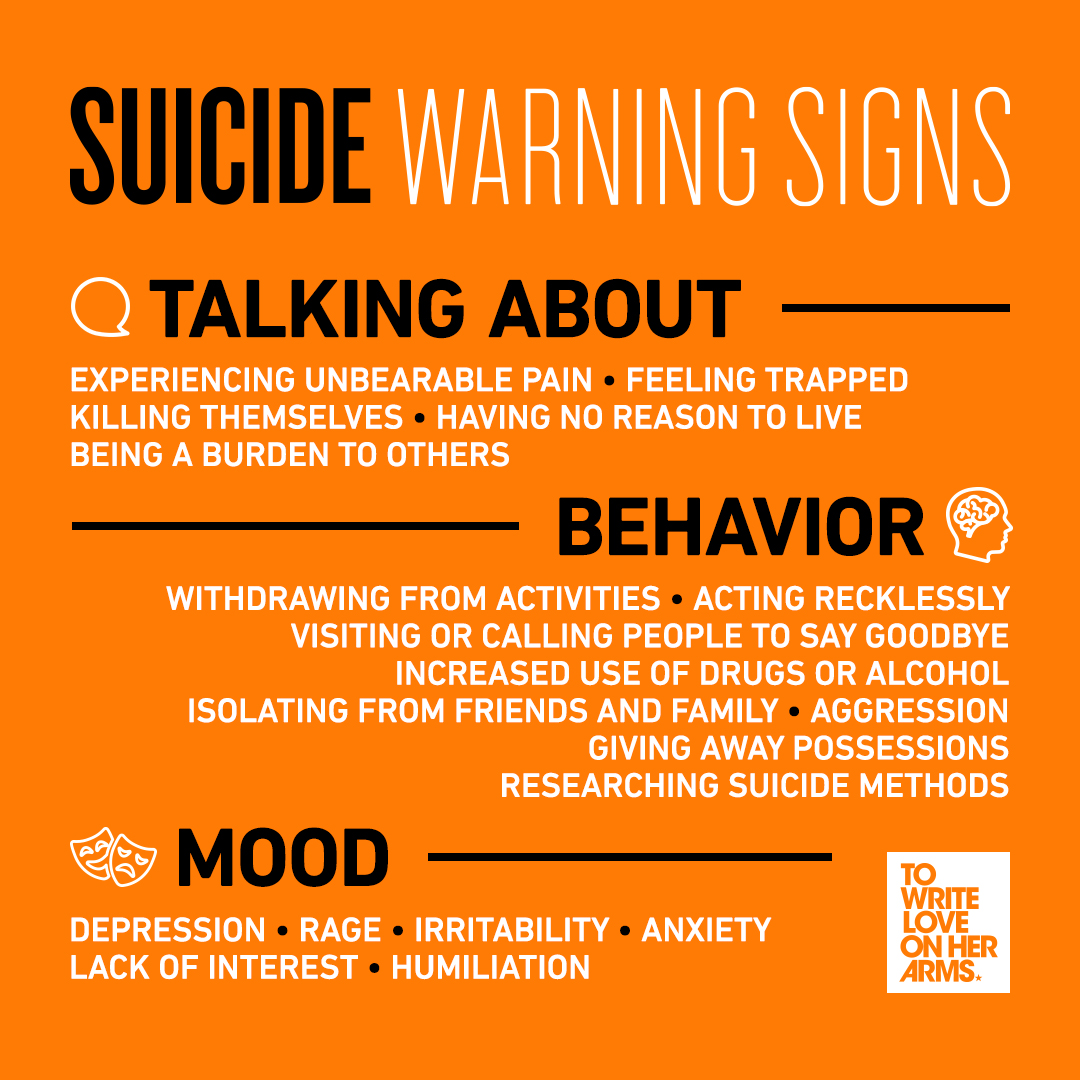 If someone you know is exhibiting some or all of the warning signs, don't be afraid to ask the hard questions:
Are you thinking of hurting yourself?
Are you thinking of taking your own life?
It can be intimidating and awkward to ask these types of questions, but it's important to be direct and allow for the space for someone to share. Contrary to popular belief, your questioning won't increase someone's chance of suicide. Instead, it'll give them the opportunity to open up about how they're feeling.
If a conversation indicates someone is having suicidal thoughts, it's important to reach out for professional help immediately. You can call 1-800-273-TALK or 911 if it is an emergency.
REMOVING LETHAL MEANS CAN SAVE A LIFE
Suicide by firearm accounts for nearly two of every three gun deaths in the United States—that's 21,000 Americans who die each year. Removing access to a gun for someone who is suicidal can be the difference between life and death.
Approximately 90% of people who attempt suicide with a gun will die. In contrast, over 90% of those who attempt suicide by other methods will live, and they are unlikely to attempt suicide again. This is not because gun users are more suicidal, or more mentally ill. It is because guns are more lethal than any other method of self-harm.
You can learn more here.