This piece mentions the topics of suicide and suicidal thoughts. Please use your discretion.
Today I thought about the ways I could kill myself. A mental list formed in my mind. I have tried many times before and I know the outcome of doing this. But still, my mind veered in this direction once again.
As I sat there contemplating if I would be missed and how people would react, I started replaying the moments after waking up in the hospital. The way my mother's eyes looked so exhausted and empty as she had to yet again pack me a bag, making sure to check my sweatpants and hoodies for strings. I remembered the times I caused my older brother to cry because he couldn't stand to see me destroy myself. I replayed the conversation I had with my mother when she told me she was terrified to leave the house because she feared coming home to find I hadn't survived another attempt. The next thoughts to occupy my mind were how my dog, cat, and other pets need their mother and someday I might have children who depend on me to stay alive now so that I can someday welcome them into this world.
I can't leave now when there is so much left to see, experience, and become.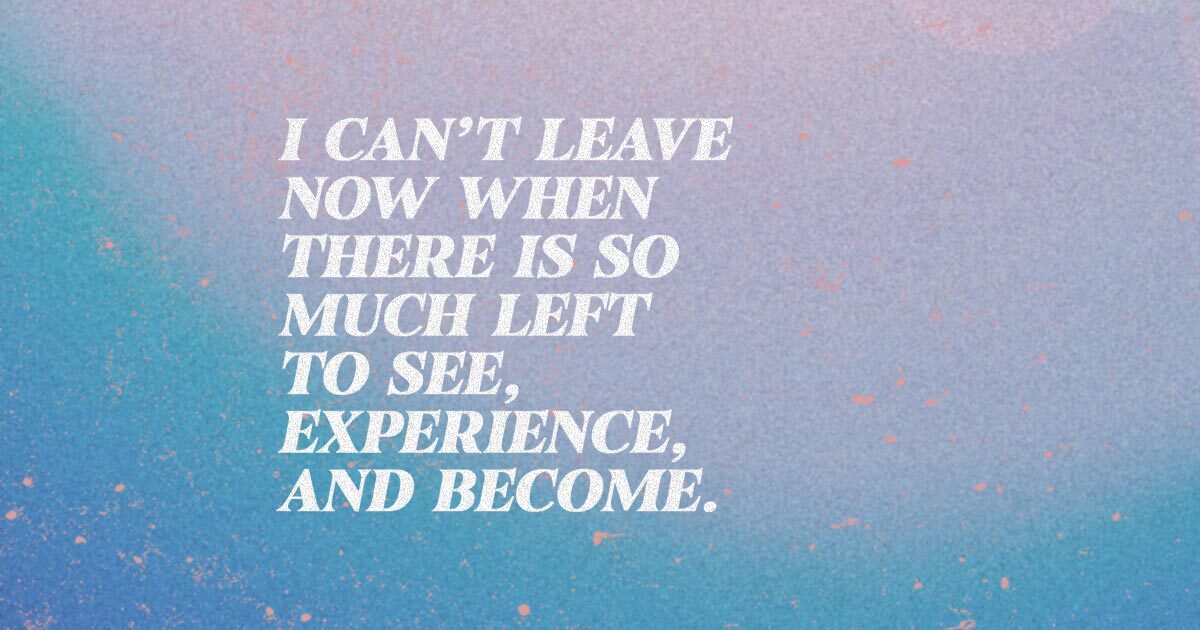 I was always told to never make a person or another living being your reason to stay but from personal experience, I disagree. Some days my reason to stop making that mental list is that my girlfriend has made plans for us after she gets off work and the excitement to see her keeps me here. I want to stay so I can witness what will become of the life we are creating. My best friend is another reason I stay. Watching her life bloom and her kids grow up is worth fighting another day for. And since adopting him back in February, my dog has been a reason. He needs me here, alive so I can take him on walks and mix new foods to put in his Kong. Other days, my reason is my plants or my cat, gerbil, and fish.
When I'm caught in the darkest depths and making that mental list, I try to remember the words of a poem my grandfather wrote for me. "He wants to take all hurt away… give you joy and peace for every day." I know my grandfather would want me to stay strong and alive.
In all my years in and out of therapy, one thing that has stuck with me the most is the description a therapist gave me of Dialectical Behavior Therapy (DBT)—that the whole point of it is to create a life worth living. It's what I strive for every day by putting a halt to that mental list. I cannot control the hand life dealt me but I can control how I respond.
Every day I put those thoughts to the back of my mind, I win.
Every day I pick a reason to keep breathing, I win.
It's time I start my day by creating new lists… A list of how I think my life may go, of plants I want to nurture, of recipes to try and foods to recreate, of ways to decorate my future home or names for future children, and how I am going to make this life amazing. It's time that I wake up in the morning feeling like my life is truly worth living.
---
Whatever you are facing, there is always hope. And we will hold on to hope until you're able to grasp it yourself. If you're thinking about suicide, we encourage you to use TWLOHA's FIND HELP Tool to locate professional help and to read more stories like this one here. If you reside outside of the US, please browse our growing International Resources database. You can also text TWLOHA to 741741 to be connected for free, 24/7 to a trained Crisis Text Line counselor.