I've just recently accepted that I will be falling in love with a woman. Being a now openly gay female, the way I was born to love is immediately put into question. My sexuality embellishes me with flashing caution lights. "Hold up, is she still allowed to feel and accept love? I think we may need to reconsider…" Coming to the realization that you're gay is an experience brimming with every emotion imaginable, and for one of those emotions to be instantly jeopardized by the opinions and views of others can really unhinge you.
We're taught by the world at a young age that love only comes in so many forms, so when we're faced with this feeling that our love is different, our initial instinct is to second guess it. I've spent time wondering what makes my love so vastly "different" in comparison, and I've come to the not-so-shocking conclusion that… it's not. I am overflowing with love to give. To my family, my friends, my future wife. I deserve to give myself to the people I love in full and not be told the way I share or experience my love is wrong or invalid.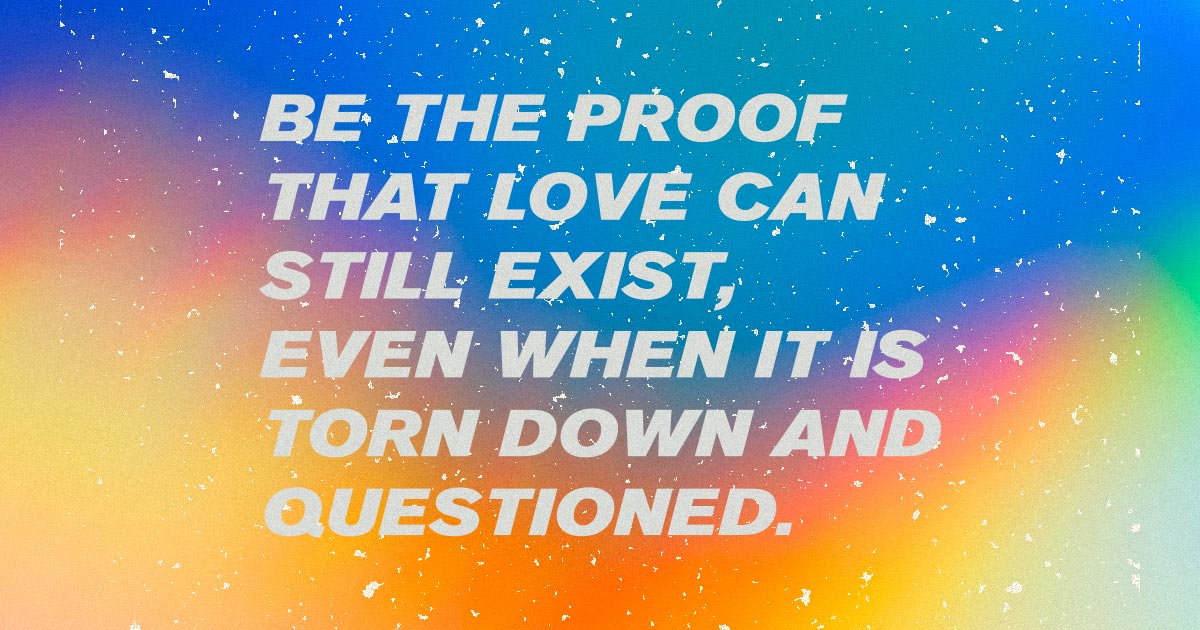 I have been surrounded by heteronormative relationships my whole life, and being able to finally witness the beauty found in a homosexual partnership truly empowered me to embrace the love I have to offer to the world. I want to present the way I get to love with pride. I want to be a living example to those questioning their own sexuality that their love cannot be diminished. To say that their love matters. I get the chance to show how freeing it is to be authentically yourself, to stand boldly in front of the disapproval we're often met with. There is no point in wasting your energy trying to be someone you're not.
Giving myself the opportunity to love and love deeply has been the gateway to me being more open and honest and unapologetically gay. There have been many times when being queer has left me confused and angry, but countless more times I have been left breathless by the support I have witnessed and received. There are far more people in this world on your side wanting you to know and be yourself. And far more people who eagerly and proudly want to celebrate with you.
Claim the love that is rightfully yours. Sometimes, when everything feels like it is failing, all we can do is be the proof that love can still exist, even when it is torn down and questioned. If you're someone who is currently struggling with their sexuality, know you are not alone. You are loved. Your love matters. And I can't wait to celebrate with you.