I reached five years of being self-harm free this past October. It was a milestone that often seemed impossible to achieve. There were so many times where I thought I would reach it, only to fall back to square one.
43 days.
3 days.
100 days.
21 days.
137 days.
Progress would be made, and in a split second, I'd be right back where I started. Frustration, anger, and confusion would soon follow.
Self-harm is a struggle often misunderstood, seen as being shameful, but finding even just one person to lean into when I felt the urge to hurt myself was essential to my healing. Vulnerability is terrifying, but I had to keep reminding myself that I needed people to stand beside me. People who could catch me when I fell. People to remind me that, contrary to what my mind was telling me, I deserved healing. I deserved love. I deserved freedom. I deserved to try and try again.
If you're facing your own battle with self-harm, I want you to know that it's OK if you relapse. It's OK if the urge is too strong. But also know that it's never too late. You are never too far gone. It is possible to get back up and keep moving forward. I've been in your shoes. I've sat on my bed feeling lost, hopeless, broken, angry. I've cried thinking of those I'd be letting down if they found out. I've had countless arguments with myself about whether or not to give up on the number of days I'd gone without.
The beginning of my journey toward healing held many ups and downs. I repeatedly felt as if I was finally breaking free from this kryptonite of mine only to stumble back to it. But as I continued to lean into those key people in my life, I was able to not only let them fight for me but more importantly, learn to fight for myself as well.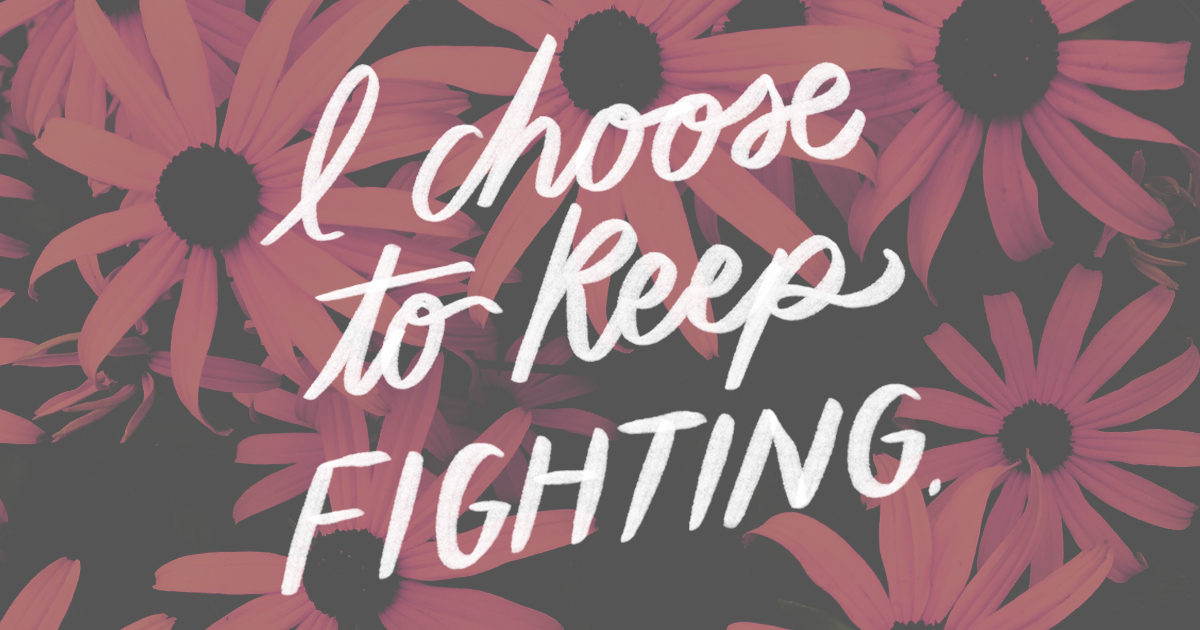 I found solace and relief in other ways, too. Music became a safe haven. I'd lay in my bed and listen to songs that made me less alone. I'd go for walks. I'd force myself to simply leave my bedroom and sit in the living room watching TV with others, just so I wasn't stuck ruminating on all the bad and overwhelming thoughts filling my head.
There were times I would ask a friend to go for coffee or run to Walmart—simply so I wasn't alone. Times where I'd write and let my thoughts flow out through a pen and onto paper. Other times I'd allow my head and body to rest from the chaos by taking a nap. I would also count. Count each day that would pass where I hadn't hurt myself, aiming for small milestones, and celebrating the small victories with loved ones. Five days, a week, a month, 50 days, 100 days, and so on. Sure, I aimed for the same numbers over and over at the start of my journey, but they were milestones all the same. And the times when none of those options were helpful, I would instead reach out to a helpline, the stranger on the other end guiding me through what I was feeling.
The journey to healing is a long one. It's hard and frustrating and exhausting. There are days where recovery feels impossible, days where you want to give up. But when you find your mind playing tricks on you, find something or someone to help clear out the storm clouds and guide you back to the life that sits eagerly before you. The life you are still writing. The life that holds possibilities. The life that longs for you to discover your path—the people you will meet along the way, the adventures you will go on, and the memories you will make.
My road to recovery may never be over. I still have scars. I still have hard days. I still consider going back to self-harm just to get through tough times. But even through these difficult moments, I choose to keep fighting. I go to counseling. I lean on people when I need help standing. I turn up the music and wait for the moment to pass. I keep moving forward.