Mental Illness Awareness Week spans from October 6-12. Within that time frame, the entire globe also observes World Mental Health Day on Thursday, October 10. A full week dedicated to learning about mental illness and sharing invaluable information and resources. A whole day, recognized by everyone around the world, spent talking about our mental health and sharing our journeys despite the stigma that still exists.
Although these weeks and days are powerful and far-reaching, our mental health does not designate itself to a single time slot. Struggles like depression, anxiety, addiction, and bipolar disorder pay no mind to the date; they don't abide by calendars or schedules. So while we are eager to participate in and grateful for these days to shed light on the topic of mental illness on a global scale, we know that your challenges neither start nor stop here. It is our hope that this week as we talk, educate, and share, you and so many others will be encouraged and inspired to keep mental health, your mental health, at the forefront no matter what day it is.
Because we believe: You matter. Your story matters. It is okay to talk about your struggles. It is okay to ask for help.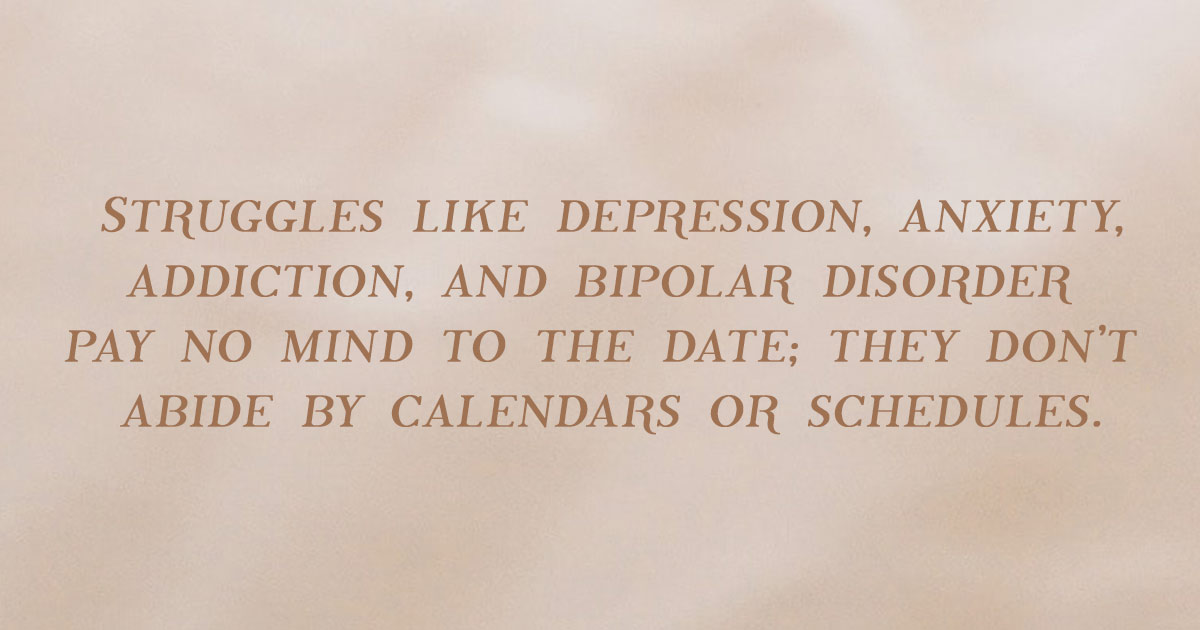 Here are some ways for you to participate this week and well into the future:
This Is My Brave Chat
We know that sharing your journey and how it relates to mental health often requires bravery and courage. That's why our friends at This Is My Brave and Crisis Text Line are hosting a Twitter chat on Wednesday, October 9 at 2 pm ET! We invite you to join us as we help to create a safe and supportive space for people to ask questions and talk about the challenges they face when it comes to mental illness. You can follow along or be part of the conversation by using the hashtag #BraveChat.
Mental Health Screenings
Although placing a label on our struggles can feel intimidating and sometimes daunting, we believe that having a potential diagnosis can lead to someone seeking out and accessing the tools and resources that will help them address and care for their specific illness.
Thanks to Mental Health America, you can take a mental health screening, for a variety of issues, for absolutely free.
Mental Health America's "7 Days, 7 Ways"
Throughout Mental Illness Awareness Week, MHA is looking to educate people on a variety of mental illnesses by spotlighting a specific illness each day throughout the week.
Day 1: Anxiety
"To be diagnosed with an anxiety disorder, a person would worry much more than is normally expected and they spend much of their time bothered by their worry."
Day 2: Bipolar Disorder
"People with bipolar disorder experience extended periods of extreme high energy and mood called mania, and extended periods of extreme low energy and mood called depression."
Day 3: Psychosis
"Psychosis is a general term to describe a set of symptoms of mental illnesses that result in strange or bizarre thinking, perceptions (sight, sound), behaviors, and emotions."
Day 4: Eating Disorders
"Eating disorders, including anorexia nervosa, bulimia nervosa, binge eating disorder and OSFED (other specified feeding or eating disorder), are bio-psycho-social diseases—not fads, phases or lifestyle choices."
Day 5: Depression
"Globally, more than 300 million people of all ages experience depression."
Day 6: PTSD
"PTSD is a mental health condition that can occur as a response to experiencing or witnessing a traumatic event. PTSD is not limited to individuals who have witnessed combat."
Day 7: Addiction + Substance Use Disorder
"Substance abuse affects an estimated 25 million Americans. The increasing use of drugs and drinking can come with serious risk and devastating consequences."
Share Your Story
At TWLOHA, storytelling plays a major role in who we are and what we do. That's why we're encouraging you to share your mental health story—this can even include the future chapters you're hopeful for! You can journal, send it as a letter to a trusted friend, email our team at [email protected], or even post it to your personal blog or share it on social media and tag us (@twloha).
Connect to Help
No matter what you're facing, you deserve to be connected to help. We want you to know that people have been where you are now. Things can get better. Healing is possible.
Whether you are searching for yourself, a friend/family member, or you simply want to be aware of what is available locally, we invite you to use the FIND HELP Tool to search for options in the U.S. or to visit our collection of international resources.