It took me a long time to embrace the ugly side of self-care. I'm a perfectionist at heart, so whenever I'm not at my best, I consider it a failure. But after a good, hard look, I'm realizing that those moments when I think I'm just giving up and giving way to brokenness, are actually opportunities for self-care and grace.
But not the type of self-care we've come to know. It's not just about using face creams to achieve glowing skin or movie nights with your best friend. Sometimes it's putting down your work and sobbing at your desk. Sometimes it's calling it an early night just so you can curl up in bed and watch Vine compilations. And sometimes it looks like laying on the floor and playing the same song on repeat until you feel like you can breathe again.
We can't always be at peak performance. We are human beings; we get burnt out and drained. We need to rest before we can run. Self-care is the choice to pause. It is the choice to rest for a moment and tend to the tired parts of yourself that are in need of love and nourishment. That can look like a regimen, a regularly scheduled routine to maintain your body and soul. But sometimes, we need to do a spot treatment. If one particular need is not being met, self-care is attending to that one thing.
I am trying to be more patient when my body or my heart tell me that I need to pause.  As a chronic overachiever, I am used to going, going, going, and working nonstop—I'm always doing something. I set next-to-impossible expectations for myself and then feel completely pathetic when I don't meet those expectations. But the reality is, I'm a messy, clunky, and complicated being. I have an array of parts that work together, so if one of those parts is in need of help, the others must wait until it can catch up.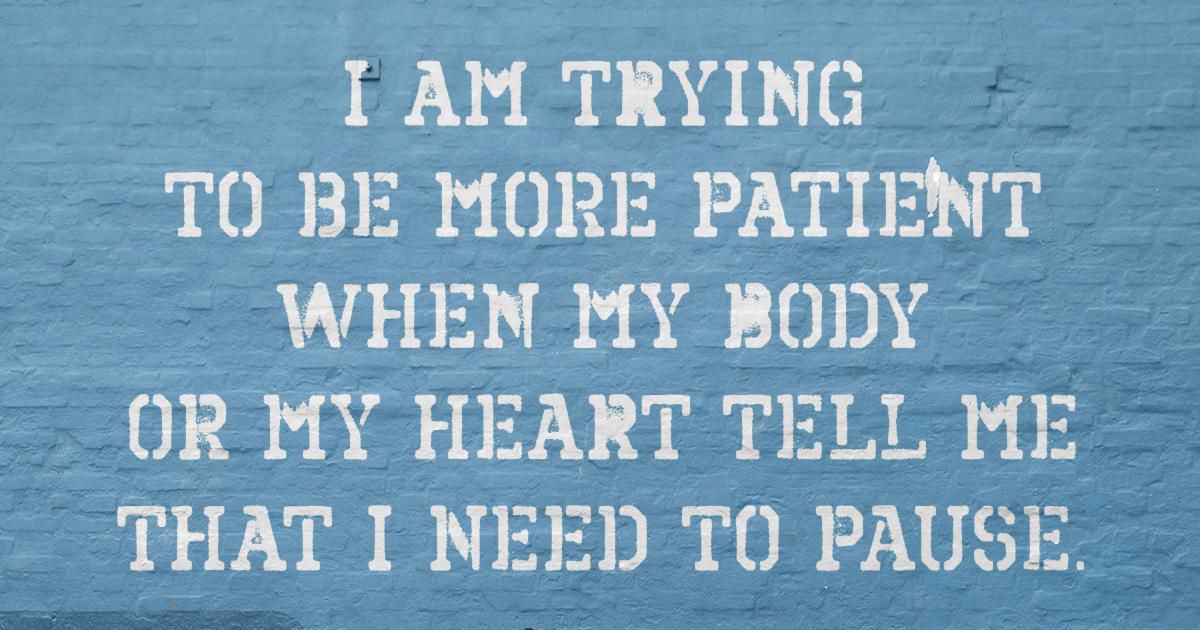 So when my brain acts up and the slightest mishap causes me to burst into tears, I give myself permission to hide in my room and watch videos for an hour. I give myself permission to press the pause button until I feel more rational. And when my workload piles up into an intimidating tower that's demanding my attention, but I've had a rough and painful day, I leave it and cry for a bit.
We are allowed to step away. We are allowed to feel our emotions—even the uncomfortable ones. Contrary to popular belief, we are not failing to rise to the challenge that is life; we are simply preparing ourselves to meet it. We are not running away from difficulties—we are giving ourselves the best chance of overcoming them.
There's nothing wrong with the more aesthetically-pleasing side of self-care. Doing a face mask once a week to help quell my rampant acne is definitely a meaningful part of how I take care of myself. And routine self-care is essential—like taking my medications every day so that my body can function properly. But what I am teaching myself is how to practice the pause, and to recognize that self-care comes in many forms. It's not always scheduled or "fun." Sometimes it's the recognition that I need something else, or that my body and my heart are not failures because they have needs.
We are worthy of time. We are worthy of attention. But it is only us who can give and provide that self-care.