This post talks about gun violence and the school shooting that took place at Robb Elementary in Uvalde in 2022 from the perspective of a Texas licensed counselor. Please use your discretion.
Every week, I visit the laundromat on Tuesday mornings. I tend to call my mom on the way, our chance at a few minutes of a weekly catch-up. I live on the opposite side of Texas from the rest of my family. Over 300 miles of I-35 construction zones separate Dallas Fort Worth from Hondo, where my family calls home. I do more listening than talking, letting her go on about work and what my siblings are up to. As a counselor, it's not like I can share much about my work, anyways.
Tuesday, May 24, 2022, is no different. I call my mother. She's updating me on end-of-school plans for my youngest brother, a fourth grader. The call is ordinary, albeit short, and then it's over. I get my laundry loaded into the machine and go to my car to sit and wait.
It's then that this ordinary Tuesday becomes anything but.
DING. I look at my phone. Rarely is my volume on, but for some reason, today it is. It's my sister in our family group chat. I swipe open. Active school shooter warning in Uvalde, the hospital is sending AMBUS. My sister works at Medina Regional Hospital in Hondo. I have to mute the chat as texts start pouring in from my parents and siblings—all questions, no real answers. Any injuries? How many shooters? Any updates? A throbbing lump sits in my chest as I focus on my laundry. Morning becomes afternoon, and afternoon becomes evening. The grisly details slowly emerge from Robb Elementary School in Uvalde, TX. 21 dead: 2 teachers and 19 fourth graders, slayed in the gunfire of an 18-year-old with an AR-15-style rifle. 
The next few days are a blur. I go to work Tuesday night in a state of numbness, desperate for something to feel "normal" in this state of shock. I show up again to work on Wednesday, not sure what to expect as I sit with counseling clients for the first time since the news broke. As a counselor in a comprehensive homeless program in DFW, I try to help my clients process this violence. Clients who do not know that area of South Texas is my home. Clients who do not know my brother is a fourth grader in elementary school 40 miles up Hwy 90 from the shooting. Clients who do not know that all I can think about are those children—some so riddled with bullet holes they needed DNA to identify them. My heart is broken. How could something so tragic happen so close to home? 
---
In the aftermath of the Robb Elementary shooting, mental health reform became a topic of interest. According to the National Alliance on Mental Illness (NAMI), 314,000 Texans aged 12–17 have depression. Almost 65% of those Texas teens did not receive any care in the last year. As a counselor, I began to question how I could help in the wake of such a tragedy. However, I knew I was unable to provide proper counseling services to the community. As a monolinguistic English-speaking caucasian woman, my cultural values and beliefs are not relatable to the predominantly Latinx community. You see, rural communities such as Uvalde face even more difficulties regarding access to mental health care than other areas of Texas: fewer available providers, increased time/cost associated with travel to mental health services, and lack of cultural awareness by mental health professionals.
Helping rural communities better access mental health care is anything but simple.
While the COVID-19 pandemic has skyrocketed the availability of telehealth counseling sessions, many rural communities do not have the internet capabilities needed to access these services. The field of counseling itself is built on the theories of predominately white men, and the cost of becoming a counselor (Texas requires a Master's Degree for licensure, on top of licensing fees and continued education costs post-licensure) prevents many low-income individuals from gaining licensure. This further increases the disparity of representation for minorities seeking services. Additionally, the lethal intersection of mental health and gun violence cannot be resolved with one single solution. Legal action aimed at reducing this tragic type of mass violence must be taken at both the state and federal levels, as increased mental health care access does not automatically decrease gun violence. Gun regulation and increased access to affordable, multicultural mental health care are both key players in helping to prevent future tragedies such as Robb Elementary.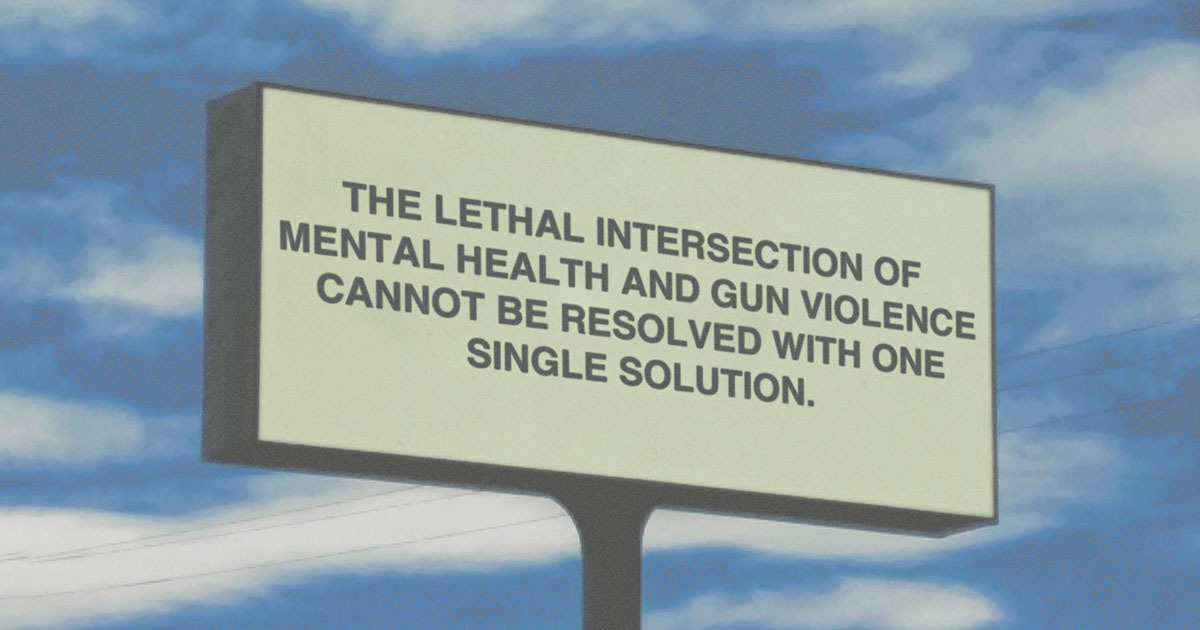 On a national scale, an increase in violent events has impacted and is impacting the mental health of all communities. Across the United States, mental health providers have seen a rise in the demand for services related to gun violence. Students as young as preschool age and educators now partake in active shooter drills in the classroom. The growing frequency of these drills has contributed to increasing mental health concerns among youth. According to the American Psychological Association (APA), the students and teachers who have survived and endured such terrible tragedies display a documented increase in post-traumatic stress disorder (PTSD), substance abuse, depression, and anxiety. Even just media exposure to mass violence can lead those not directly affected by certain events to experience a rise in symptoms as it relates to their mental well-being. Research is also being done on the impact of mass firearm violence related to racial/hate crimes. And while studies continue to grow, the full intersectionality of gun violence and mental health has yet to be fully explored.
---
During a recent visit to the memorial that currently stands at Robb Elementary, I felt an eerie chill. The grass has grown tall around the swingsets. The gifts left behind are weathered and aged. Windows are boarded up. Time has stood still, yet nothing is the same. 21 families will never be the same, even as the rest of the world moves on.
Tomorrow can't be when things change. Tomorrow is too late. I don't know how, but it has to be today.
We remember: Makenna Lee Elrod; Layla Salazar; Maranda Mathis; Nevaeh Bravo; Jose Manuel Flores Jr.; Xavier Lopez; Tess Marie Mata; Rojelio Torres; Eliahna "Ellie" Amyah Garcia; Eliahna A. Torres; Annabell Guadalupe Rodriguez; Jackie Cazares; Uziyah Garcia; Jayce Carmelo Luevanos; Maite Yuleana Rodriguez; Jailah Nicole Silguero; Amerie Jo Garza; Alexandria "Lexi" Aniyah Rubio; Alithia Ramirez; Irma Garcia; Eva Mireles.