Too often we hear from people who are worried that they can't achieve their dreams or have a successful career because of their mental health issues. We hope our "Working It" interview series proves that it's possible to do that and so much more.
You can read previous interviews here.
TWLOHA: For our readers who aren't familiar with you or your work, can you tell us a little about who you are and what you do?
AMANDA: Hello! My name is Amanda Lovelace. I'm a poet and an author. My first collection, the princess saves herself in this one, is a book of memoir poetry that tells my life story from childhood through the beginnings of young adulthood. It won the 2016 Goodreads Choice Award for Best Poetry, and it is also a USA Today and Publishers Weekly bestseller.
My newest poetry collection, the witch doesn't burn in this one, came out this past March. To put it simply, it's about the way I view the struggle of women under the patriarchy with a focus on abuse and sexual violence.
My next poetry collection, to make monsters out of girls, will release on September 18th, 2018. It's about an abusive relationship and its aftermath.
TWLOHA: How does mental illness affect your life and work?
AMANDA: Mental illness works almost hand in hand with my work, being that I'm a poet. No matter what the piece is about, it's always through the lens of someone with a mental illness. However, my mental illness sometimes works against me; it's been known to drain me of my inspiration as well as my motivation. Some days are good, some days not so good. Over the years, I've learned how to tell when pushing myself is self-care and when it is, in fact, self-harm, and how no amount of productivity is worth the impact of the latter.
TWLOHA: You often speak and write candidly about your mental illness. Have you ever felt wary when sharing your struggles? If so, what pushed you to do so anyway?
AMANDA: Sometimes.
As a society, we have come a long way in the understanding of mental illness, but there still exists a major stigma that always makes me think twice before being too forward about my MI. That's why, especially in princess, I chose to speak about some of my experiences a little less candidly, opting for metaphors instead. It felt safer. It was like I was making confessions without actually making them. I knew only the people who experienced the same things as me would understand, and that was enough.
There's a quote in princess that goes, "silence has always been my loudest scream." That scream lying dormant in me is why I had to do it regardless of my fears. No one should have to live their life in silence because they're scared of being invalidated. Even when every voice is giving you pushback, there is always—and I mean always—someone out there who understands what you're going through, and they're so grateful you were brave enough to scream. I did it for that person, which turned out to actually be thousands of people and counting, but first, I did it for me.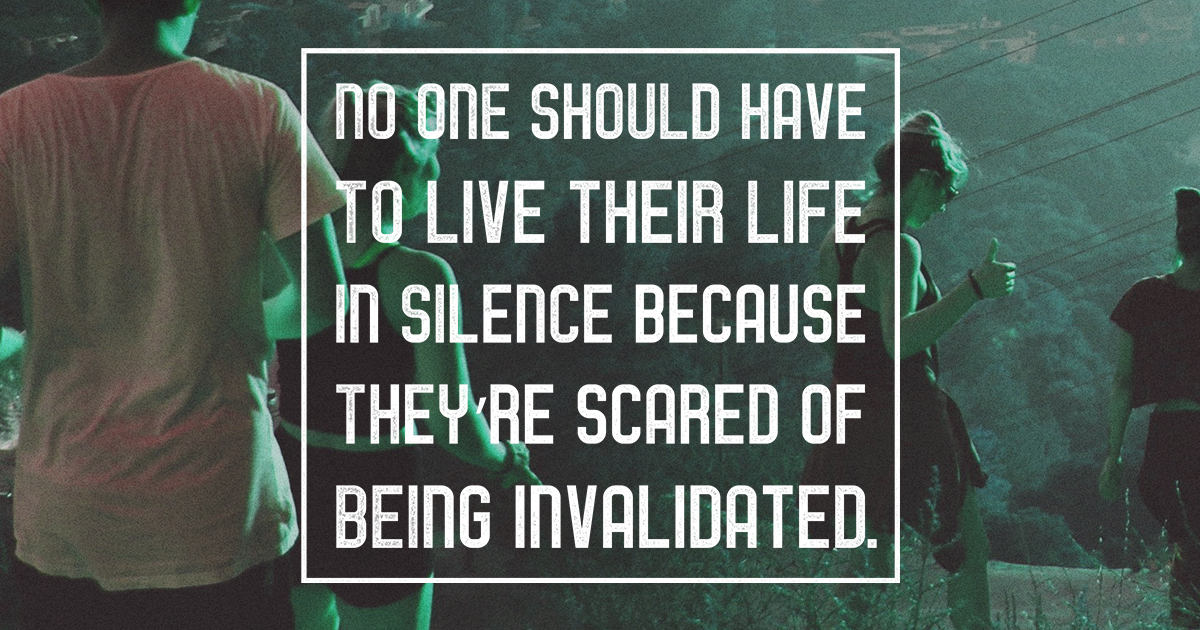 TWLOHA: What would you tell someone who doesn't think they can manage their own schedule or support themselves while dealing with mental illness?
AMANDA: Only in the last year have I begun therapy to work through my MI and past traumatic experiences. Therapy is an extremely valuable tool in moving forward, and it's even available now via phone apps, which is perfect for people with social anxiety. If therapy isn't available to you, then go to someone you trust and tell them how you feel. Don't be afraid to ask for their support. At one point, I was in such a bad spot that I pushed everyone away, refusing to believe anyone could understand what I'd been going through. Refusing to believe that I deserved help. I chose loneliness and isolation and, at one point, even romanticized it, failing to realize that the only way you can work towards recovery is with the help of others.
TWLOHA: Finally, is there anything you wish someone would have told you when you were struggling? Or something you'd like to share with our readers who are struggling right now?
AMANDA: Being brave enough to find help and ask for it makes you powerful, not weak.