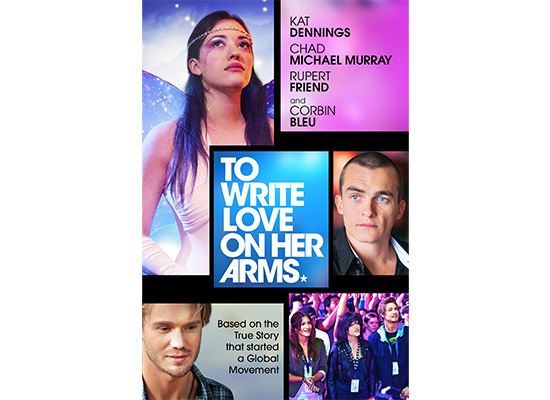 MOVIE QUESTIONS:
What is the movie about?
The original TWLOHA story, written by Jamie Tworkowski, focuses on the five days he spent with Renee Yohe after she was denied entry into a treatment center in 2006. The movie focuses on the same time period, and it gives a sense of her life leading up to that point. It also shows the birth of the organization.
When will the movie be released?
The movie is now available on DVD and digital HD.
Is the movie 100% true?
It's based on a true story. The broad strokes of the film are true. It's not as if every moment and every sentence is "100% true," but the film definitely gives people a sense of the true story.
Where can I learn more about the original TWLOHA story?
You can read the original TWLOHA story here.
What other actors besides Kat Dennings and Chad Michael Murray are in the film?
Rupert Friend and Corbin Bleu also star in the film. You can find a full list of the cast and crew here.
Are there any scenes that address sensitive matters that I should know about before watching? Is there a trigger warning associated with this film?
Yes, so please take caution when viewing this film as some of the scenes may be found triggering. This includes but is not limited to self-injury, mature content (containing themes of sexual assault), and drug use. We recommend watching the movie with a supportive community.
JAMIE'S THOUGHTS:
Answers by Jamie Tworkowski
What do you think of the movie? 
It definitely brings me back to the real story that i had the privilege of living, along with Renee Yohe and David McKenna. David passed away after the filming of the movie. Knowing that people will be introduced to his life (when they see the movie), that means the world to me. And Rupert Friend, who plays David, steals the show in my opinion. There are parts of the film that i love and there are moments i wish were different, but overall, knowing that some folks have been waiting years to see this thing, i'm proud and glad that it's finally coming out.
Did Chad Michael Murray reach out to you prior to filming?
Yes. We met at a Starbucks in Los Angeles. He actually filmed me reading the "Jamie" parts of the script because he wanted to learn my voice. We spent some time together before the filming of the movie, and then i was on set a lot during the five weeks of production. There's a scene in the movie, and this happened in real life, where Renee gives me her last razor blade. She doesn't want to hurt herself anymore. It was an important moment in my life, and it's an important moment in the film. While they were shooting that scene, Chad actually stopped and asked to talk to me. He wanted to know what the moment was like in real life. He wanted to get it right. That meant a lot to me.
What was it like the first time you visited set?
i was only supposed to be there for one day at first. i was supposed to fly to Australia the next day. i cancelled the Australia trip because it felt too special to walk away from. The first day was of course surreal and surprising, but after that, it felt like being at camp. The vibe was super positive, everyone working on something together, people rooting for each other. i really loved it. i actually got in trouble for bringing so many friends and family to set, but that was just because i was so excited to share it.
What has been your favorite part of this story turning into a movie?
When i showed up on set the first day, my friendship with David McKenna was not in a good place. i don't think we had talked in a year. Over the course of the movie being made, our friendship was restored. Before he died, the last thing that he said to me was that he loved me. So that's at the top of the list, the peace and healing that took place in our relationship. Beyond that, talking about the film itself, Rupert Friend's performance as David McKenna is my favorite part.
What do you think David McKenna would think of all this today?
i think he would be proud. The initial idea to turn the story into a movie was his. This project has been an absolute roller coaster, a years-long journey. i joke that there should be a movie about the making of the movie, because it's been pretty unbelievable. i wish David could have been along for the whole ride, to help fight some of the battles, and also to laugh. He was good at both and there's been a lot of both along the way. With the film finally coming out, i've been thinking about him a lot lately. In a sense, i feel like we are finishing what he started, doing our best to remember and represent him.
What do you hope viewers take away from this film?
This is a story about broken people loving broken people. It's about friends trying to be friends in the midst of their pain. It is my opinion that a good story is not one that impresses you. It's one that brings you back to the story that you're living and the stories you're connected to – and to think differently about those things. i hope this film inspires people to have honest conversations and to fight for the stories of their friends. More than anything, i hope this film leads to people getting help and even choosing to stay alive.
RENEE'S THOUGHTS:
Answers by Renee Yohe
How do you feel knowing that people are going to watch part of your story on screen?
Honestly, the idea that there is a movie coming out is still so surreal for me. I first shared my story when I was 19 because I hoped and believed that it would help someone, even if it was just one person…I still have that desire today, so the idea of my story reaching more people through film is beautiful.
I don't think my brain has fully processed it yet, and I'm not quite sure how to! The initial response would be that it's really 'cool' for lack of better words, but it's also very strange.
What do you think of the movie?
It's hard to be objective about a film that is supposed to depict a part of your life. There were some scenes that were never part of my story but also parts that feel true, and it's kind of beautiful to see it being portrayed. Artistically, it's a good movie, and the soundtrack has some great songs that I personally fought for. Kate Lynch did an incredible job putting the story together; she created some loveable characters that were a good blend of truth and fiction. If I set aside how accurately or inaccurately it depicts me, my story, or the people in it, I would say it carries a message that is significant and powerful. I also love how you see people choosing to show up for each other in a realistic way, and almost taking turns doing so… At first "McKenna" is there for Renee (do I say "Renee"? or her?! So weird!) and is a hero in her story, and then we see that he is human too, and she gets to be there for him. That's really important to me.
What do you hope people will take away from the movie?
I hope they take away a desire to be honest, to love themselves and others enough to meet them where they are. I hope more people will realize they aren't alone, that they can ask for help, and that they will be willing to reach out.
I fought hard for an ending that was honest, that didn't offer a false sense of hope through a perfect "happily ever after" but instead suggested that hope exists for us in each messy, imperfect, human moment of our lives. I think that's a beautiful truth for people to take away from this film – that hope isn't lost if we still struggle – and that our humanity doesn't make us unlovable.
When you were on set, what was it like seeing Kat Dennings play you in a movie?
I didn't actually watch a lot of the scenes that she filmed. I think she may have asked that certain scenes not be open to the public or that I wasn't there, which I respect wholeheartedly. It makes complete sense… it would be so hard to get into that space in front of the person you're portraying, you know? I remember her practicing smoking with these fake cigarettes they had on set – that was a really odd and endearing moment. It hit me that someone was putting in work and time to emulate me…that she would even do that. I don't know?! The whole process was very surreal and exciting.
How involved were you in the movie?
Initially I was very involved with the script, and I did have some input on the soundtrack and some of the creative elements. It went through countless edits before filming, and once that started I didn't have much input. I did have a hand in choosing some of the wardrobe options (some of my own clothes, jewelry, and even a pair of vintage white boots I owned were worn in the film). The costume Kat wears in the nightclub scene is one I helped put together too!
How has your life changed since TWLOHA first told your story?
My life is completely different today than when I was 19 years old. (I just turned 28 in November!) I am very proud of the work I've done on myself, changing my perspective and learning to offer the same love and grace to myself that I so valued giving to other people. I used to be so overwhelmed with trauma and fear, and today a lot of that has been healed. I have grown and gained so much since then, and I am so grateful for all of it.
What are you up to these days?
I am working on new songs for my music project BEARCAT; there is a two-part concept that I am really excited about! I started making jewelry not too long ago (as you may have noticed!); I've been pretty busy with that, and it's felt really rewarding. Honestly, my life is probably the most 'normal' it's ever been which is a strange place for me, but it feels good to have taken some time just to be.
Anything special you want to share with us about the soundtrack for the movie?
My song "Crazy Fishes" is the end title credit!! I'm really happy about that, and I'm excited for more people to be introduced to my music! It feels really good for people to be able to see and know other parts of me as my story continues, and I think that in itself offers hope… that I'm still here, and though I'm far from perfect I keep showing up and it matters.
FILMING/RELEASE:
Answers by Josh Loveless (co-producer + music supervisor)
Didn't this movie come out in 2012? I thought it was called "Renee/Day One"?
We (Possibility Pictures) were fortunate enough to have a rough cut of the movie accepted into a couple of film festivals early on, but it created some confusion online that the film had already been released to the public. "Renee" started out as the working title we used to get the project off the ground, and then later was changed to "Day One" in hopes of strengthening the title in a way that could speak to what all the characters were going through in the film, rather than just singling out Renee's journey. Once we started to discuss our distribution options with Sony Pictures it made sense to open up a dialogue with Jamie and Jessica and the TWLOHA organization about the possibility of using the name of the organization to tell this story. Ultimately it was the organization that graciously granted the production company the use of the title, "To Write Love on Her Arms." Our collective hope is that people's familiarity with the TWLOHA name will bring greater awareness to the story we're all excited to share with the world.
Was the movie actually shot in Orlando, Florida?
We (Possibility Pictures) shot the entire film in downtown Orlando over the course of about a month. Most of the movie was made in a building at the corner of Orange Avenue and Washington Street. There's also a music festival scene with about a thousand people that was shot on Wall Street, and we used the concert venue at Full Sail University to pick up some additional shots. As a lot of people have already heard, the actual story took place in Orlando, so it was a unique opportunity to have the chance to show off the city where it all went down. For those of us who live here in Central Florida, it was even stranger to be a part of a movie where you could do a 12-hour day on-set and then drive home and sleep in your own bed at night.
SOUNDTRACK:
Answers by Josh Loveless (co-producer + music supervisor)
Where can I purchase the soundtrack?
The soundtrack is now available on iTunes.
What artists are featured on the soundtrack?
Danny Leggett – "The Valley"
Travie McCoy – "Akidagain"
Flint Eastwood – "The Devil's Gun"
Corbin Bleu – "Cocaine" (live film version)
Kye Kye – "Reach"
Margolnick – "The Tracks (The Fool)"
Alex Bennett – "Black & Blue"
Between The Trees – "We Can Try"
Civilian – "Don't Lose Heart"
Delta Spirit – "People, Turn Around"
Ryan Alexander – "The Scientist" (live film version)
Rachael Yamagata – "Keep Going"
Bearcat – "Crazy Fishes"
Gatlin Elms – "The Secrets"
Jon Foreman – "You Don't Know How Beautiful You Are (Surrender)" (bonus track)
All tracks appear in the film except the new, previously unreleased Jon Foreman bonus track.
STAFF THOUGHTS:
What does the staff think of the movie?
"The movie is like meeting an old friend. This story has become so familiar to me over the years, and now that it exists in this capacity it carries a different kind of weight." – Joe Napier, Warehouse & Fulfillment Manager
"As a film inspired by a true story that has moved so many – and continues to move people today – you know that you can't perfectly replicate the moments that Renee, Jamie, and David lived. But you do hope that the film and the beautiful narrative being told will capture TWLOHA's message and the heart of the matter. I can say wholeheartedly that it does. The film shows real struggle, but it shows what it means to be honest and real with people around you. I know that a lot of people will be able to relate to the people in this film, and hopefully it's a reminder that we can share the parts of our story that are hard with those characters in our own lives." – Lindsay Kolsch, Operations Coordinator
"I watched the story unfold in real life so it's surreal to see it displayed in a movie. Since the TWLOHA movie is "based on a true story," there are parts that aren't true to Jamie, Renee, David and TWLOHA. (i.e. We've never had an office that big and David was not British!) And still, there is so much truth. The storyline of David McKenna is my favorite. It was the unexpected surprise for me. It shows the importance of friendships and the continuous walk of recovery. I love the fact that issues that people deal with every day are openly being talked about because of this film. Whether this film brings people to TWLOHA or pushes them to ask for help, it's because this incredible story, even after so many years, is worth telling again and again." – Jessica Haley, Director of Operations
"Recently I've been thinking about this quote and how it relates to our movie:
'True character is revealed in the choices a human being makes under pressure – the greater the pressure, the deeper the revelation, the truer the choice to the character's essential nature.' – Robert McKee
An individual choosing to chase the scary unknown of recovery, that's character. Friends uniting to create an atmosphere that rejects isolation and embraces the day-by-day journey by their side, that's character. This movie, these people, the TWLOHA story – they're compelling because they reflect the human condition no one can ignore: People need other people.  The "To Write Love on Her Arms" movie wasn't produced as a documentary, intending to deliver every fine detail as hard facts. Rather, it was produced as a story to make you feel, a story to inspire hope, and I believe it does that quite well." – Jonathan Frazier, Director of Communication
SHIPPING/DISTRIBUTION:
Will the movie be released in theaters?
We will host a hometown screening on March 1 and 2 in Melbourne, FL. Come watch with us: https://twloha.com/blog/hometown-screening.
Where can I buy the DVD?
You can order the DVD through our Online Store and select retailers.
Where can I buy the digital HD download?
You can buy the digital HD download from iTunes.
When will the DVD ship?
Our DVDs will begin shipping on March 3.
Will the movie come out on Blu-ray?
No Blu-ray release is planned at this time.