"If you see something, say something."
"When running, do so in a zig-zag motion."
"Stay on your hands and knees when hiding."
These are the lessons America is teaching its children. We are living in a world where mass shootings overwhelm our newsfeeds and terrify our sense of safety in public spaces. And we are the only country facing this drastic of a reality.
Since the start of 2022, over 200 mass shootings have occurred. Two. Hundred. We've yet to experience a single week this year without at least three mass shootings. What do we say in response to these disturbing realities? How do we instill a sense of hope amongst those who no longer feel safe going to the grocery store, attending school, or heading to work at the hospital? 
The truth is, we as an organization, as a collection of individuals, are struggling with what to say. We still believe that hope is defiant and that there is power in speaking about mental health. But we are no different from the many of you who are frozen in place, refreshing your newsfeeds and muttering, "Not again, not again." 
Our friend, a teacher, bravely shared her firsthand recounting of the school shooting in Aurora, Colorado, that occurred in 2021:
"Safety feels like a privilege. I wish this wasn't the truth, but it is. I would like to say that senseless violent acts like these shake me into some sort of heroic action. I want to come out stronger and more determined to lead and educate others on gun violence and the snowball effect that poverty has on the collective well-being and mental health of my community, but instead, I can't find the right words. I freeze. And I stay frozen. My stare is empty and hollow to the core."
Please hear us when we say everything you're feeling is valid. These acts of gun violence continue to not only take innocent lives but are creating cycles of grief and collective trauma. All of which is felt even more directly amongst communities already experiencing hardship and distress. The American Psychological Association's Stress in America report found that "Hispanics, Blacks, Asians, and Native Americans all reported more stress from mass shootings than Whites."
We're not meant to remain in this state of chronic shock. And yet, here we are. If you're scared, anxious, angry, or anything in-between, you are not alone and support is available. We encourage you to reach out to those you love and take intentional space away from the news to care for yourself. If you or a loved one is in crisis, you can call the National Suicide Prevention Lifeline at 1-800-273-TALK (8255) or text TWLOHA to 741741 to reach the Crisis Text Line Counselors—their services are free, confidential, and available 24/7.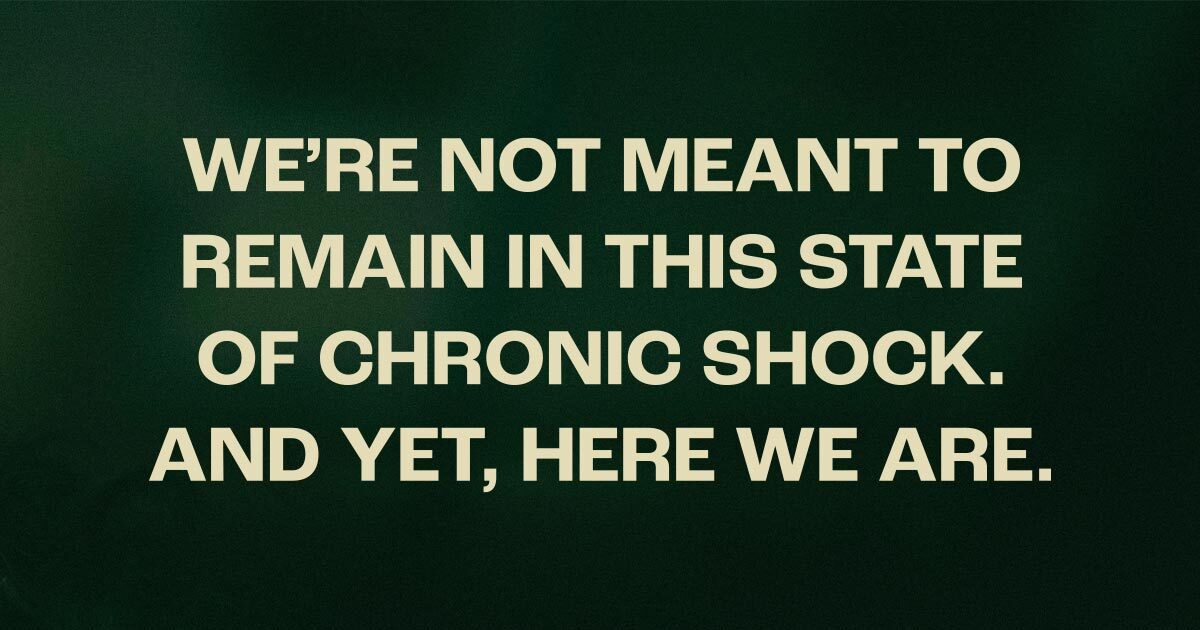 These shootings—that steal innocent lives and push us to wrongly accept the psychological harm and trauma as "normal"—do not have to and should not remain a part of our existence. But if you're in a place to take action and help change this reality, we believe it's necessary to understand how gun violence intersects with mental health. We've seen time and time again how mental illness is used as a reason behind these tragedies by those unwilling to responsibly restrict access to lethal weapons. And while steps need to be taken to understand the root cause of these ongoing and deadly attacks, the truth is those struggling with mental illness are more likely to be victims of a crime than commit them. And, even more tragic, every day 65 people die by suicide using a firearm. This means that six out of every 10 gun deaths in the U.S. are suicides. In order to prevent these deaths, we have to take action.
Mental health, gun violence, and trauma cannot be understood or solved with one simple answer, but policies and practices that focus on limiting access to guns in times of crisis have been proven to reduce firearm suicides and mass shootings. Research has shown us that most people in suicidal crisis who don't have access to a lethal weapon will not find an alternative way to die by suicide. We also know that when someone survives an attempt, most go on to find a path towards healing and discover a desire to live. But attempts to die by suicide with the use of a firearm result in death 85-90% of the time.
Action preventing these moments of mass brutality and the more private violence of suicide by firearm must be taken. It may seem easier to claim that with more mental health resources gun violence would decrease. While more mental health resources can decrease gun violence, the truth is we need both increased access to affordable and equitable mental health care AND gun regulation. Creating a safer country and world cannot happen without both.
If you'd like to learn more about how you can take a stand against gun violence, we invite you to explore the action steps available, like holding your elected officials accountable, donating, and volunteering with our friends at Everytown.