She wrote "You are my Sunshine" and it caught my eye. The task was simple: write the one thing that you wish you could say, and hang it up on the line. Black marker on white cardstock placed among other cards reading "I love you," "I miss you," "I forgive you," "Forgive yourself."
"You are my Sunshine" complete with a radiant circle in the corner. And without my asking, the woman freely offered to me the reason behind her writing. "My sister has always been my best friend, and growing up we would tell each other 'You Are My Sunshine' whenever we were hurt or scared or in need of a hug. She's going through a tough time right now, and her daughter—my niece—is in the thick of some medical battles so I think my sister deserves a reminder that she is loved."
Her heart beat loudly through the air that was saturated with the laughter, EDM, Folk, and Rock distortion. I think she felt genuinely heard.
A few hours later another young woman approached the display and I invited her to take a card that represented the one thing that she needed to hear that day. Her hand slowly extended toward the sunshine and with care took the card from the twine, careful not to crease it or stain it with a tear. She looked up saying, "Today is the 5th anniversary of my mother's passing. I felt so damn guilty being at a festival and not with my family, but I knew today would be hard and I knew I had to be somewhere I could be just Me. This card is everything…you see, just before Mom left us, I sang 'You Are My Sunshine' to her, they were my last words to her. Thank you for allowing me to remember my mom today."
_________________
This is one of a dozen-thousand interactions I've had over the years working at TWLOHA. It's a reminder of the miracles of human connection that exist all around us when we feel the freedom to speak and the space to hear. It's proof that we are truly more connected than we've realized with commonalities more intricate and unique than we've dreamed.
For a couple years, at a handful of events, we've shown up with a sort of conversation starter that we call "RSVP: Invitation + Response." It is an invitation for you to share whatever you need. Perhaps to a friend, or family member, or a stranger, or some version of yourself. Perhaps you've never thought of what you'd like to say, or maybe you just never felt like it was welcomed. This summer, across festivals and Warped Tour, we will come with this same invitation.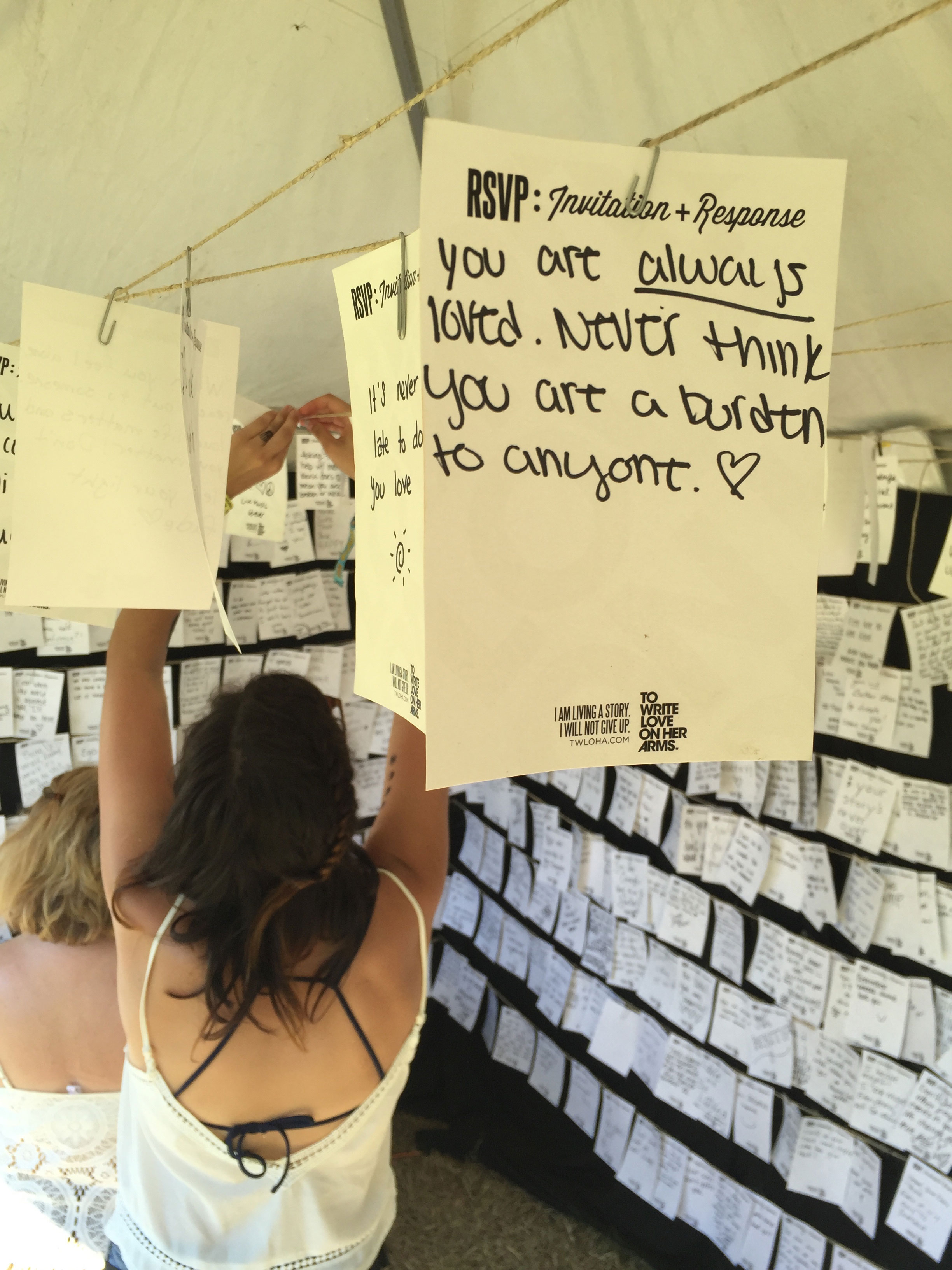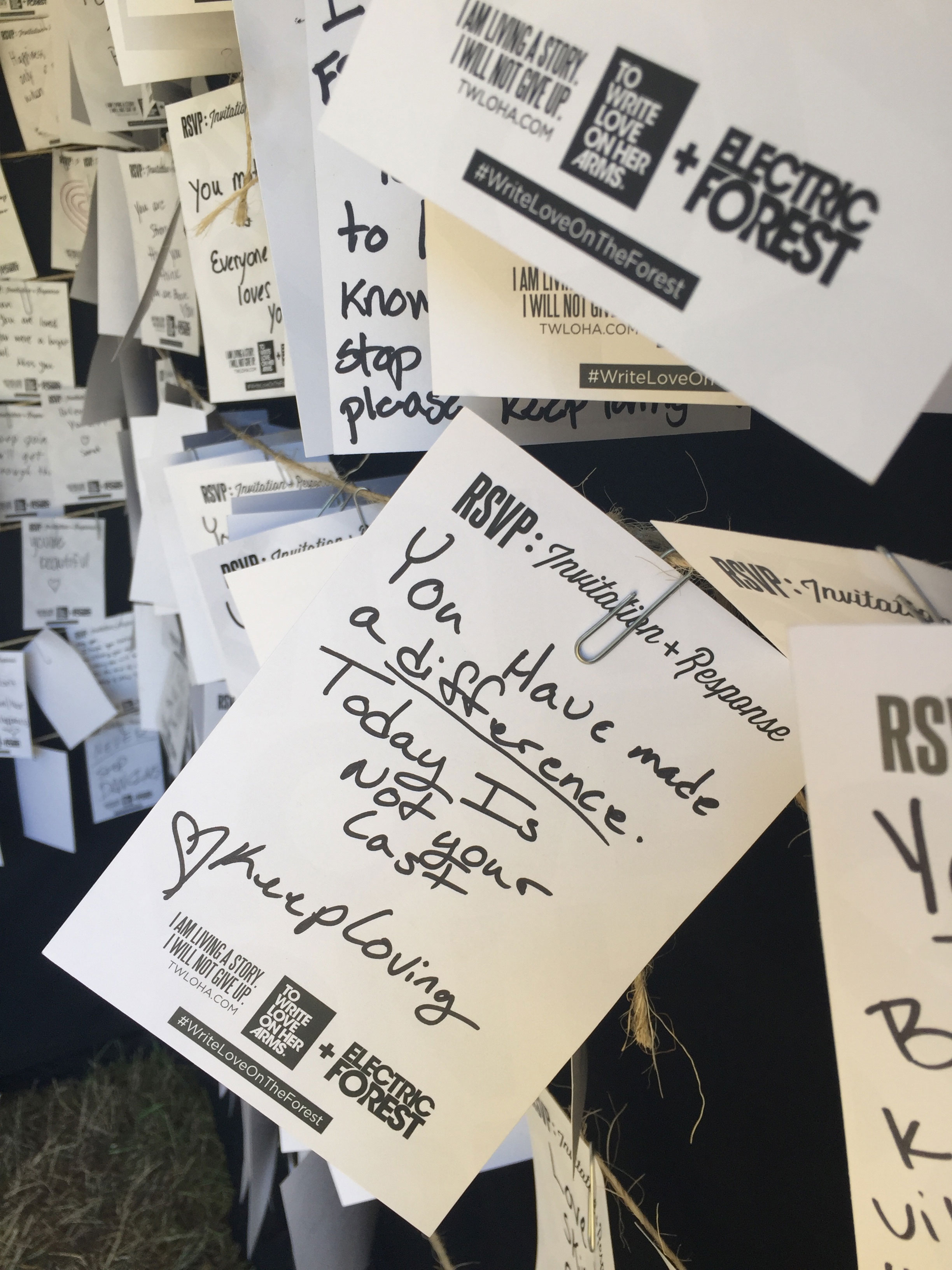 _________________
Every invitation deserves a response, so at each stop we will also invite you to take the card that represents what you need to hear. A tangible reminder that you are not alone, that you are relatable, that if you can feel a sense of connection anonymously on paper, then you can know that same feeling intentionally and face-to-face.
One of the festivals where we are hosting this activation is Electric Forest—the Electric Forest team, like TWLOHA, believes wholeheartedly in the ideas of community, family, and taking the opportunity to share with one another. Together, we hope that you will accept our invitation, share a response, and help us welcome summer with stark honesty and infinite love. For the next two weeks, we encourage you to join the conversation by printing off this template, and uploading your responses via Instagram or Twitter using the hashtag #WriteLoveOnTheForest. And as a thank you for your involvement, the Electric Forest team will be giving away 2 tickets to the second weekend of Electric Forest for people who join in the conversation. Contest ends Monday, June 5.