May is Mental Health Month in the United States. Last year, in honor of the month, we launched a campaign titled: Black and White. The campaign featured four statements we deemed to be non-negotiable; phrases that embody the To Write Love on Her Arms mission and we feel are not up for debate. We told you that We Will Not Be Silent, we declared that People Need Other People, we offered a reminder that You Are Not Your Pain, and we celebrated the idea that Hope Is Defiant. In combination with those statements, our goal was to begin, inspire, and nurture conversations about mental health throughout the month and well into the future.
It is impossible to talk about mental health without also discussing stigma—the times when silence becomes the loudest voice in the room or keeps the conversation from happening at all. When stigma and fear and misunderstanding thrive, our assumptions become our absolutes and our struggles are left to take root within us.
As we welcome and observe this year's Mental Health Month, we want to build on the foundation we set last year by offering you four more core beliefs that we feel and believe wholeheartedly apply to you. To us, these statements are Black and White.
I Am Worthy of Hope
Read that again.
Once more, but aloud this time.
You can repeat those words as often as needed until you believe it. But know that we will never hesitate to lend our voice to this chorus. If hope is the quality of believing in better things, then know that we adamantly believe in you.
We believe that hope is universal, that you can't waive your right to it regardless of place or experience. It is not something earned nor bargained for. It opens us up to the possibility of healing and understanding and growth. Hope plays a pivotal and consistent role in what keeps you alive, and we need you to know that you are undeniably worthy of both its presence and power.
It Is OK to Ask for Help
Holding on to hope is a choice. The pain you navigate and endure is not. While hope reminds us to keep going, pain has a tendency to isolate us. It can replace the loving and nurturing voices in our lives with the lie that says our struggles can't be shared with others. But we're certain that other people can and should be part of the equation. Finding healing within yourself does not mean you have to do it by yourself.
Asking for help can be done without shame, without apology, and without a feeling of weakness. What it does involve, is the courage and bravery to know that it exists and that there are people who want to offer it to you. Simply put: It is OK to ask for help. You have never been expected to find a path toward recovery on your own. The story is yours to tell, but this journey involves supporting characters, too, who are cheering for you.
Your Story Is Important
Every story ever told has one thing in common: an audience. This story of yours, pages and chapters of struggle and strength, uncertainty and passion, is worthy of eyes, ears, and collaboration. When we say that your story is important, we're encouraging you to share it, because in telling your story, you can collide with and inspire others.
Perhaps we've grown accustomed to hearing stories in the past tense, prefaced by words like "once upon a time." But your story, above all else, is captivating in that it is still going. Unfinished, unfiltered, unabridged, unfolding…no matter where you are, your story and your life are important to us. And we're honored to hear it.
We Need You Here
We say this with urgency: We need you here. What that doesn't require, however, is your perfection. We don't need your story to be edited or polished. And we don't need your recovery to be linear and free from detours and rerouting. It's just you that we need. Your presence and all it entails—perfectly imperfect with questions and wisdom, stumbles and leaps, heartache and joy. We don't need to know you personally to find the value in your breathing that feeds the trees, your songs that break the silence, and your waking that every sunrise shows up for.
Ever since you came into this world, we haven't taken a breath without you in it. Your existence has impacted us to a degree where we can't imagine this place separate from your presence. So when you feel convinced that you are not wanted or too broken to be cared for, know that you are not only welcome here, but you are needed.
With Hope,
TWLOHA
You can shop our Black and White collection here.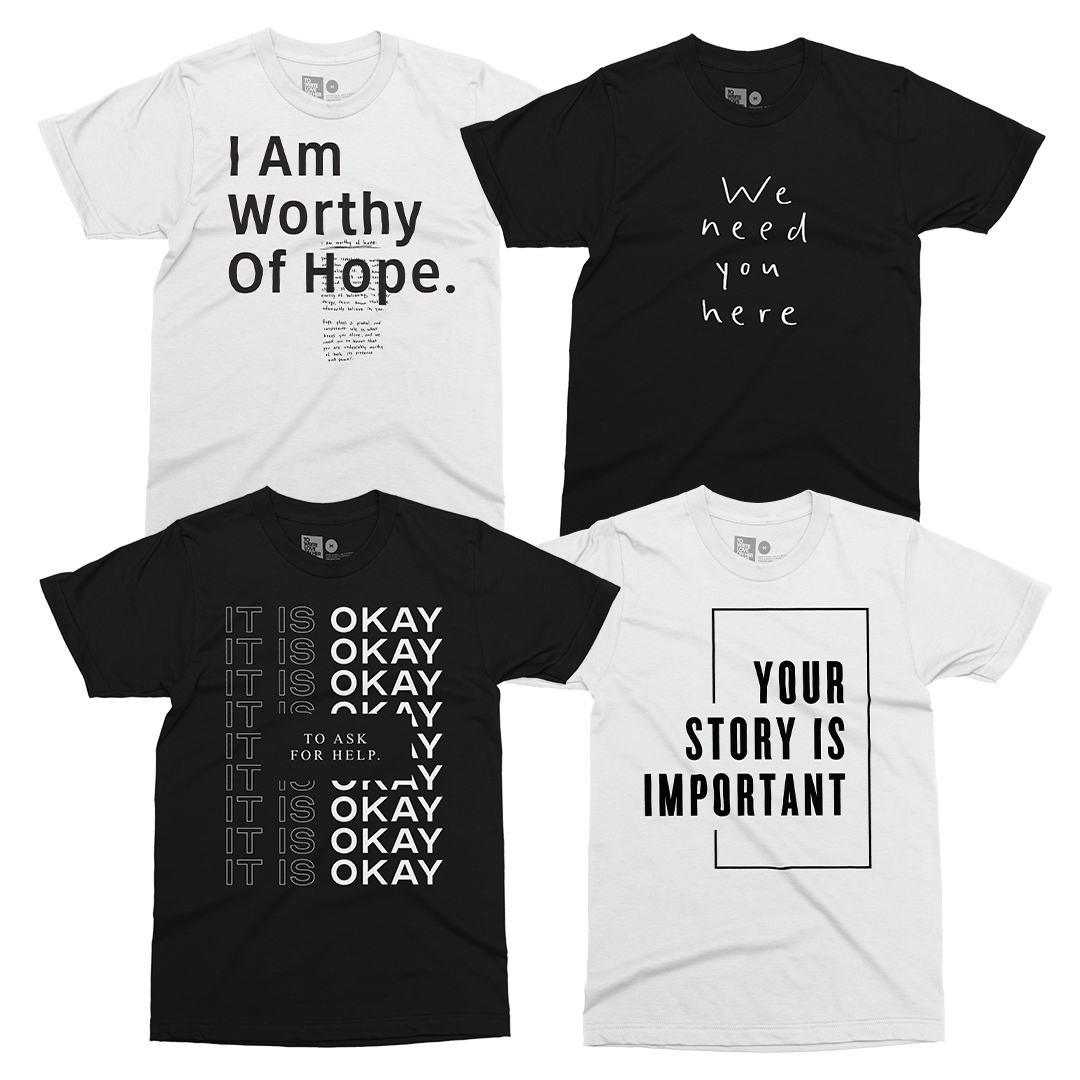 If you or someone you know is struggling, we encourage you to reach out for help. For those living in the United States, we invite you to use our FIND HELP Tool to locate local, affordable resources simply by entering your zip code and the level of care you're seeking. For international resources, visit our FIND HELP page for a collection of options listed by country.
As the month continues, we'll be sharing new content in honor of Mental Health Month across our social media platforms. Follow us on Twitter, Facebook, and Instagram to stay up to date! We'll also be premiering four new To Write Love on Her Arms podcast episodes throughout May that are inspired by this year's Black and White statements. The first episode of the miniseries is available now!