I lied to myself for years about my sexuality. I told myself I had to be straight because I'd only been in relationships with men, I pushed down the questions because if I wasn't straight I would have "known sooner," and I let myself believe all those things because I had never known anyone else to feel the way I was feeling.
But at the end of 2018, only a few months before I turned 22, I could no longer deny it. I finally acknowledged that I was and am bisexual.
As someone who already experiences anxiety and depression and has struggled with thoughts of suicide in the past, repressing such an integral part of my identity for so long sent me into a downward spiral of self-cruelty and deprecation. This cycle worsened when my own doubts were seemingly confirmed by the biphobia both inside and outside the LGBTQ community: "Bisexual people are just confused. People who say they're bisexual just haven't come out all the way yet. Bisexual really means you're half-gay, half-straight."  
I've always struggled with the feeling that I'm not enough. Not pretty enough. Not smart enough. Not funny enough. Not trying hard enough. Just not enough. So when I reached a point where I couldn't ignore it anymore, my brain twisted my feelings of "not enough" in creative ways:
You've only ever been in relationships with men. You can't just change your mind when you're already in your twenties. If you were bi why didn't you ever try to date women? The real reason you're attracted to girls is that you're jealous of their bodies. You're not "bi enough." Therefore, you're not bi, period.
These thoughts rooted in shame, stigma, and my own internalized biphobia plagued my head until I lost sight of what it truly means to identify as LGBTQ: Proud, unapologetic, and accepting of the love that fills my heart.
It took years for me to come to terms with this part of myself. And even once I did, it still took months after that for me to stop feeling like I had to prove my "bi-ness" to the world and to myself.
Until I saw the Pulse memorial.
When I stepped on the memorial grounds of the horrific Pulse Nightclub shooting that killed 49 people in Orlando, Florida in 2016, I felt heavy. Grief, heartbreak, and anger washed over me and weighed me down as I felt the loss of 49 people I had so much in common with but would never meet. Those 49 people were my brothers, sisters, and nonbinary siblings before I was able to admit it to myself. Those 49 people struggled with the same pain, questions, and confusion that I did. Those 49 people wanted to love and be loved as their true selves, just like I do.
My family is from Mexico. The shooting happened on Pulse's Latin night. I am from South Texas. One of the victims grew up 20 minutes from where I did. I am bisexual. The shooting was at a gay bar during Pride Month. Standing only feet away from where 49 people died on a night of celebration, feeling the emptiness created by their deaths, I was left with more than sadness.
I thought about everyone in the LGBTQ community who has faced discrimination or danger because of who they are. It could have been me or any of my LGBTQ friends. It could have happened in my city. It did happen to my chosen family.
I was left with more than sadness. I was left with a mourning, determined, scared, angry, hopeful heart.
I thought about all the time spent denying who I really am, afraid of what it meant. All the time spent hiding a part of myself that I could have embraced, instead of feeling guilty that my experience didn't fit the requirements I created in my head. All the time spent thinking I was half-this and half-that and yet not enough of either, when in reality, I am a whole person whose identity is not half-anything.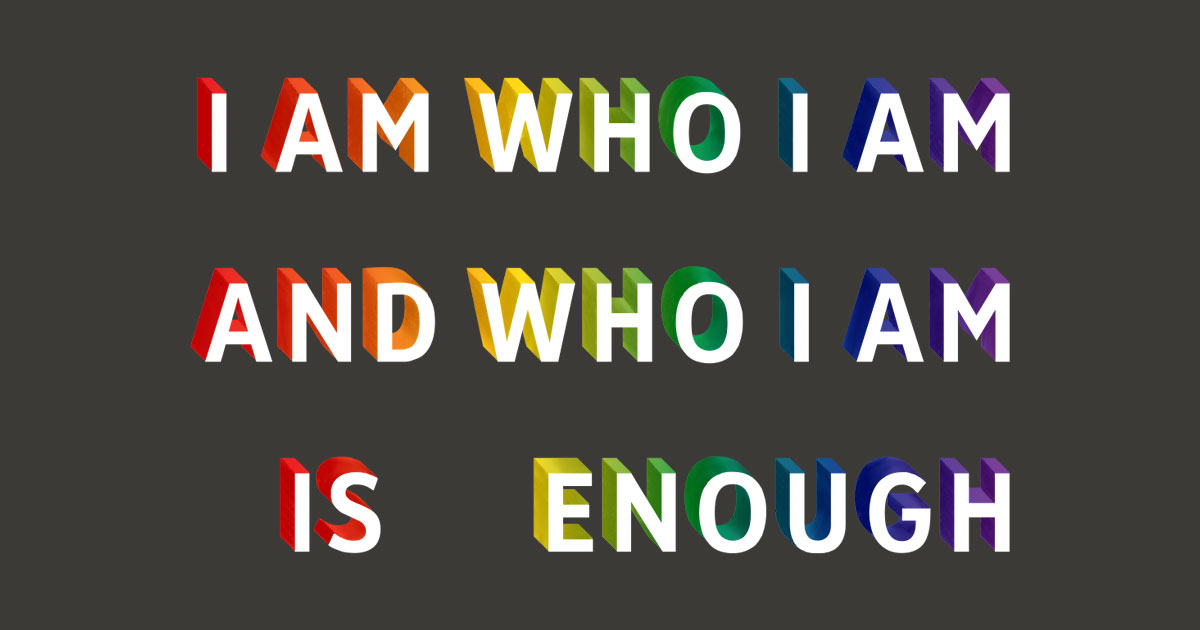 All the time I could have spent learning more about myself, becoming part of a beautiful community, challenging the fears anxiety instilled in me about who I am and fighting the lies depression told me about who I may love. All the time I could have spent learning to accept myself.
There are still some days where I worry about not being "bi enough." Being in a relationship with a man sometimes makes me want to clarify my sexuality so people don't make assumptions. I often find myself wanting to talk about it because I worry others will try to erase this part of me if I don't write it out myself.
But ultimately, I know that no one can take this away from me. Nothing in the world can minimize the journey I've been on, and there is not a single person who can tell me that my sexuality is not real. There are no words that can force me back into the stigma-ridden closet I came from. And that gives me hope. It gives me hope for myself, for everyone else struggling with their sexuality, and even for those who believe bisexuality is a phase.
Now, I feel nothing but pride for this part of who I am: a bisexual woman of color who doesn't need to prove herself, her worth, or her identity to anyone. I have begun to love myself and my queerness because I deserve it, but also as a way of honoring the lives and legacies of the 49 people we lost three years ago. As I remember them and the lives they lived, I remember that I don't need to justify who I am. Nobody does. I am who I am. And who I am is enough.