When I was a kid, being Mexican-American was an identity I did not realize applied to me. I was born and raised in a predominantly Hispanic area, so it was the only thing I knew and the only thing I saw. Sure, I noticed that the people on TV didn't look like me, but it took me a while to understand why that was.
It wasn't until my early teen years that I realized my culture is not everyone's culture. It wasn't until my early twenties that I realized my culture had a significant impact on how I experienced and thought about mental health.
I grew up in McAllen, a town located in what's known as the Rio Grande Valley—the southernmost region of the Texas border. Most people there are from Mexico or of Mexican heritage, but there are also many people from other Hispanic and Latinx countries. It's a very homogenous area, but there's a few things that make me stick out. For one, I have never actually taken the short drive to Mexico despite my dad and much of my family having migrated from there. Second is the way I speak: my Spanish isn't particularly smooth, but I don't have the distinct "Valley accent" that so many people in the area have.
This was the foundation of a conflict in the most basic parts of my identity, spurred on by the place and language I was surrounded by. I never felt "Mexican enough" to fit in with my family or at school or in so many parts of my hometown, and I was often made fun of or questioned about these things. But with how the border is portrayed in the media and the tone people use when referring to the only home I'd ever known, I never felt "truly" American. This culminated into me feeling like I was not what I was supposed to be for either country or culture. And if I wasn't good enough for my own people, would I ever be good enough for anything? Would I ever belong somewhere?
It's been hard to talk about this in a way that doesn't result in unempathetic questioning, which led to feelings of loneliness that compounded my other mental health struggles. The stigma surrounding mental health is so internalized in Hispanic and Latinx communities that I often felt like I couldn't talk about that, either. From a doctor incredulously responding with "What's wrong with you?" after I opened up about my depression, to friends being told to "pray for happiness," to mocking nicknames like "Perfecto" for people with disabilities, there is still so much progress to be made within my culture. As one friend said of his own parents, "It's something they don't even think about, so it's hard for them to grasp."
This attitude has been prevalent for generations, and it seems like the further back you go, the more powerful a hold stigma seems to have on the culture. My grandparents knew without question that they needed professional guidance for my tia with cognitive disabilities, but my mom said that when she felt depressed, professional help for her wasn't considered necessary.
"Ponte a lavar los vasijes," my grandparents would tell her. "Go wash the dishes." To them, feeling depressed meant you had too much time on your hands or you weren't working hard. To them, wanting professional help meant your family and their tireless efforts weren't enough for you to be happy. To my mom, this meant not being able to be honest with the ones closest to her.
To be clear, not all Hispanic or Latinx people, not even all Mexican people, will have an experience like mine. I can only speak on what I know, and that's not what everyone else from my background may know. Much of this has been affected by the place I grew up, and yet it still differs from others who grew up in the Rio Grande Valley. I'm not sharing this with the intention of representing everyone with the same upbringing as mine, but instead to shed light on the barriers that people who are similar to me might relate to.
It's also important to acknowledge how much privilege I've had. My parents were willing to get me counseling and medication, I always had access to and money for mental health care, my doctor believed me when I said medication felt like the right choice, and so much more. My privilege played a role in allowing me the space, safety, and ability to talk about this with everyone from family to strangers to myself. I am lucky, and I don't take that for granted. So many others in my communities, especially my underserved hometown, aren't as fortunate.
My hope is that by writing this, I can help push the conversation forward for Hispanic and Latinx people. My hope is that older generations who may not understand mental health will read this and think harder about what they've said, believed, and perpetuated. My hope is that a fellow Mexican-American will read this and feel seen and heard and validated. My hope is to start a conversation so that somewhere, another little girl won't feel so alone and inadequate in the things she can't change about herself.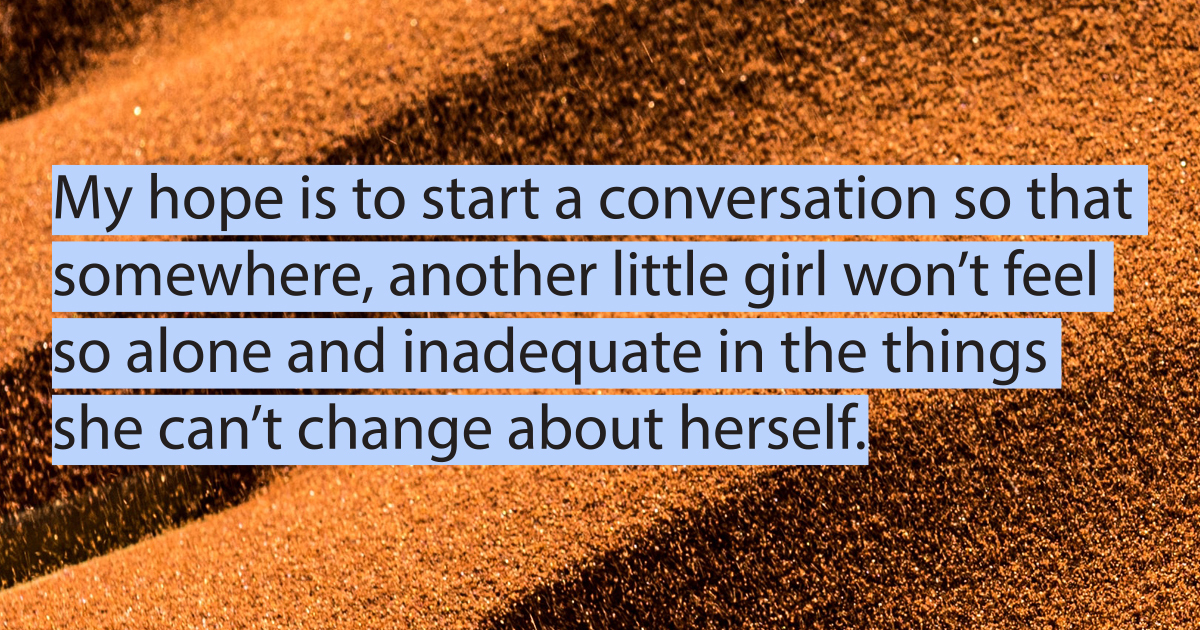 I truly believe that can happen. I believe the stigma and shame I've faced are not inherent. I've seen other Mexican-Americans talk about their struggles the same way I have, I've seen national conferences with hundreds of young Hispanics challenge stereotypes about who they are and where they come from, I've seen people in my hometown become more empathetic toward mental health simply because I took the time to be vulnerable with them.
I may have grown up feeling conflicted about my identity, but not anymore. I come from a place where the people radiate love and unity, a place where the environment is exciting and vibrant. I come from a place where those who struggle the most also give the most. I come from a place where progress is possible because although we never forget our roots, we still work toward our future.