A few months ago, I received an email from my friend Heather. Heather organizes non-profit partnerships for Sasquatch Festival. She posed a challenge, asking if we could do anything at Sasquatch, what would we do? She asked us to dream big. This is a pretty rare in the realm of exhibiting at music festivals. Usually, it's formulaic and concrete. "Here's your money. Here's your booth. Stay in the lines. Pick up your trash. Don't piss off the neighbors."
Don't get me wrong; every single festival we have been to has been an amazing experience, but that is mostly due to the fact that the attendees we meet are amazing people and the conversations we have tend to strike deep and stick with us. But this Sasquatch proposal represented an opportunity for imagination—and if I'm honest, a bit of anxiety as well. It's no simple task to travel to the opposite corner of the country for one weekend, to try new things on behalf of an organization in an attempt to move people. But with the help of our staff and a handful of incredible volunteers, we were able to create resource guides for Seattle, Vancouver, and Portland. We were able to host AA and NA meetings three times throughout the weekend. We were able to construct an open exhibit that, by the end of the weekend, completely covered three walls with people's biggest fears and greatest dreams.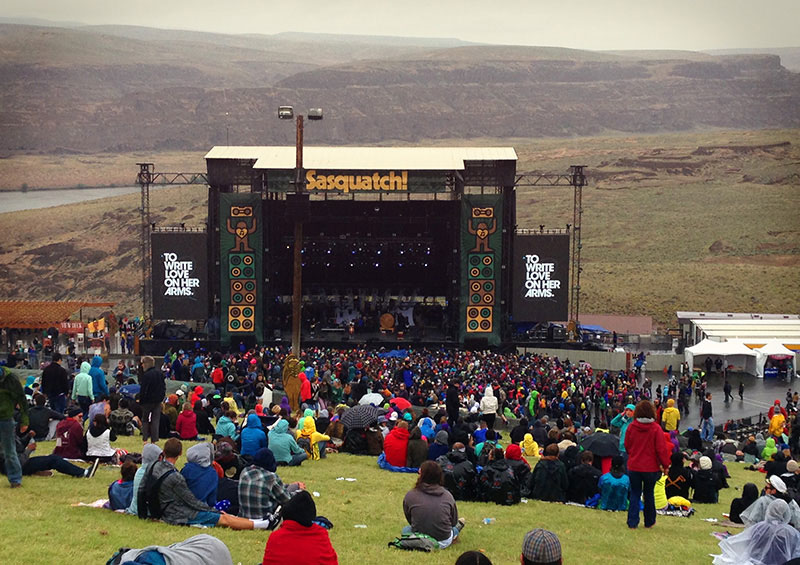 Every year, the beauty of the Gorge is eclipsed only by the wonder we are left with as stories collide. We are left wondering which is warmer, the late May sun or the last hug we had with a stranger. For months, people have had their calendars marked for this weekend when they could see their favorite artists. And in the midst of it, we get to play the role of audience to their stories. Their songs are our favorite because so often the words are familiar. They provide their own context and melody, but we are able to keep pace with their words.
Here are the echoes of Sasquatch Festival, shared in the hopes that you might sing along as well:
– Amber came running up to the booth with a huge smile and tears in her eyes. She said she was so excited to see us here. She said she came across us last year when someone told her we would be a good fit for her. As a child, she survived haunting crimes which led to a hospital visit last year after an uncompleted suicide. She shared parts of her story on the Fears vs. Dreams wall where she wrote, "Fear: People knowing about my past abuse." Her dream is to help others. Her smile convinced me her dream will come true.
– Kim had self-injured for 10 years before finding us five years ago. She's been injury-free since then.
– Megan visits us every year with her sons. She has become one of my favorite repeat visitors over the years. She told me today this has been a hard year for her depression, but knowing this reunion was in sight made the days leading up to Sasquatch a bit brighter.
– Ariah carries a picture of her father in a locket around her neck. The picture was taken five days before he died by suicide. That was two Januaries ago. She is going to be looking into AFSP grief and survivor groups when she gets home.
– Luna wrote, "I want to learn how to fly as a pilot" for her Dream. She told me that writing this down was really powerful. I asked what she meant by that, and she replied that, by writing it down, she felt a real excitement about the future and now knows what she wants to do with her life. She plans on applying to flight school this year.
– Laura stopped by and then came back with her niece. Her niece found a real connection with Sylvia (one of our volunteers), and they chatted for a good 30 minutes. Laura hung out during that whole time, smiling, and told me her niece hasn't talked this much to anyone since three years ago (when she began being bullied). She was so happy to see her niece feel the freedom to talk, and vent, and connect.
– Dana is an employee at the Gorge, and she came by to show off her "Love is the Movement" lanyard, which she bought last year and has worn as part of her uniform ever since.
– Alicia is a young parent. She opted not to write a Fears vs. Dreams card, but rather to write a message on the back of a card. She is the same age as her father was when he died by suicide. She believes the work we do will save a lot of heartache.
– Ellen and Kevin were among my favorite visitors. When I told Kevin a bit of our story and my story, he gave me a big hug. He shared his new tattoo, a Pause / Play sign. He uses that as a tool for self-evaluation. When life is going too fast and he loses a handle on his thoughts, he touches a finger on the Pause sign until he can catch his breath. When he feels like he needs to be more present in a moment, he presses Play. When he lacks the insight to do either, he gets Ellen to do it for him. Ellen has a history of self-injury and has found a systematic way to cope with those urges. She has a self-care box that outlines her care plan and recently invited Kevin into that protocol to help her navigate more difficult moments. Their honesty and excitement were highlights of my day.
– Maggie asked what we were about and simply said, "Thank you. Not many people are talking about this, so thank you." She started to tear up, and when I asked her if she was OK, she replied, "I stopped cutting almost a year ago. I'm celebrating on June 1." I assured her we would be celebrating with her. We talked for several minutes about how her life has changed over the past year, and she left with a shirt to remind her that we believe in her.
– Carly came by the booth three times throughout the day, each time a little less tearful. Her father died by suicide, and she was happy to see that we had resources available for people at the festival.
– We held a meeting for people in recovery from addiction and alcoholism. One of the attendees of the meeting takes pictures now as a creative outlet. He took a picture of our "Friends of Bill W. Meet Here" sign, and after we finished the meeting, he took a picture of all of us in attendance. He said the festival was definitely a difficult setting, but this opportunity to meet really helped.
As the weekend went on and the walls filled up with Fears vs. Dreams, we heard two general comments. From people who had not filled out a card, we heard, "Wow, that's a lot of stories." And from those who had shared, we heard, "That's all? There are so many people at this festival. There should be more cards."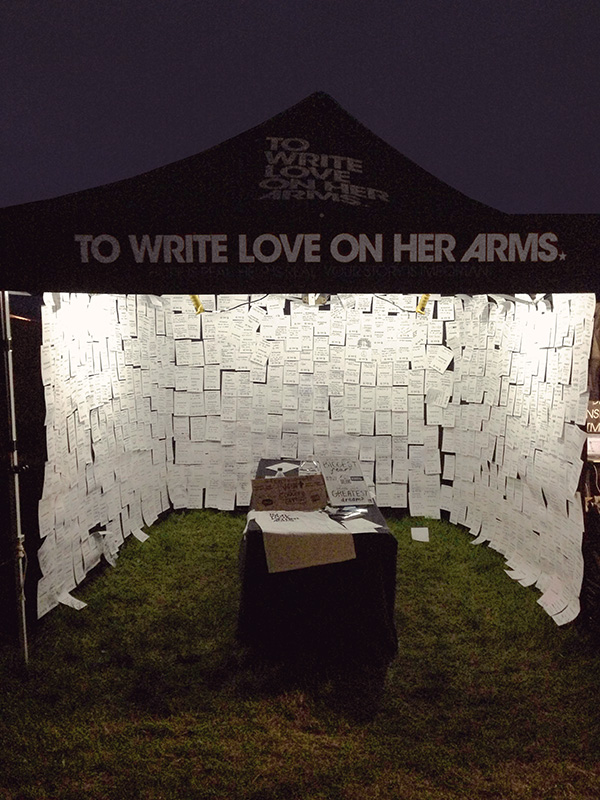 I think it points to the sort of contagious nature of honesty. Many of us have lived secretly for so long that transparency seems novel. Then we find people who know a different sort of safety and belonging from sharing their lives with others. I can relate to each of these stories in different ways; I'm fairly certain we all can. There is relief in sharing your life with someone else and joy in realizing that, in our sharing, we won't crumble. Rather, we find that we are held together by one another. Our goal in attending festivals, and setting up tents, and printing off materials, and standing at a booth for 15 hours is firmly rooted in hoping that you join us there.
Thank you to everyone who came out to The Gorge this weekend. Thank you to Shay, Sylvia, Devon, Fancy, and Maurice for giving up their holiday weekend for this project. Thank you, Heather and Lynn, for allowing us to dream big so we could give a voice to the fears and dreams of others. Thank you to everyone reading this for believing in our story and in the stories of those around you. Thank you for continuing to live yours, and I hope you found some inspiration and encouragement in the lives of those listed here.
With hope,
Chad
*Some names have been changed out of respect for the storytellers.