Henry Wadsworth Longfellow said, "Every man has his secret sorrows which the world knows not; and often times we call a man cold when he is only sad."
I was in seventh grade when I came out as a lesbian. My mom was more conservative back then and sternly told me that I was "going to hell."
Jump to ninth grade and my mom was diagnosed with stage one breast cancer. I was the caretaker of the family because my dad was rarely around. I had to find a way to make my mom smile. I had to find a way to help her as she endured chemo and radiation.
It was in my junior year of high school that my parents told us they were getting a divorce after being married for 21 years. During that time, my dad turned into a man I no longer recognized. I quickly became my mom's emotional caretaker. And it was then that I began taking medication to treat my depression.
During my senior year of high school at a private Christian school, I signed withdrawal papers two months into the semester. Why? Because I had a girlfriend. You could be gay, you just couldn't act on it.
After somehow successfully graduating, I took a gap year. I worked and saved money in hopes of attending a college in Memphis. I wanted to study studio music production and applied with minimal hopes that I would get in. Much to my surprise, August of 2019 rolled around and I was heading to Tennessee, sans family or friends.
I survived the first year, but came to a life-altering realization along the way… Remember back to the seventh grade when I told my mom I was lesbian? Well, I figured out I was wrong. I was Trans.
There's something powerful about coming out to yourself. There's something powerful about finally knowing who you are.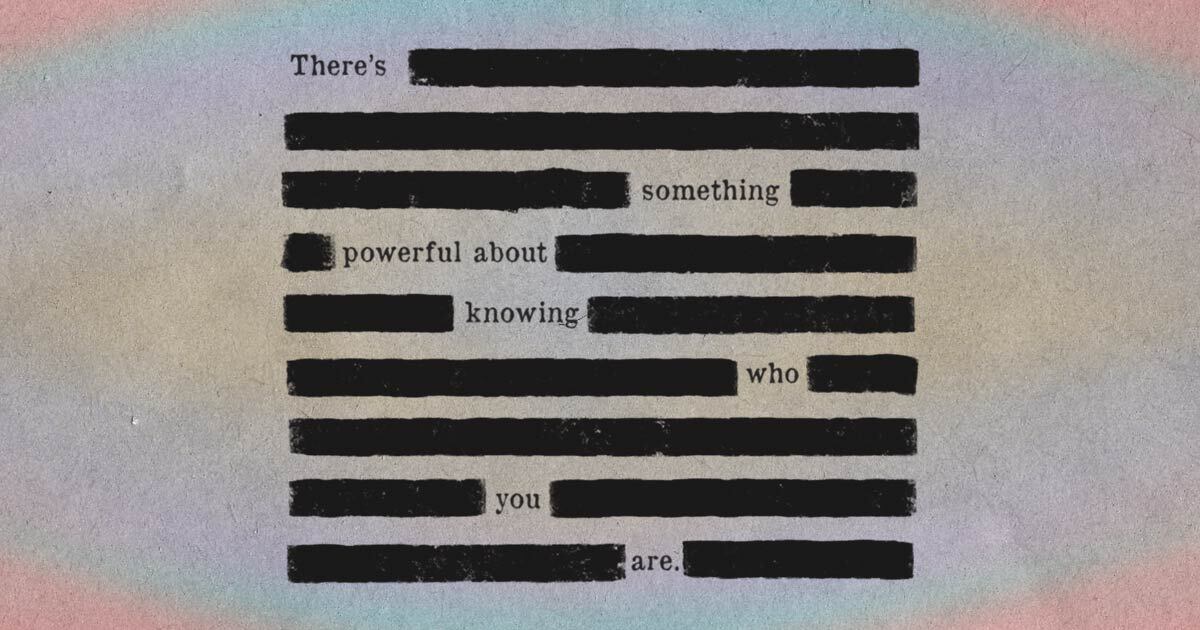 As I returned to Memphis for my second year, I decided I wanted to transition physically. When I told the college, I started to face storms I never anticipated. People trying to fit me into their boxes and expectations. It led to the height of my depression where I was drinking and smoking almost daily. I knew I needed help but I kept pushing it off. Until one night I drank until I was drunk and confessed to my roommate that I was suicidal. I stayed in a treatment facility for five days, and ironically it was there I met some of the most inspiring people. Thereafter, I attended Suicide Anonymous and did my best to journal.
A month later I was home with my mom, sister, and dog. I have plans to return to school and obtain that degree, but for now, I'm focusing on myself. I've started testosterone, I have a job with people that accept who I am, I am no longer in a toxic relationship, and I surround myself with people who are supportive. I am in the best place I've ever been.
My name is Cole Alexander. I'm 21, I have tattoos and gauges.  My hair is green and I wear blue-framed glasses. One of my tattoos is a quote from Jamie Tworkowski's book If You Feel Too Much. It's tattooed on my forearm and so I read it every day: "We should bury our mothers for they should not bury their sons." 
---
In honor of June being Pride Month, we're sharing the voices and stories of people from the LGBTQ+ community. We know that the stigma and discrimination this community faces makes them almost three times more likely than others to experience a mental health condition. And, LGBTQ+ youth are four times more likely to attempt suicide, experience suicidal thoughts, or engage in self-harm. We believe the message that "hope is real and help is real" is for everyone. We want to be a part of making sure those who need life-saving support, regardless of sexuality or gender identity, have access to resources.
That's why we're partnering with two outstanding organizations that are working to connect members of the LGBTQ+ community to help in their moments of need. TWLOHA is honored to supply grants to The Trevor Project, a leading national organization providing crisis intervention and suicide prevention services to lesbian, gay, bisexual, transgender, queer & questioning (LGBTQ) young people under 25, and the Trans Lifeline's Hotline, a peer support service run by trans people, for trans and questioning callers.
To connect with the Trevor Project you can text START to 678678 or call 1-866-488-7386. It's free, confidential, and available 24/7.
 To connect with Trans Lifeline call 877-565-8866 in the US or 877-330-6366 in Canada. The hotline is available 24/7.