This piece contains detailed accounts of suicide ideation. Please use your discretion.
Depression and suicidal thoughts. Two things that not a lot of people like to talk about. Can you blame them though? I mean seriously, who really wants to talk about those things? I know I never did. That is, until this past year when those two things surfaced in my own life.
Before I continue, know this: I am not a psychologist. I am not a psychiatrist. I haven't even been clinically diagnosed with depression by either of those.
Does that minimize my perspective to you? Maybe it does, but that's okay.  Because what I intend to do is bring light to the stigma surrounding depression and suicidal thoughts. Not just bring light to it though, I want to help dissolve stigma.
On February 21, 2017, I started to see a therapist. I was nervous, I felt extremely weak for even admitting I was experiencing depression and suicidal thoughts. But when I did, when I spoke the words out loud to another human, I found relief. It felt like I could breathe again, like I wasn't hiding anymore.
During that first session, the therapist reassured me that coming to him and seeking help was a sign of strength, not weakness.
What an interesting concept, I thought.
In a culture where you have to:
Be the smartest.
Be the best looking.
Be the richest.
Be the strongest.
Be the most confident.
Be the happiest.
Be the most successful.
Essentially—be the best at everything—it was okay to appear weak? To need help? And more so, it was actually a sign of strength?
Having that conversation made me want to engage in more conversations, to create dialogues with people that allowed them to not feel isolated in their struggles.
For me, being isolated was the scariest thing. The days I felt most depressed and suicidal were only enhanced when I isolated myself; when I decided that no one wanted to hang out with me or loved me. Those days were the worst. Those are the days it was hard to go on. But I promise you, those thoughts of people not loving you or wanting to be with you are a lie.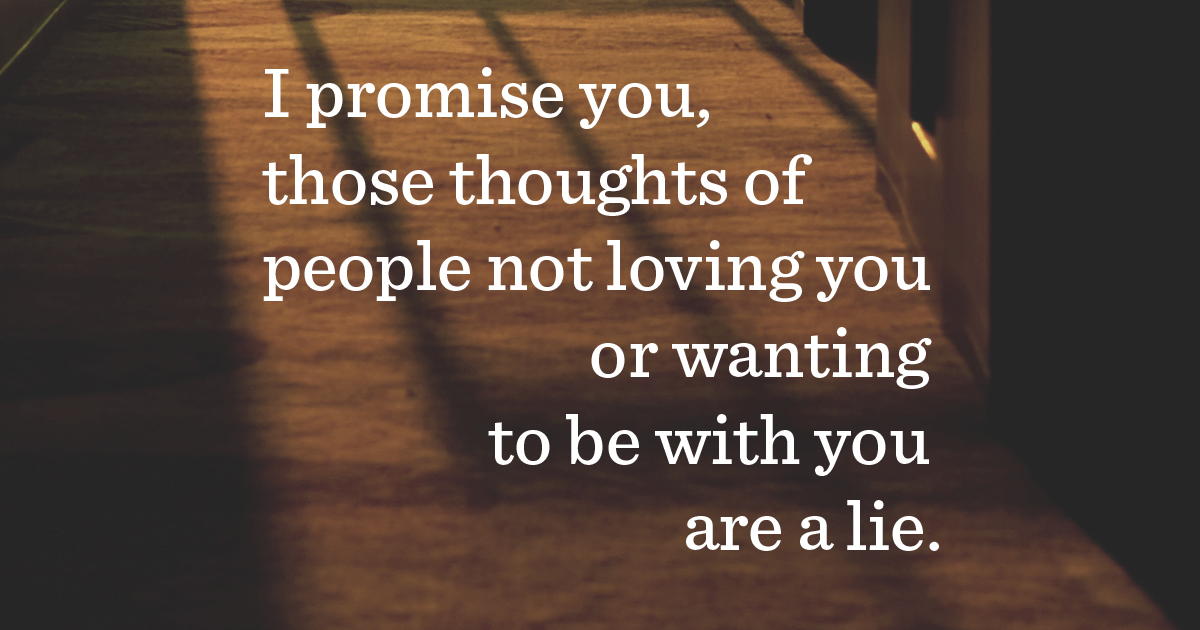 And no, this isn't my quick fix. I'm not saying you can eliminate depression and suicide ideation just by avoiding isolation. It won't. And I know how hard it is to be with people when you are feeling no emotion at all, faking smiles and conversation is exhausting. But I also know how hard it is to be alone when you're feeling those things.
I was recently having a conversation with a buddy who deals with depression too. We started sharing our own experiences and quickly found that we both shared common ground when it came to what helped us the most: talking to others who are struggling.  People who we thought would never struggle, people who helped us to not feel alone.
It was September 29, 2017. I had made a playlist to listen to that had songs talking about suicide and depression—morbid, I know—but it helped me feel understood. One of the songs on the playlist is Logics's "1-800-273-8255", the title of which is the number to the National Suicide Prevention Lifeline. That song has gotten me through a lot of rough days, September 29 being one of the worst. Regardless, that day started off okay, nothing too overwhelming—it was Friday after all. Still, I felt off, empty and apathetic. Being someone who projects the idea that I'm "always doing good" and strive to make others laugh, I didn't want to tell anyone. Not even my girlfriend Allie, who I had been texting the entire day, telling her how excited I was to hang with her and some friends after work at Whole Foods for a wine night—something I love to do. Fast forward to those plans, and instead of feeling joyous and vibrant, I was feeling anything but.
One thing I've learned about depression is that it comes out of nowhere. It'll just hit you when you're least expecting it. At times, it's mentally paralyzing. Most days I can hit back, but on this day, I couldn't. So that night I told my friends that I wanted to go home and take a nap because I was tired. That was a lie though, I just wanted to be alone. So I left. As I drove home, I battled thoughts of driving the car off the road, convincing myself I had no use to the world or the people in it. When I got home, I felt helpless, but I couldn't tell anyone for free that I would burden them. Distraught, I found myself searching through my roommate's belongings, looking for pills to take. Unsuccessful in finding any, I just laid on the ground and wept.
As I lay there, I started thinking about my friends, my family, and my girlfriend. Was it true I was no use to them? Was it true that this world would be better off without me? These questions caused more tears to surface, which eventually led me to reach for the phone. I sent a text to a friend that I knew was familiar with depression. After I told him what was going on, he urged me to go back to my friends. He reassured me that my friends loved me, that he loved me, and that I needed to be with them in that moment. I didn't want to. But I went back.
And honestly, I think it saved my life that night.
To those who struggle, I urge you to reach out. If no one knows what you're going through, please tell someone. Your life is worth it.