The lifelong path of grief is hard. It is an unfairly weighted backpack. And anyone that has been on a backpacking trip can tell you that the pack doesn't get lighter the more you walk with it. You get used to the weight you must carry but it doesn't get lighter. 
My sister, Paige, was an incredible writer. The irony is not completely lost on me that I am the one writing a blog post for what was one of her favorite organizations. I always told my sister that I would love to be able to write as she did. And now, because of Paige, I have written a lot about suicide and grief.
She took her own life on October 14, 2019, just a month shy of her 27th birthday.
There are so many reasons I miss Paige and now I am adding to the list that she would be incredibly helpful in this writing process. The last words my sister said to me in person were, "I will be okay; I will be here when you get back." This was just before I moved back to Alaska after a short stay in my home state of California. When I returned again after another year in Alaska, Paige was gone. Paige believed she would be there and she was so happy for me to go be the adventurer that I am. She knew that if she asked me to stay in California to help her I would have. Paige was happy to support me, she told me to have fun in Alaska. After she died, I spent so much time thinking that I could've done something different—even though she never asked for my help. If I stayed with her in California I could have done something to make sure she was still here. If there was something I could've done you better believe I would have. Through therapy (and more time), I realized that I couldn't help if she never asked for it. And Paige was one of the most intelligent people I've had the pleasure of knowing and I believe wholeheartedly that she knew anyone around her would help without hesitation.
I was in Juneau at the time when my mom called to tell me that Paige had died, sitting in my office working on cruise ship contracts for the zipline company I worked for. It was a Monday and I ran outside unable to comprehend what was happening. I started to pull my clothes off standing on the shore of the Icy Strait. I didn't know what to do. I stayed awake until the next day when I was back at my parents' home in California. Without my sister. My immediate family was all together, gathered in the living room, no one sleeping. We lay on the floor, mostly sat in silence. Occasionally, the quiet was broken when someone mentioned something amazing about Paige or a funny memory, and my whole family would simultaneously break into laughter and tears. Other than those shared moments of grieving, I don't recall much of the weeks that followed. But I do know we were not given the space we needed to grieve. We were surrounded by people who cared so deeply but were often projecting their own fears, guilt, discomfort, and sadness onto me and my immediate family.
At her memorial, there were tons of people present. I held others and was cried on so much. Most in attendance danced around the issue of suicide and mental health. During the eulogy, my brother and I talked about the subject. When she was alive, Paige verbalized her belief that mental health needed to be brought into the conversations of life. It felt so deeply out of order that my brother and I had to speak about it at her memorial. While walking up to the stage, the song, "You Don't Know How Beautiful You Are" by Jon Foreman,  faded out on the lyrics:   "Future flowers from all this pain, future gardens from all this rain." I could not see how a flower, let alone gardens, could come from this pain or the tears that were raining down.
The memorial was remarkable but it also felt like a bad dream I could not wake from. That was until I found some friends who came all of the way from Oregon to attend and just be there for me. I remember walking upstairs at the church and seeing them eating and laughing. It was just what I needed at that moment. I needed to see people who didn't stop laughing when I walked up. In their presence, I felt some of the isolation of grief melt away.  My friends didn't change who they were around me just because my sister died by suicide.
There are a fair amount of folks who approach my entire family completely differently now. We are met with looks of pity and timidness or worse, silence and avoidance. Most do not want to bring up Paige and just ignore our reality—I am guessing they don't want to cause us any further pain but denying our grief and her life cuts so much deeper. Paige is not her suicide or her eating disorder or depression. She is much more than her struggles or the way she died.
Being someone who had never gone to therapy or wanted to deal with my emotions, I spent a year vacillating between apathy and anger. I could not let myself be happy. I felt as though the only connection I had with Paige was now through pain. Often, I opted to feel nothing at all. I  closed myself off from life and just survived. I got angry when Suicide Prevention Day would come around because the flip side of hearing people talk about how they are still here or how suicide is preventable is that there are those of us living in a world where our loved ones did die. Hope is powerful and necessary but sometimes that's not how the story ends. Sometimes, your sister dies and you just have to keep living without her. And that reality made me angry for so long and still does sometimes.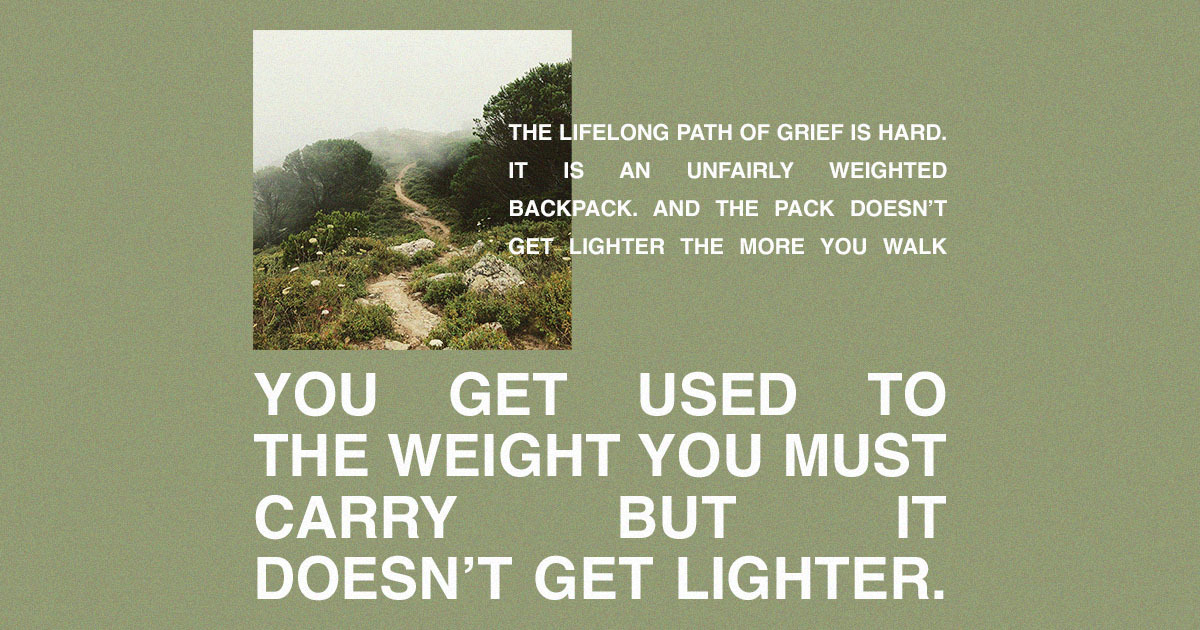 What do you do if you can't prevent a suicide? That is something that I am still working on answering. People who have survived a suicide loss are often in a fog of disillusionment. Like we have unlocked some answer to how the world works and everything is worse for it, the world is now seen through the lens of this heartbreaking grief and loss. The wild thing is how contagious suicide can be and the effects it has on the people close to it. It ripples out far and wide, touching even just acquaintances of Paige's. The fact that I struggle with my own mental health now is something that has been a direct result of Paige taking her life.
It is not OK and it is unfair that we have to go through this.
Having a conversation with your grief is such an interesting thing to do. I find I still try to bargain with grief and time, asking to go back to the days before Paige lost her life to suicide. It was so easy to turn to unproductive coping mechanisms. It was just easier to not feel anything because the pain was too much to bear. Sometimes, we do need distractions and healthy ways to temporarily dissociate from the pain in order to get through some days. But I want and need to be present now. I want and need to accept the absurdity of life.
There are so many people who are left with this same overstuffed backpack of immense grief after losing a loved one too soon—especially to suicide. This horrific thing happened and we are left to fumble with learning to navigate it. You can start to feel so locked up in grief; trapped with this pain and alone. The world I used to live in was a completely different world from the one I live in now. The person I was before is different than the one writing this now. Although I carry a heavy weight today, I do not miss the version of myself that existed before my sister died. I took life for granted. But you can't know the pain until you know the pain.
Eventually, after carrying the grief by myself, I  did something I never thought I would do… I asked for help. I started seeing a therapist and realized I wasn't really living anymore. That's how I began to come back to life. The hardest part though is that it requires trying again and again. A quote that my brother and I reference frequently comes from a show called BoJack Horseman: "Every day it gets easier, but you have to do it every day, that's the hard part." The same goes for trying to live again. It's challenging. It takes consistency with the small daily choices. Maybe it's just getting out of bed and taking a shower. But little by little those things add up.
On the second anniversary of Paige's death, I went for a hike. That day I started to acknowledge that I was just surviving and not actually living.  During my hike, I started to feel every emotion I had hidden and stuffed away. I was throwing fists at the sky, I was happy, I was furious, I was present, finally. I felt it all. I kept thinking about how Paige would be upset if she knew what my life had become. Unfortunately, too many people who experience suicide loss are feeling just as isolated and apathetic to life. I knew I needed to try to truly live again. I thought of the phrase, "We shall continue with style" and how I had cheapened life and Paige's life by barely existing. That day I said to Paige, "It is OK, we will continue from here. I will live again and carry your joy and pain with me as I go." This is when I reconnected with my intrepid and adventurous spirit and started the We Shall Continue with Style organization.
Many of us feel so alone in grief.  It can be painfully isolating. It is so important to support and be there for people dealing with traumatic loss and grief, especially the kind that most people would rather not talk about. And we need to do this together. We have to continue on with our own individual styles. Whatever that may look like—we can find our way back. Maybe not back to who we were before, but we can connect with ourselves and this world again in some way we find meaningful. For me, that is reconnecting with my love of outdoor recreation and adventure. Nature has many unique benefits for the grieving person that may not be found anywhere else.  I truly have experienced a profound ability to be present with myself and my grief while spending time outside. I believe that there is a deep healing that can come from spending time in the outdoors.
In honor of this healing, this year I am going to ride my bicycle from the Californian/Mexico border to Ushuaia, Tierra del Fuego Province, Argentina. I will probably be on my bike by the time you read this. I chose to make this trek in 2022 because I am now officially older than Paige was when she died. I turned 27 this past June. That thought has really messed with me. My older sister never turned 27 but I did. I couldn't think of a better way to continue living than to go on an epic adventure. When I started to tell my friends and family about this ride they encouraged me to share my journey because if my family and Paige could help others find ways to continue living, we should do so.
We Shall Continue with Style came from the idea that together we can choose to continue living and that we should do it with our own style. By finding things that can bring us peace and joy. Outdoor pursuits such as hiking, climbing, kayaking, and cycling are some of the things that have helped me to find happiness and joy again. They have allowed me the time and space to grieve, find gratitude in small moments, and connect with this world in a new way. I encourage you to find a way to align with this life and maybe rediscover your own joy through the outdoors. I believe this is a way we can honor those we have lost to suicide.
---
Learn more about the You Are Not A Burden campaign in honor of Suicide Prevention Month here.
---
Whatever you are facing, there is always hope. And we will hold on to hope until you're able to grasp it yourself. If you're thinking about suicide, we encourage you to use TWLOHA's FIND HELP Tool to locate professional help and to read more stories like this one here. If you reside outside of the US, please browse our growing International Resources database. You can also text TWLOHA to 741741 to be connected for free, 24/7 to a trained Crisis Text Line counselor.