For the past couple of years, I've dealt with an eating disorder that has consumed every aspect of my life. All foods tasted the same, and none were enjoyable. Eating felt no different than chewing on cardboard or a flavorless snack. All the healthy foods I ate amounted to one thing: fuel. I hated that I had to eat to survive, but I was grateful that my desire to live was stronger than my desire to starve. I wanted to eat because I wanted to live.
I would spend close to an hour deciding what to have for breakfast, carefully planning my calories and food choices for the day. Every waking moment strategically revolved around food. On a number of occasions, I would nearly make myself late for school because of this.
There was no room for the unexpected in these intricate plans of mine. However, life is messy, and there are many days where things cannot go according to plan. Being asked to stay late at work, being invited to hang out with a friend, forgetting my lunch at home… these tiny shifts in my carefully formed plans would evoke terror and panic.
At family lunches, following church every Sunday, I often spent my time in the bathroom crying over the limited menu choices, anxiously bracing myself for the horror of having to eat something that didn't meet my standard of "healthy." I felt like a burden to my family and lived in guilt for how my struggles affected them.
---
I am a hollow shell moving through time and space and I cannot remember the last time I experienced joy. I have been holding on for dear life, but I don't think I can make it much longer. I reach out to my mentor, Celeste.
We get together to talk and pray. She helps to expose my self-destructive thoughts for what they really are—lies. Laughable, ridiculous lies. Together we laugh at the hilarity of their nothingness. A weight has been lifted and I can feel the warmth of God's light. My hope has been rekindled.
I drive home with joy in my heart, thinking of other hilarious things… inside jokes with friends, the goofy (and embarrassing) things we did as kids, silly songs I have on my phone… and I laugh, and I laugh, and I laugh. Toxic thoughts try to present themselves, but I laugh boldly in their faces and they disappear as quickly as they came.
I stop counting calories. I sleep in later since packing food is no longer a time-consuming chore. I get lunch at the school cafe if I don't have time to cook without thinking twice about what's in it. I branch out at restaurants by ordering foods I have never tried before.
The cardboard flavor of all foods remains the same. I am far from enjoying "treats" here or there, but I am slowly starting to get my life back.
I visit my brother in college at a restaurant I've never been to before. This loss of control frightens me, but I tune in to the voice of Truth and allow it to guide me through my meal.  It becomes my own personal recovery coach, guiding my food choices and cheering me on with each bite. Knowing I have permission to eat what I'm eating, I slowly begin enjoying food again.
---
I am running on three hours of sleep and two cups of coffee. I sit in the school library cramming for an exam and my friend Brad joins me. I am hungry and exhausted. Brad leaves for work and I begin debating what to have for lunch. I am far too tired to cook. I consider grabbing a salad from the school cafe, but I know my body is wanting more. Perhaps I could go to Dairy Queen. Wait, did I just think that? Me? Wanting Dairy Queen? It could be the sleep deprivation talking, but suddenly the door to eating and enjoying something for the time in a long time opens.
I get in my car and pull into the drive-thru. "Kid's cheeseburger with just ketchup—ice cream for later, please!" I take my food, find a parking spot, and slowly begin to unwrap the burger. I lift it to my mouth and sink my teeth in. The softness of the bread… the flavor in the burger…my taste buds come alive. I sit in my car bawling as I continue to take bites. I go slowly, savoring every moment of the miracle that is unfolding. I have never been so happy to eat anything in my entire life. Freedom has never tasted so good.
---
If a trigger tries to shake me off my path, I remind myself of every victory I've won. I remind myself that I am brave, capable, and strong. I remember how hard I've worked and all the progress I have made. I reach out for extra support and encouragement. I remind myself of how good it feels to be free, healthy, and happy, and just how much these things are worth fighting for.
---
I never thought I'd see the day when I could go to a restaurant and be fully present with the people I was with. I never thought I'd see the day when I could go on a vacation and truly enjoy myself. I never thought I'd see the day when I'd have a healthy relationship with food. These freedoms I once thought I would never get back have become my reality. I have my life and my joy back. And it was worth every tear, every counseling session, every painstakingly terrifying new step.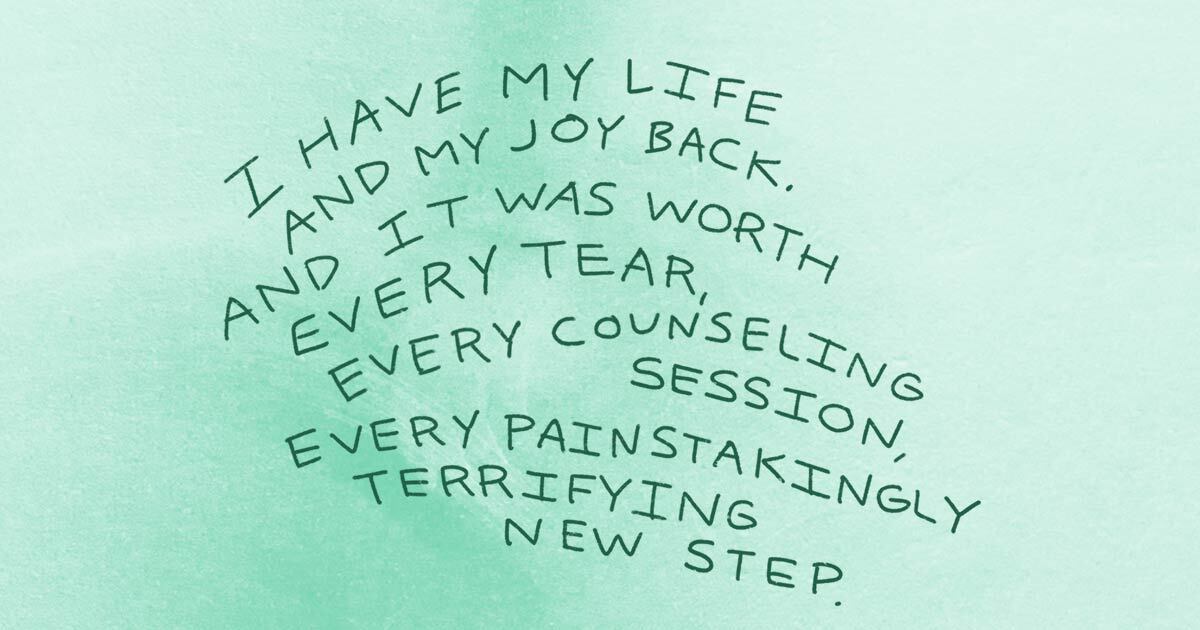 ---
You are more than a number on a scale or a measuring tape. You are human. Messy and whole, capable of so many good things, regardless of your body's shape. We encourage you to use TWLOHA's FIND HELP Tool to locate professional help and to read more stories like this one here. If you reside outside of the US, please browse our growing International Resources database. You can also text TWLOHA to 741741 to be connected for free, 24/7 to a trained Crisis Text Line counselor. If it's encouragement or a listening ear that you need, email our team at [email protected].