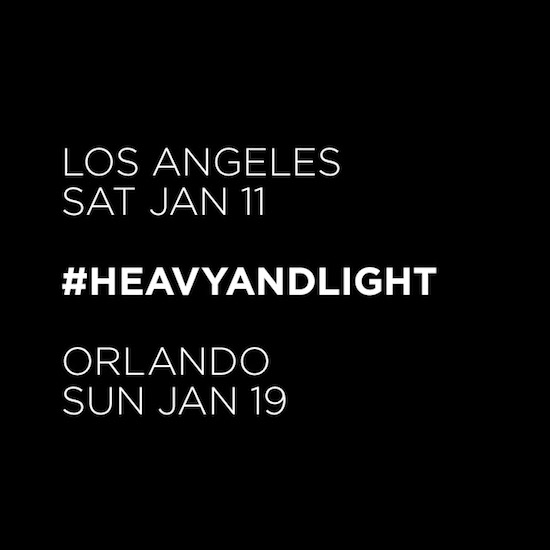 HEAVY AND LIGHT began in 2007 as "an evening of songs, conversation, and hope," held in response to the life and death of our friend Casey Calvert. Casey was a member of the band Hawthorne Heights. He was honest about his own struggles with depression and emerged as one of our biggest supporters. HEAVY AND LIGHT was held at The Social in Downtown Orlando and took its name from the words of a shirt we made and sold to help pay for Casey's funeral expenses: "Our hearts are heavy and light. We laugh and scream and sing. Our hearts are heavy and light."
The night was a success and the following year, we moved from The Social to House of Blues, to share HEAVY AND LIGHT with a larger crowd. House of Blues was our home for the next three years and the event became not only our flagship event, but our favorite night of the year. Spoken word poet Anis Mojgani was added to the mix and so were local resources. We wanted to do more than just encourage people to get help. We wanted to make it as easy as possible. For that reason, since 2009, every person who has attended HEAVY AND LIGHT has been handed a list of counseling and treatment options for Orlando and surrounding areas.
In December 2011, we won the first-ever American Giving Awards, presented by Chase Bank. The nationally televised program gave the TWLOHA message its biggest stage ever, and Chase gave us one million dollars. That night, we knew that one of our biggest dreams could come true: We would be able to take HEAVY AND LIGHT to cities across America, so that thousands of people could experience a night that pointed to hope, help, and the idea that it's okay to be honest.
We spent 2012 planning, and in January of this year, we hit the road. The tour started in Anaheim, CA and from there we visited 16 cities over three weeks, finishing where it all began, in Orlando. It was indeed a dream come true, with people along the way saying things like, "It was the best night of my life" and "That show saved my life."
After the San Diego show, an email came in from someone saying they had bought a ticket only to see Noah Gundersen perform. His plan was to leave after Noah, but he ended up staying for the whole thing. He went on to tell us he had made up his mind to take his life. He was saving for a gun. HEAVY AND LIGHT somehow changed his mind. His email said, "Today, I texted my dad and told him everything. I'm writing this email as I sit at a table in a restaurant, waiting for him. We're going to talk about getting me some help. TWLOHA, thank you. You gave me some much needed hope. I'm pretty sure you saved my life."
A few days ago, I was in Orlando to spend some time with my friend Kyle Griner. Kyle manages Anberlin and has helped us with HEAVY AND LIGHT since that first night in 2007. We were getting together to talk about HL 2014. i picked up Kyle, and we parked at our friend Aaron Moore's counseling office to sit down for coffee across the street. There was a girl parking at the same time. We both got out of our cars, and as I started to walk away, she said, "Hey, Jamie. You don't know me, but I want to thank you. I'm on my way to counseling, and I made the decision to go to counseling because of HEAVY AND LIGHT."
These stories represent the heart of the matter. They are why HEAVY AND LIGHT exists and why we believe in it so much.
All of this brings me to the news of HEAVY AND LIGHT 2014. We wish we could revisit all 17 cities. Heck, we wish we could take HEAVY AND LIGHT to 100 cities all across the planet. But financially, it's simply not possible. People sometimes refer to HL as a "benefit show," but that's actually not accurate. The shows don't make money. They cost us money, which is OK because our aim in doing them is to give something, not to get something. But it also means we're limited in how many we can do.
In 2014, we will be doing two, and we think it's worth repeating what someone very smart once said: "Two is better than one."
HEAVY AND LIGHT // LOS ANGELES
Saturday, January 11, 2014
House of Blues West Hollywood
HEAVY AND LIGHT // ORLANDO
Sunday, January 19, 2014
House of Blues Orlando
We know this means we'll be hundreds of miles away from many of you, but we sincerely hope you can join us. Plan a road trip with friends or catch a flight and stay with your uncle in L.A. We would love to see you there.
Stay tuned for details. We will be announcing artists very soon, and tickets will go on sale next week.
Peace to you.
jamie