Note: This piece is in honor of National Pregnancy and Infant Loss Remembrance Day on October 15, 2021. Pregnancy and infant loss, along with suicide, are mentioned throughout. Please use your discretion. 
Heart pounding, mind racing, and tears flowing down my cheeks, I glanced to my left and then to my right looking for a way out. Echoes of my screams bounced throughout the car as I demanded answers. I ultimately resided in the anger stage of grief, and I just wanted it to end. All of it. My life, my pain, the anger, the unanswered questions, and the noise that continued to fill my head. I longed for silence, peace, and restoration—and grief was everything but. So, as I made my way down the most dangerous highway in Orlando, I contemplated driving off the road to make it all stop.
There are parts of my story that I used to keep within because judgment felt too heavy. But through the years, I've realized the fear of judgment weighs a lot less than the reality of walking through grief alone—so I share.
While I wish the thoughts of suicide were not a part of my story, the truth is there was a moment I didn't think I could survive the loss of our twins, Grady and Ryder, who were born prematurely at 22 weeks. How does a mom survive the loss of her sons? This question replayed in my mind for years on end while I journeyed through the five stages of grief and searched for hope in our story.
In 2014, I was diagnosed with Twin to Twin Transfusion Syndrome and upon our diagnoses, one thing ultimately led to another. From surgery to my water breaking prematurely, to grueling month-long bed rest, our story ended with a lonely wheelchair ride to the car with empty arms and a broken heart.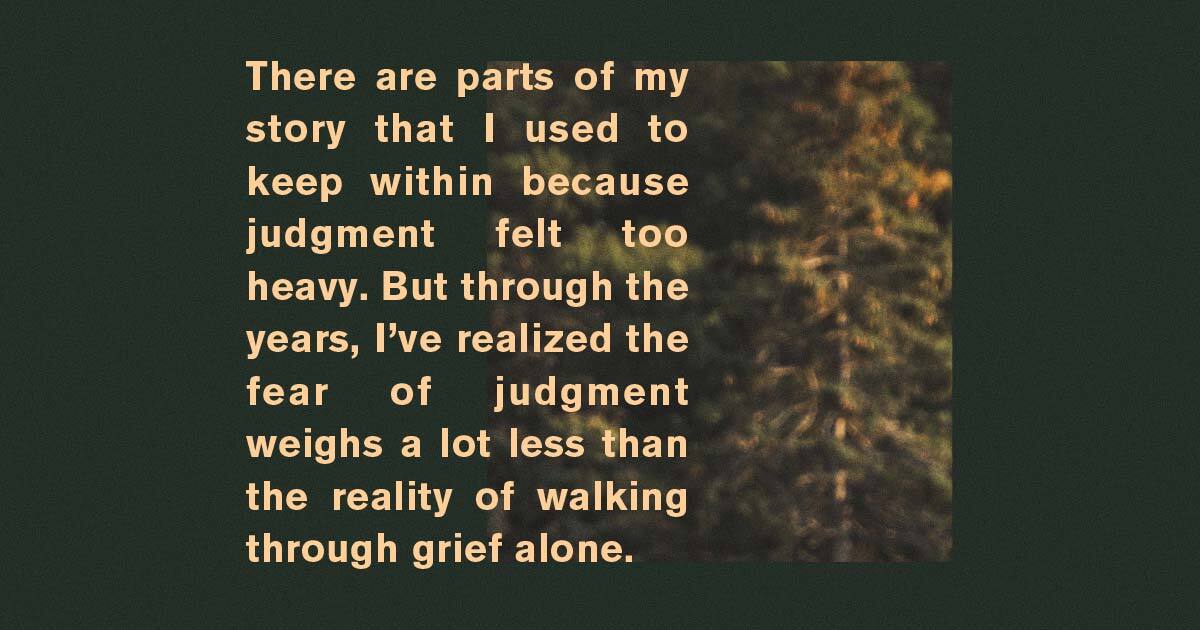 Prior to our loss, I experienced two perfectly healthy pregnancies and welcomed a son and daughter three years apart. I remember hearing stories of women who had experienced a loss but never gave the saying '1 in 4' the attention it truly deserves. Unfortunately, it wasn't until I became '1 in 4' that the weight of a statistic woke me to the heartache.
Mothers across the world are carrying the weight of their loss strapped to their back as they trek through their lives, and we may never even know it. They could be our neighbor, our friend, or a co-worker, and the fear of judgment may feel too heavy, so they tuck their story along with their grief deep inside and carry on wondering, "How does a mom survive the loss of their baby?"
As I drove down I-4 contemplating my own life, something grabbed hold of my wheel. Beams of light strung with glimpses of those I loved and a future I longed for flashed before my eyes. Instead of driving off the road, I found myself at the lake where we held Grady and Ryder's memorial service. I sat there for a while crying and pleading as I released the anger in hopes of feeling renewed. I like to believe it was hope that grabbed my steering wheel that day because, without hope, I wouldn't be here today.
Grief after the loss of a baby is like a roller coaster. One moment you're brave making your way up the mountain of hope ahead of you, laughing even and feeling like you're finally "you" again until you reach the top, and for a brief moment you're reminded of all that you've lost and you find yourself sloping down again—missing them. This rollercoaster is and always will be a life-long journey. While life provides joy alongside the heartache, moms of loss will always be living a "here and there." Half of our hearts live here, the other half, we long to meet again.
I believe a mom survives the loss of their baby because the truth is we're not riding the coaster alone. The seats are filled with others at their own stage in their journey, some further ahead sharing the hope in their stories to help others and others way in the back just starting their trek. But together we ride knowing we'll get through it no matter which stage we find ourselves because we have a community to lean on. High or low, we're not alone.
Last month marked seven years since I first held our sons and said goodbye. The two major life events took place on the same day, and I was changed forever. September is a month that holds heartache and uncertainty for me, but October, Pregnancy and Infant Loss Awareness Month, awakens my soul to the hope in our story. I'm reminded that my story, her story, and their stories when shared become the driving force that takes another mom from despair to a place where hope takes hold of the wheel and guides them on a road toward healing.
If you're a mom of loss and you're feeling as though your road is coming to an end, hear me when I say the path ahead, while unsteady, is worth the long haul. Joy and grief can and will coexist. There will be moments filled with laughter and moments that'll bring you to your knees. There will be moments of celebration and then there will be moments of desperation but each and every single moment is weaved together to create a life full of purpose and hope. So don't be afraid. It's in the healing that hope can continue to help a mom survive the loss of their baby.
And, while there will be moments when you desperately want to get off the roller coaster of grief, remember high or low, hope is found. High or low, your story matters. High or low, you're not alone.
---
There are resources specific to pregnancy and infant loss in the US, Canada, the UK, and here.