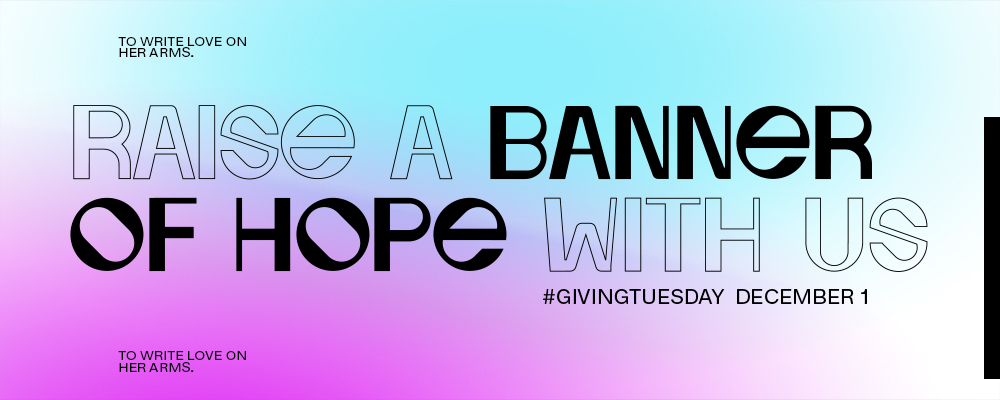 This year has looked nothing like any of us expected—isolation, trauma, grief—so prioritizing our mental health and having access to affordable treatment is more important now than ever.
On #GivingTuesday (December 1), we invite you to stand with TWLOHA, to share why mental health advocacy matters to you, and to help us bring hope #into21. Our goal is to raise $10,000 on this day in order to reach $175,000 by December 31. #GivingTuesday is a day of global generosity—a day of hope.
How you can help on #GivingTuesday:

Double your impact.
Great news! Facebook is matching up to $7 million in donations made to nonprofits through their platform on #GivingTuesday (December 1) starting at 8 am ET. This means when you make a post on Facebook and add a donate button benefitting TWLOHA to it, create a #GivingTuesday Facebook fundraiser, or even make a donation to our fundraiser—it has the chance of being DOUBLED!
The funds raised are going to help us reach millions of people each month with hope and connect those in need to affordable mental health care. And when people make a donation to us through Facebook—100% of it goes directly to TWLOHA, enabling us to invest every dollar of your gift into this work.

Make social media a place of hope.
Social media lately has been a place of honesty, heartbreak, and vulnerability. On #GivingTuesday we want to make it a place of hope. Join us by sharing what good you are hoping to bring #into21 and inviting others to do the same.
Participate using your social media platform of choice, and if you're on TikTok—we're now on there too! By adding a donate button (and selecting TWLOHA as your nonprofit) to your Facebook post, Instagram story, or your video on TikTok, you'll be helping us not only reach our goal faster but making it possible for this work to continue #into21.
You can use the words below or write your own! Your voice matters in this conversation. And don't forget to use the hashtags #GivingTuesday and #HopeLivesOn.
"Mental health conversations are needed now more than ever. That's why I'm supporting @To Write Love on Her Arms on #GivingTuesday because I believe it's okay to ask for help, it's okay to talk about our mental health. Will you join me by making a gift so #HopeLivesOn?"


Tune in to our LIVE events.
On #GivingTuesday we will be going LIVE on Facebook, Twitch, and YouTube from 11 am to noon ET, and again from 7 to 8 pm ET. We will chat about the amazing work you've helped make possible this year and we'll also get into why mental health is more important than ever. Plus, during the evening LIVE event at 7 pm ET, we'll be featuring conversations with and special performances from JP Saxe, Tonya Ingram, Emily Vu, LMHC Stephan Monteserín, and TWLOHA Founder Jamie Tworkowski.
Together we can make #GivingTuesday a day of hope.