This piece discusses the topic of suicide. Please use your discretion.
The day before I tried to end my life I wrote that my children, stories, and music were what kept me going. They were the first things that came to my mind. If you asked me how I was doing then, I would've told you fine.
Maybe that wasn't the whole truth. The sadness comes in waves. It's always there, but it isn't always so persistent.
The next day it knocked me off my feet. I made the kids breakfast and crawled back beneath the comforter, convinced that if I stayed out of bed too long I would die. Sometimes suicide is a physical sensation. It carves out a space in your chest and trying to get through the day seems impossible. Your limbs are too heavy, your head clouded with thoughts about how much it all is, but somehow you're unable to put any of it into words. I was grasping at everything and nothing in that bed. My feet scrambling to keep my head above the covers, above the surface of the water. The pull was too strong. I gave in.
A month ago, I tried to end my life.
It wasn't my first attempt, but I hadn't tried anything in the eight years since I gave birth. It was the first time that those feelings overwhelmed my love for my children and it was terrifying. Waking up was worse. Because when you wake up, you're still in the water. You have to try to put those thoughts into words. And with the realization that I was still alive came the guilt.
How could I do this to my family?
In the psych ward, I fought the rest my body and mind needed. I couldn't forgive myself. I thought I didn't deserve patience. I needed to be a model patient and attend all the groups. But I couldn't do it. It was as if I was trying to see underwater. Nothing was clear. Nothing was easy.
I feel guilty talking about it. Like it's something I shouldn't bring up because as much as it hurt me, how much worse was it for everybody else? How can I force them to relive that experience? How can I be anything but 'fine'? I still haven't found the strength to pull my head above the waves. They almost seem more persistent now.
My feelings surrounding it are complicated. I'm glad I survived. Tired but glad. I'm grateful things have returned to normal but I'm also struggling with that familiar feeling. With medication and therapy, it's gotten better. I'm practicing celebrating one thing I achieve every day. My therapist says it doesn't have to be anything grand—like running into a burning barn and saving all the animals. It can be something simple: I woke up. I made breakfast. I asked for help. That's the hardest part, I think. Knowing when to ask for help. Knowing no problem is too big or too small and trusting that there will be people there to help.
Help is out there and everybody is deserving of it, regardless of where they're at on their journey, whether they've been in recovery for one week or ten years, or if they're in high school or are about to retire—it's still OK to ask for help.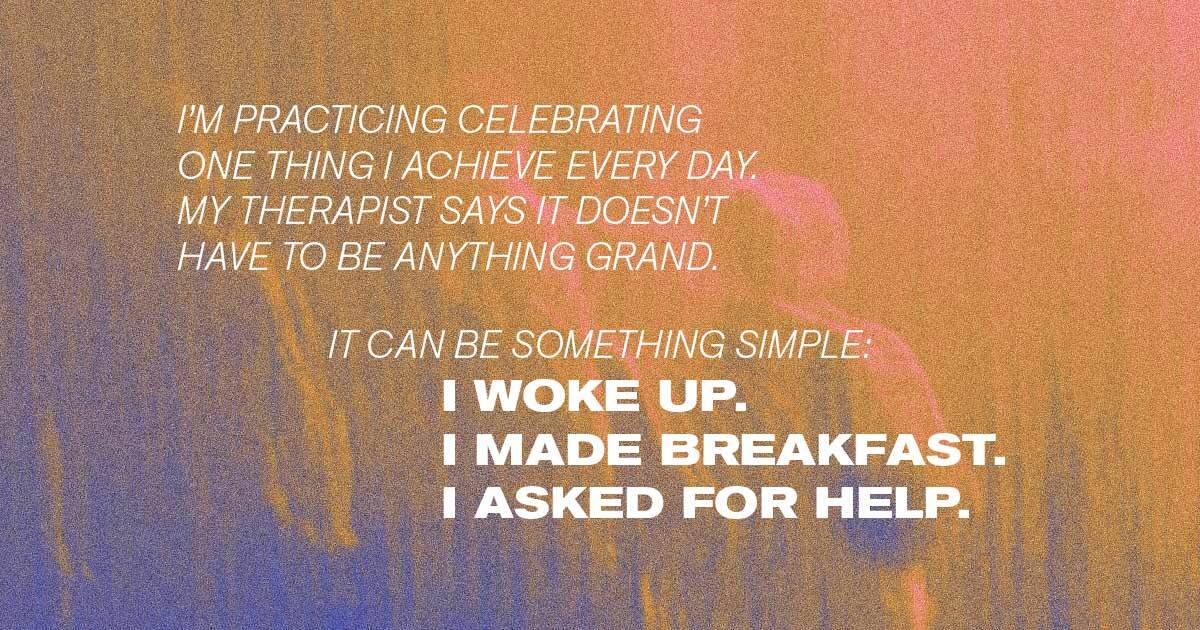 ---
Whatever you are facing, there is always hope. And we will hold on to hope until you're able to grasp it yourself. If you're thinking about suicide, we encourage you to use TWLOHA's FIND HELP Tool to locate professional help and to read more stories like this one here. If you reside outside of the US, please browse our growing International Resources database. You can also text TWLOHA to 741741 to be connected for free, 24/7 to a trained Crisis Text Line counselor.