I had to be tough at a young age, and growing up with four brothers, it was something I truly prided myself on, my toughness. While it can be a great quality to have, it also comes with some negatives. See, everyone expected me to be this tough woman all the time. But deep down, inside, that wasn't always the case.
In high school, prior to being medically diagnosed in my mid-twenties, I dealt with untreated Bipolar Disorder. I would come home some days feeling defeated, and after holding all of those feelings in I would seek refuge in my room where I could cry and scream alone. Again, I had to be this "tough" lady and I did not want to show that I was not that person so I broke down in private. Although I wanted to yell at the top of my lungs, "I'm struggling over here. I am not OK," I didn't have the courage to speak up or ask for help. You might be asking, "But why?" Well, I was afraid that asking for help would threaten my reputation for being strong and tough. I thought admitting I was struggling would be a sign of weakness and I didn't want to be seen or portrayed as weak. Another reason I hesitated? I was worried my parents would think I was faking it for attention.
So, for years, even after high school, I held up the same routine of bottling my fears and worries and mood swings until I was alone and could let it all out. But eventually, this act became exhausting and I sought out coping mechanisms, albeit unhealthy ones, to deal. I drank more. I engaged in self-harm. And later, I attempted suicide. All in an effort to preserve my reputation as being strong.
Then, one day, I asked for help.
It was Christmas and I had been crying downstairs alone all day because I didn't want to ruin the celebration. But later that evening, I had had enough of the pain and told my parents I needed to talk to them. They sat down at the kitchen table and I sat across from them and said these exact words: "I need help, I am not doing well. I cannot do this anymore and I do not want to live anymore." As I spoke, tears were streaming down my face. I remember their expressions of shock, the hugs they gave me, and their voices when they said we would go to the hospital to get help. That night was my first stay at a psychiatric hospital.
That first stay was where I realized it was OK to ask for help at any point in my life when I needed it. The second stay was where I accepted that Bipolar Disorder was something I had to manage and cope with for the rest of my life. Neither of these realizations, as it turns out, changed my reputation of being strong and tough. Asking for help actually made me feel stronger because I had found the courage to say I needed it.
The thing is, whether you are dealing with relationship struggles, self-esteem issues, or mental health challenges, my best advice for you is to ask for help. You do not need to face any of it alone. And having someone by your side may not take the pain away or resolve the problem, but it will help. So speak up and stay strong.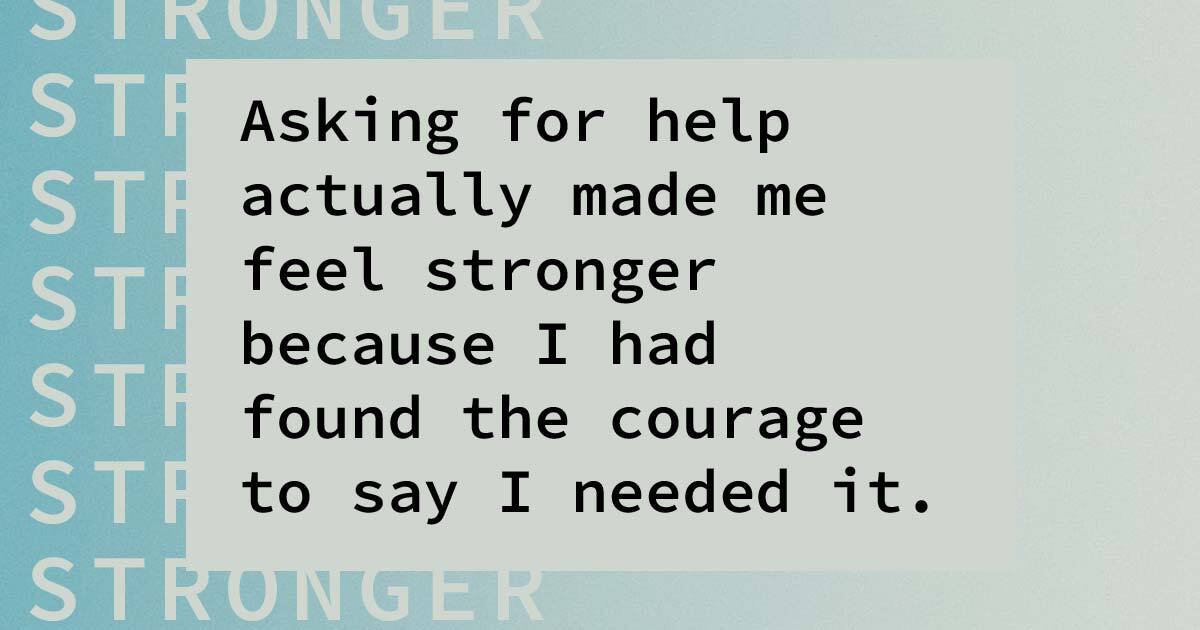 ---
People need other people. You are not weak for wanting or needing support. If you're seeking professional help, we encourage you to use TWLOHA's FIND HELP Tool. If you reside outside of the US, please browse our growing International Resources database. You can also text TWLOHA to 741741 to be connected for free, 24/7 to a trained Crisis Text Line counselor. If it's encouragement or a listening ear that you need, email our team at [email protected].