On Wednesday, America celebrated 236 years of independence. People hosted barbecues, gathered with friends and family, and posted photos of what is probably their favorite part of the Fourth of July: fireworks.
I've never been a fan of fireworks.
While the holiday is about celebrating America's independence, it's just too easy to forget the cost when staring up in awe at fiery bursts of red, white, and blue.
The United States has been at war many times, but never in our history have our ten-year-olds lived their entire lives in a nation at war. Since 2001, the War on Terror has cost us, at home and on the battlefield. More than 7,700 coalition troops have died in the wars in Iraq and Afghanistan, and more than 48,000 U.S. troops have been wounded. In 2010 and 2011, the number of military personnel who died by suicide was higher than those who died in combat. Now, in 2012, an average of one soldier dies by suicide every day. And for those who are coming home, it is estimated that one in five struggle with post-traumatic stress disorder (PTSD).
The weight of these statistics might be difficult to grasp because they just look like numbers—but then you meet one of the people they represent. In 2009, I did a tour with Alkaline Trio and Saves the Day. While we were in Milwaukee, I met a soldier who only a month before had lost his brother—also a soldier—to suicide. That was the first time he had gone out since, and he only went because his friends made him. He had no clue what TWLOHA was, so he came up to ask. When I explained what we do, he fell completely silent, and I could see how much pain he was in. He'd had no plans of going to the concert because he was mourning his brother, who was also supposed to go to the show. It was incredible that, of all the places he could have gone, he went to a place where TWLOHA happened to be. We talked for quite a while, and at the end of our conversation, he had a small smile. His face looked slightly brighter, and he sounded a little bit hopeful. That night has stayed with me ever since. It's something I've leaned on for strength. It's been a reminder for why I do this when things are hard.
It has always been a priority to everyone at TWLOHA to help those serving our country, as well as their families. So in February, Katie and I flew to Lousiville, KY to meet with the people at USACares to learn more about what they do and how we can help. USACares provides financial and advocacy assistance to post-9/11 active duty U.S. military service personnel, veterans, and their families. They assist all branches of service, all ranks and components, and never charge fees or accept repayment.
USACares also knows that, for many returning from combat, an even bigger war awaits at home—the attempt to return to everyday life, adjust to living outside of a war zone, and process what protecting our country required of them. One of USACares' programs is Warrior Treatment Today, which seeks to remove the financial barrier that exists for post-911 service members of all military branches who suffer from PTSD and/or traumatic brain injury (TBI) but cannot afford to leave their employment for treatment. WTT pays essential household bills while the service member/veteran is attending residential treatment through Veteran Affairs.
The average cost for USACares to help a family through WTT is $5,000. In 2011 alone, WTT provided over $221,000 to families who had a service person in treatment—but there are more families needing help than there are funds. The difference they've made in the families they've helped is obvious. In our meeting with them, I couldn't help thinking of that night in Milwaukee in 2009 and how, more than ever, we needed to help.
This matters to me because of those I love who have fought for my freedom: my high school friend Brad, who completed his first tour in 2003, and when he came home, he told me he hadn't been sober since he got on the plane in Germany; Christina, who I sent care packages to on her first and second tours; my dear friend Adam, who was only supposed to do "one weekend a month and two weeks a year", but is finally back home on U.S. soil after being in Iraq for months.
This matters because I know their stories are the same as yours and your loved ones. It matters to TWLOHA because we have wanted to find a way to help—and now we can.
At every event we do this summer and in every order that ships from our online store, you'll find this info card: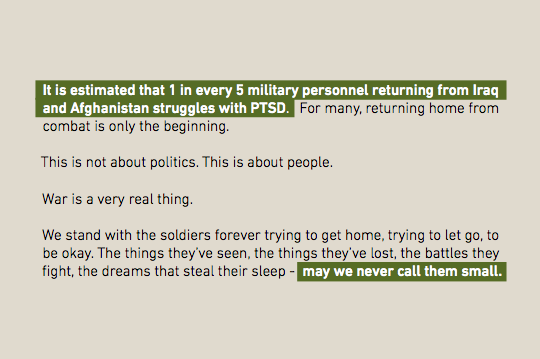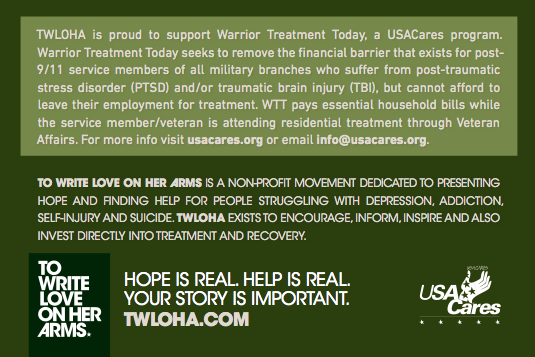 Beyond awareness, we want to help USACares meet the financial need of WTT, so we made a special Title shirt. We wanted the design to pay respect and honor those in the military, which is why the shirt is olive and our logo tan. Inside, you'll find words from a blog we posted in 2010 that still ring true today, as well as information about WTT. A portion of the proceeds from each shirt will be donated directly to USACares, which allows us to provide long-term financial support to military personnel who may need it everywhere.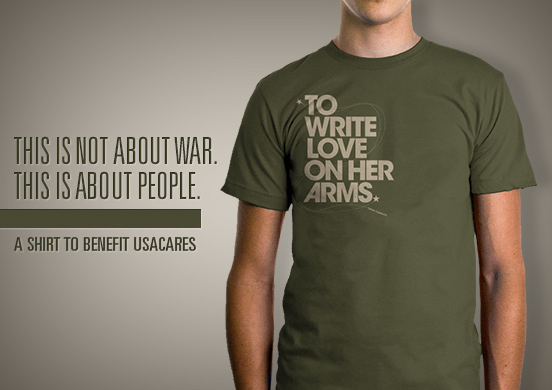 You've seen us post the words, "This is not about war. This is about people." Because that's the heart of this. This has always been about people. And while we all know the point of Independence Day isn't fireworks, sometimes we need to be reminded of that.
There are never enough words to convey our gratitude to those who have dedicated their lives to allow us to be free and to serve our country, but this is our attempt.
With Love,
Chloe