A letter to you from TWLOHA Founder Jamie Tworkowski:
One story. One box of t-shirts. An attempt to help one person.
That one person was my friend Renee Yohe and this was the beginning of TWLOHA, back in 2006, before it was an organization. What an awesome privilege, to start something small and then get to see it grow. In the days and weeks after writing the original "To Write Love on Her Arms" story and posting it on MySpace, I began to hear from people all over the world. They shared stories of depression, addiction, self-injury, and suicide. Some asked for help and others asked how to help someone in their life.
I was working as a sales rep for Hurley at the time. It was the sort of job I grew up dreaming about. I quit to go all-in on TWLOHA. While the future was entirely uncertain, what was happening felt too special to walk away from.
Years later, in Orlando where Renee and I first met, we watched as well-known actors recreated the story we had lived. It's fun to answer the question, "Who would you want to play you in a movie?" You don't expect it to actually happen. You also don't expect to win a million dollars on national television but that happened a few years later, when TWLOHA won the first-ever American Giving Awards.
The list of highlights and surprises is long. And for more than 15 years now, I've been part of TWLOHA. For many people, my words were their introduction to the organization, whether it was a blog post or a speaking event or a statement on a t-shirt. There have been countless conversations with people impacted by TWLOHA. These exchanges have always served as a reminder that I'm part of something bigger than myself. Along the way, the origin story turned into a global non-profit organization. What started with just me as the founder became an ever-expanding team, all drawn to the possibility of seeing people get help and stay alive.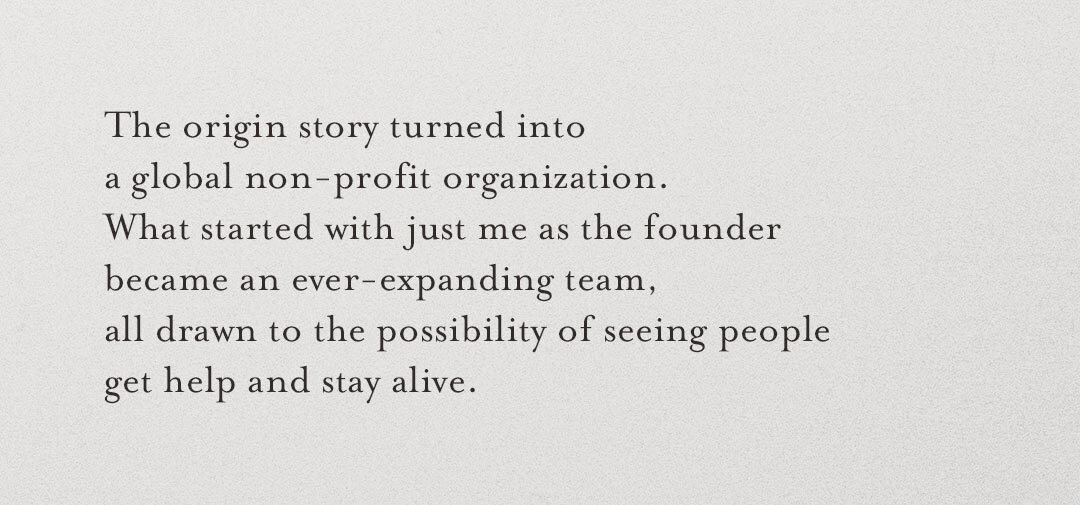 There have been challenges along the way. In the early years, my fingerprints were on nearly every aspect of TWLOHA, from blog posts to the words we shared on social media to the designs we landed on for merch. As TWLOHA's impact grew, the staff grew. With more voices in the mix, I struggled to adjust. I struggled with letting go of control as the organization became a bigger thing. In all of this was the challenge of figuring out the difference between TWLOHA and Jamie.
In 2017, our leadership team sat me down and shared that I seemed unhappy and uninspired. There was a difficult reality that while I had always been interested in leading the public—telling strangers they were valued and loved—my coworkers often experienced a different version of me. I wasn't good at leading our team. We decided that I needed to take a break. We knew time was needed to make decisions that would make it possible for me to be healthy while also meeting the growing needs of the TWLOHA team.
After a sabbatical in the summer of 2017, I stepped down from the role of Executive Director and began focusing on creative projects and speaking on behalf of the organization. I haven't been a TWLOHA employee since 2017. Instead, I've worked as an independent contractor, and in recent years TWLOHA has been led by Co-Executive Directors, Lindsay Kolsch and Jessica Haley. The organization has thrived under their day-to-day management and leadership.
One of the silver linings to the last year has been having time to pause and reflect, on where I've been, who I've been, and what I want my life to look like. 2021 in particular has involved a lot of soul-searching, a lot of therapy, and an ongoing conversation with TWLOHA leadership about what my role should be as we move forward.
Where we've landed is that this feels like the right time for me to step away from the organization. In order for me to continue to grow, and for TWLOHA to grow as well, we're making a change. I'm beyond thankful for the patience and support of the TWLOHA Executive Team throughout this process, both leading up to the decision and in figuring out the details that come with it. I've felt supported throughout and that means more than I can express.
It is my sincere belief that To Write Love on Her Arms has never been in a better place. There's an amazing team, along with great systems and programs that allow the organization to reach more people than ever, and to help more people than ever. I played a big role in the early years of TWLOHA. I've played a much smaller role in recent years. The organization is thriving right now, and that's not because of me. It's because of the amazing people who make up our team and the extraordinary leadership of the people who lead that team.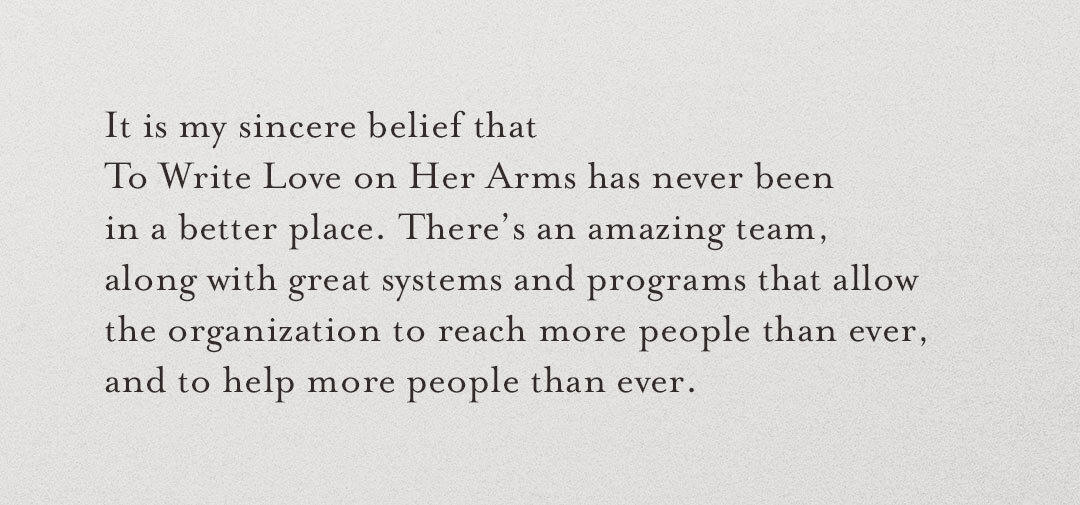 As for what I'll be doing next, it won't be a drastic change. I will be writing and speaking independently. I'm still committed to mental health. With that, I want to learn about other issues as well. Climate change, gun violence, immigration and the treatment of refugees, all of these things have resonated with me and certainly each one intersects with mental health. I've come to believe that caring about people has to include caring about the things that affect people. I want to continue to explore this.
I'm excited to be creative. In recent years, I've been a writer who rarely writes. I've been talking about finishing a second book for a while now. In the months ahead, my plan is to make it happen. I know that I have the opportunity to encourage and inspire people and I don't want to take that for granted. To quote my favorite Gang of Youths song, "Do not let this thing you've got go to waste."
Before we wrap this up, I'd like to shift the focus to you for a moment. I don't know where this finds you but perhaps you can relate to all this talk of change. Perhaps you can relate to moving on and letting go. Maybe you're navigating anxiety and fear in a season of uncertainty, or the shame of past mistakes. Please know you're not alone. I've felt these things too. I'm thankful for the hours of honest conversations with my counselor, and with others in my life. I hope you believe that you're allowed to grow and change. If you need a new chapter or a fresh start, I hope you feel the freedom to pursue it.

In closing, I want to say thank you. It's impossible to sum up the last 15 years. I was 26 when TWLOHA started. I'm 41 now. What a privilege to get to bring my heart to work. And what a privilege that this work has taken me to every single state and to countries around the world. There have been moments, achievements, and friendships that I never could have dreamed of. There's been heartache and pain and lessons learned as well. I am grateful for the entire ride. People are alive today because of TWLOHA. People are getting help today because of TWLOHA. That has been true for 15 years and I know it will be true on an even bigger scale in the years ahead. I'm excited to simply be a supporter, to cheer on the organization as they plot a course for all that is to come.
May stigma continue to be reduced.
May people continue to be encouraged.
May they continue to find help.
May lives continue to be saved.
And may love remain the movement.
Peace to You.
jamie
---
As our founder begins another chapter and is exploring new dreams, we invite you to join us in following him on social media (@jamietworkowski). You can also visit the all-new jamietworkowski.com for more updates.