This piece is part of our Mental Health Month blog series, where we highlight and explore lesser-known mental health challenges. Here's Dakota's experience with and perspective on Attention-Deficit/Hyperactivity Disorder.
There is a specific image associated with Attention Deficit Hyperactivity Disorder, a stereotype. It's often the first-grader, unable to focus during reading time. The second-grader who can't stop running around when they are meant to sit still. I truly bought into this stereotype—a lot of people do—that's why no one even entertained the notion that I could have ADHD, too.
High school was a living hell. The worst years of my life, and no, I am not being melodramatic. Nearly half of my freshman year was spent in emergency rooms, sick bays, my bed, or hiding in the school toilets. I wanted to be anywhere but there. I was the girl who cried in the bathroom during lunch. I was the girl who everyone whispered about. I was the girl who wanted to disappear. The girl who desperately wanted to die.
On top of this, and other things, I was also the girl who got bullied by her teachers. I never knew my daydreaming was such a problem until I got to high school. One moment I'm in history class, the next I'm fantasizing about life after high school. Those daydreams felt like they had lasted a few seconds or so, but in reality, it had been ten minutes. These in-school daydreams were often interrupted by me being yanked off my comfortable cloud and interrogated about what the lesson plan had covered.
It wasn't just this though. I couldn't keep up with homework or assignments. I couldn't focus during tests and exams, rushing towards the end and always running out of time. I was labeled as "stupid" and "lazy." No one believed that I was working hard because I had to work three times harder than my classmates just to get average results.
I begged my mom to let me get tested. When she said yes, I went to my psychologist, asking her if she thought there was a chance. Five minutes into a two-hour-long test, she knew the answer. I had ADHD, and as it turns out, compulsive behavior is a symptom in teenage and adult ADHD—of which I am the queen.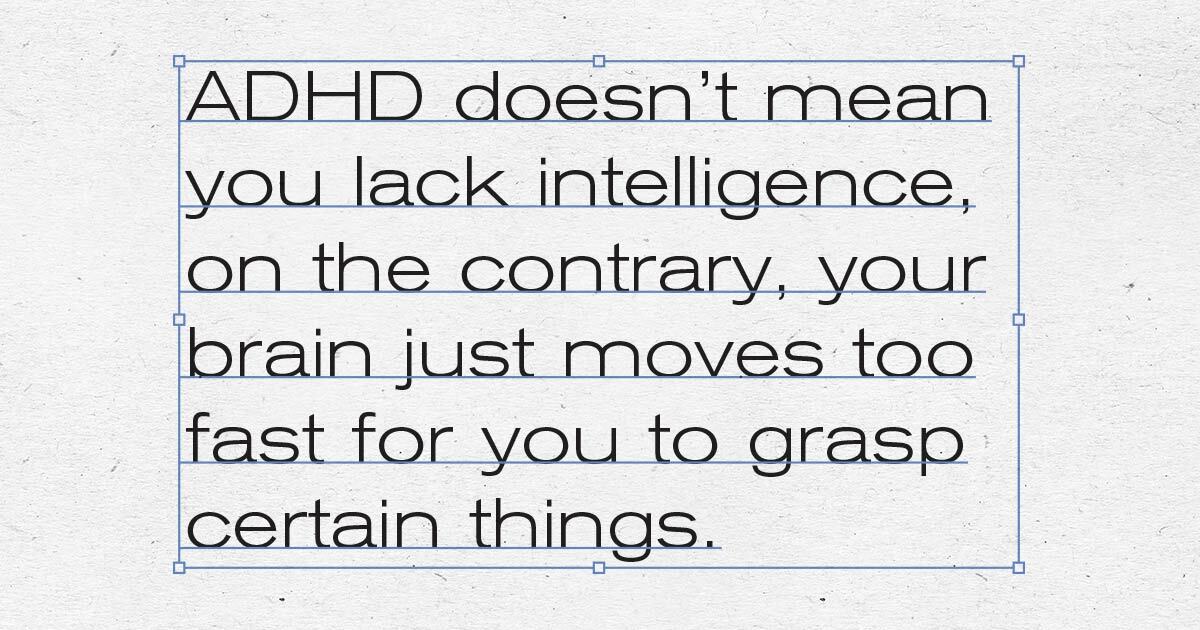 I was 17 the day I was diagnosed. I cried my eyes out, repeating the words: "I told you." Before then, my teachers, except one, were convinced I would never pass. And exactly one year later, following that diagnosis and the start of treatment, I was awarded for improving by over 20%.
I realize now that a lot of my experiences with depression and anxiety stemmed from ADHD. I believed I was a failure, I thought I was stupid, I didn't want to be in school because I feared I'd be made to look like a fool in front of the entire class.
Due to my own experience, I now advocate for early ADHD diagnosis. One of the most important things a person can learn is self-confidence. If you don't believe in yourself, the darkness takes over. It will exploit any insecurities you may have and amplify them. Believing that you are not capable of doing things, only leads to the belief that you are not worthy.
No, I did not flourish in high school. I was the girl that would have been voted as "The One Most Likely To Never Succeed." But that didn't happen. ADHD doesn't mean you lack intelligence, on the contrary, your brain just moves too fast for you to grasp certain things.
My diagnosis wasn't a death sentence—it set me free.
---
Your diagnosis is not the end of your story. Healing and treatment are still possible. We encourage you to use TWLOHA's FIND HELP Tool to locate professional help and to read more stories like this one here. If you reside outside of the US, please browse our growing International Resources database. You can also text TWLOHA to 741741 to be connected for free, 24/7 to a trained Crisis Text Line counselor. If it's encouragement or a listening ear that you need, email our team at [email protected].