Pregnancy is a time of great change. Your mood is unpredictable. Your body is literally growing and expanding and things are totally not fitting as you imagined they would. Things that you used to enjoy eating make you sick and peanut butter, pickles, and ice cream are the only things that settle your stomach.
I don't know about you, but for me, recovery from my eating disorder has been a lot like the chaotic time of change described above. The size of your jeans is a concern. Frustration. Confusion. Feeling overwhelmed as your body experiences new cravings and you're scared to honor them.
Now, imagine both happening at the same time. You spend recovery trying to break yourself of habits like focusing on numbers such as weight and sizes, and suddenly, you become pregnant. And every other week you're on a scale, calories and nutrition are all your doctor talk about, and you can't even wear jeans anymore unless you unbutton the waist. Without a history of disordered eating, pregnancy is a demanding process, but it's also nearly enough to trigger a recovered anorexic like me into a frenzy. And literally no one is talking about it.
I didn't envision my "aha" moment happening in the parking lot of a Chick-Fil-A, but it did. It happened when I did something I haven't done in a very long time. Two things I haven't done in a very long time, actually. I voluntarily ate at a fast food restaurant and I cried hysterically in my car in the parking lot of said fast food restaurant. But, I assure you, at the risk of sounding cliché, this story is not what you think.
The morning of, I was pressed for time before work and I couldn't find anything in the house that sounded appetizing for breakfast. That's when I came face to face with a Chick-Fil-A coupon mailer on the kitchen counter. If I took the coupon to the Chick-Fil-A down the road, I would have an easy solution for my grumbling stomach, and not only was the restaurant on my way to work, but the chicken biscuit looked amazing. Soon, I was out the door and I was pumped.
Pregnancy is weird.
There was a party of two ahead of me when I got there. The time to back out limited. The time to scan the calorie information on the menu limited. The time to listen to my eating disorder limited. And this is precisely why I think the exchange I had with the cashier was so perfectly awkward and authentic. As I approached the register, the cashier asked me what I wanted. I proudly handed her my coupon and said, "I don't know why I need this sandwich, but I really need this sandwich right now." We both laughed. She got my chicken biscuit bagged up in a hurry and I was on my way.
It wasn't until I got back into my car and took a bite of, I swear to you, the best breakfast I've ever had, that I started crying hysterically. (And I don't think it was due to the pregnancy hormones.) I wasn't crying because my dietician had asked me to eat a "challenge meal." I wasn't crying because I was getting ready to go on a fast-food binge-and-purge adventure. I was crying because for the first time in a really, really long time I was taking care of myself without shame. Acknowledging and honoring what I needed—without guilt. And it was absolutely liberating.
Recovery is also weird.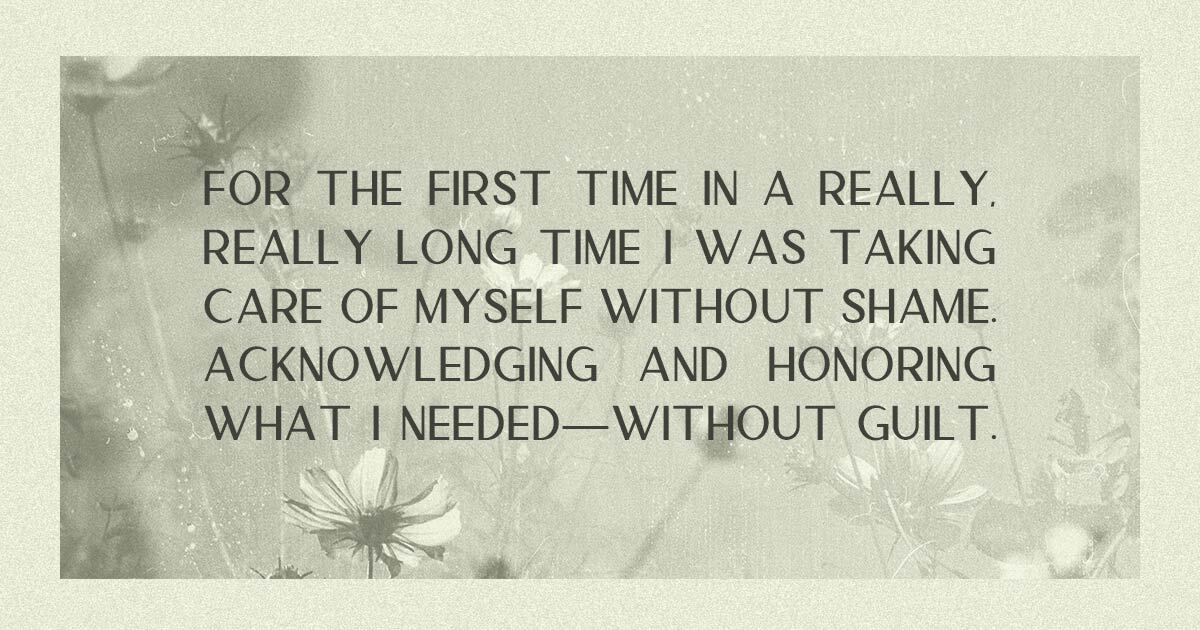 I don't know if this moment of recovery unfolded because of an expertly-timed Chick-Fil-A mailer or if, finally, I had an opportunity to use the pro-Erica voice I have been fostering for the last 10 anorexia-free years, but I will tell you this… For me, pregnancy has become this amazing collaboration between two full-time jobs: the miracle growing inside my body and the war I've waged on my body for far too long.
Pregnancy and recovery are both confusing, complicated journeys, but unlike I initially feared, they are not enemies nor are they mutually exclusive. If anything, pregnancy has allowed my recovery game face to get stronger. It's given me the daily chance to practice honing the skills I've been sharpening for so long but had perhaps grown complacent with.
I needed that chicken biscuit. I need to listen to my body. I need help tying my shoes because I can longer see my feet. Whatever it is, I'm asking for it and not feeling bad about it.  
And, of course, recovery has gotten harder the more pregnant I get. I make my nurses weigh me backward on the scale and the only time they bring up numbers or food is when it's medically relevant to the health of my child. In the end, that's all I want. I don't care if I'm sporting stretch marks or weigh more than I ever thought I would. Because I want to close this chapter making sure my child knows that their mom is a rock star who loves herself enough to eat a chicken biscuit when she needs one, no strings attached.
---
You are more than a number on a scale or a measuring tape. You are human. Messy and whole, capable of so many good things, regardless of your body's shape. We encourage you to use TWLOHA's FIND HELP Tool to locate professional help and to read more stories like this one here. If you reside outside of the US, please browse our growing International Resources database. You can also text TWLOHA to 741741 to be connected for free, 24/7 to a trained Crisis Text Line counselor. If it's encouragement or a listening ear that you need, email our team at [email protected].