Rally to Prevent Suicide: We Will Not Be Silent
Earlier this week, on Tuesday, June 11, TWLOHA had the honor of being part of the 2nd Annual Rally to Prevent Suicide held by the National Council for Suicide Prevention on Capitol Hill in Washington, D.C. Throughout the event, people took to the stage to share how suicide has impacted their lives and why the call for suicide prevention demands both our attention and resources in the here and now. One of the speakers was TWLOHA's very own founder, Jamie Tworkowski, and we wanted to share what he had to say about the experience:
"We hear a lot about being a safe country. We hear a lot about being a strong country. But what does it look like to be a compassionate country? // i didn't plan to say those words but those words came out. And to get to say that on this stage in this setting in 2019, it means a lot. Today's context was suicide prevention. It was an honor to be invited back to speak at the 2nd annual #RallyToPreventSuicide. It was an honor to stand alongside our friends at the American Foundation for Suicide Prevention, The Trevor Project, the American Association of Suicidology, The Jed Foundation, and Crisis Text Line, who fight to save lives every single day. It was an honor to stand among so many people who have been touched by suicide, to see the signs for loved ones lost too soon. Specifically, we were all there to ask Congress for $150M in funding for suicide prevention. We need more research and we need more access to services for people in crisis. We also need more access to affordable mental health care, because untreated depression is the leading cause of suicide.

In my brief time on stage, i talked about showing up. People from all across the United States showed up to ask Congress to show up in a major way. Some days, like today, we will be invited to show up for big things. Today's event had a stage and a crowd and an epic backdrop. But it's important that we keep showing up for the small moments as well. For coffee with a friend who is struggling. For that 2am phone call from a loved one in pain. Vulnerability breeds vulnerability. We're all in this together. And together we can save lives."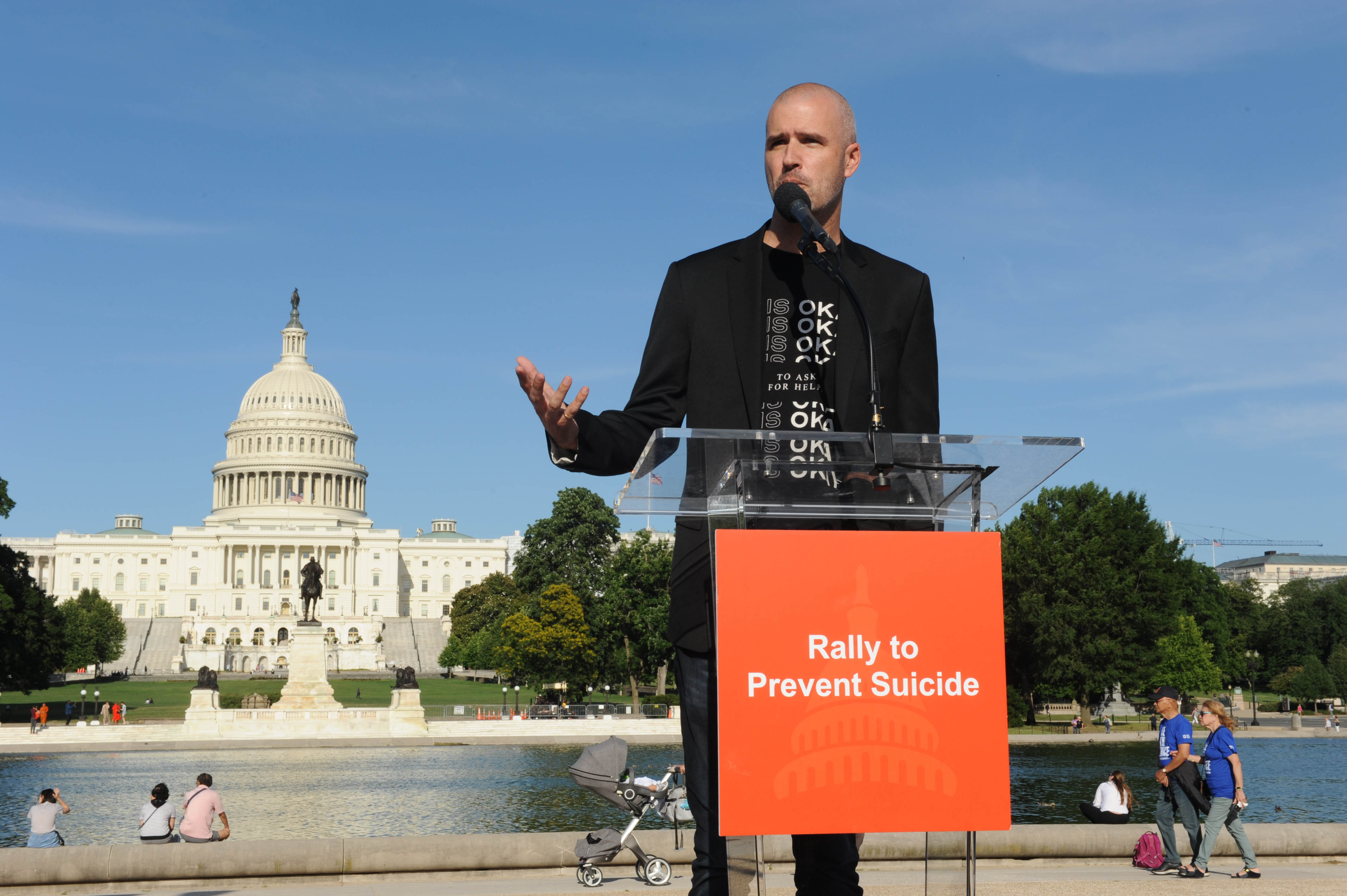 Stigma would like us to believe that mental illness and suicide are not topics we can talk about in public. It would like us to stay quiet, to keep our hardships behind closed doors and out of sight. But we refuse to stay silent, we refuse to let stigma and the shame it thrives on, encourage us to sit idly while hundreds of thousands of people struggle. The reality is that suicide, depression, addiction, and self-injury are real-life struggles that so many of us and our loved ones face on a daily basis. And we believe it would be a disservice to not talk about them. It would be a shame to not fight to prevent or treat them. And that's what TWLOHA is here to do, to ask for proper funding, to invest in treatment, to connect people to help, to tell you as many times as you need to hear it that your pain is valid and you don't have to go through this alone.
If you or someone you know is struggling, we hope you will seek out the help you need and deserve. For local, affordable mental health resources, we invite you to visit our FIND HELP page. Help exists. Recovery is possible.