On my very first day of work at TWLOHA, I woke up to a phone call bearing the news that my friend from home, Nate Ross, had died by suicide. 
We grew up in a Connecticut town that, at the heart of it all, had a furious passion for college basketball. Nate and his best friend, Matt Ouimette, were two of the biggest UConn Huskies fans.
In basketball, there is a term called the sixth man: a player who is not a starter but is the first to come off the bench. The sixth man is a game changer, the one who makes the difference. Matt wrote the following piece while he was searching for answers; he mourned his friend and followed the Huskies around the country as they competed for the NCAA National Championship. During the team's historic comeback in the postseason, the media claimed that the crowd was UConn's sixth man, the force that drove the team to victory, but Matt thinks that the sixth man never made it to a single game.
September 11th has become a day for our nation to reflect and to mourn, a day where we remember those we've lost. At TWLOHA, we also choose to mark this day in memory of those lost to suicide and mental illness. We hope that today's remembrance allows you space to heal and the courage to continue to live and to love. We hope that today gives you the strength to remember that you matter and that no one else can play your part. 
Today I not only remember Nate, but I also celebrate what would have been his 24th birthday.  
Rest in peace, Nate. Happiest of birthdays to you.
– Bryan Funk
…
This is the watch my close friend gave me a week before he found the burden of life too difficult to carry at the age of 23.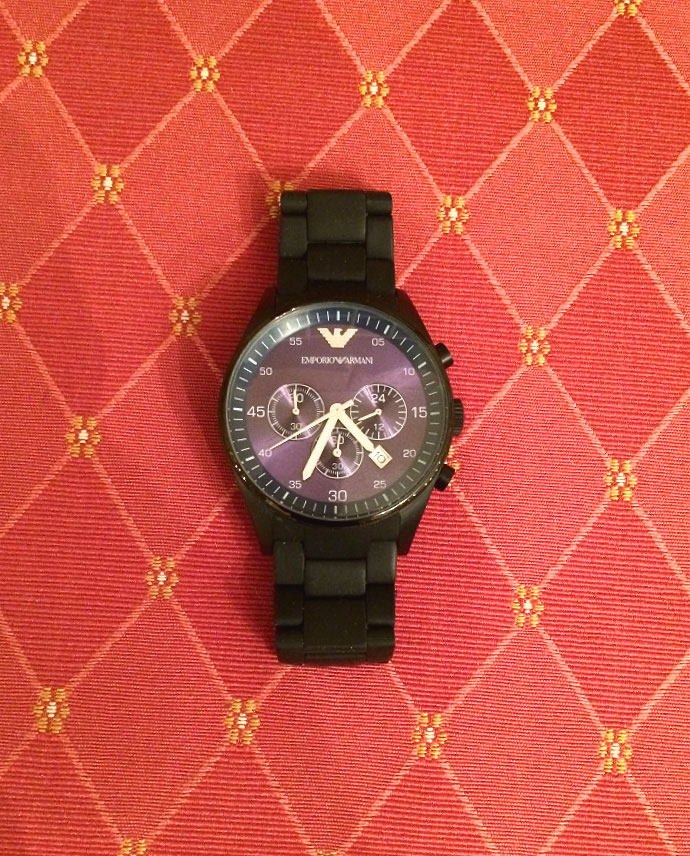 A fellow lifelong Huskies fan, our best memories come from National Championship runs '99 to present. From childhood, we have idolized the same jersey with the same friends, only the names on the back have changed.
As graduates, with work schedules creating scattered availability, UConn games were the one constant. Almost every game I did not attend in person this season, I watched with Nate. The last time I went to his house, we watched UConn beat Rutgers in late January. The last time I saw Nate, we watched Louisville embarrass UConn in the final regular season game, and I received the shocking news of his death during halftime of the Memphis game. My 2014 UConn experience was intertwined with Nate, and now, the aftermath of his passing was to be intertwined with the remainder of the season.
I hadn't yet worn the watch when UConn was announced as the No. 7 seed in the East Region. Overcome with sadness, I struggled with the idea of not being able to share this experience with Nate. Then it occurred to me – he could share this. I decided to travel to every game and bring him with me on my wrist.
March Madness pits the top 68 college basketball teams in a single elimination tournament for a chance at winning the NCAA National Championship. With first and second round games played at 12 different locations, there was just one possible combination in the entire tournament field that would draw two sites in driving distance from Connecticut. The probability of that happening was 3%. The first two sites – Buffalo and Manhattan – were both driving distance.
The stars were aligning.
I attended the St. Joe's game with two of Nate's closest friends. It worked. We won. The next day we drove 7 hours home to attend his service in Mansfield. That night, gathered with 40 friends – some reunited after 6 years – we watched UConn beat Villanova on a night dedicated to celebrating Nate's memory.
Tickets to the East Regional games soared to record highs and out of my price range. Childhood friend and UConn forward Tyler Olander generously offered me his last two.
Stars aligning.
Everything that needed to go right was going right. Big 12 Champion? We won. Big 10 Champion? We won. Many say the crowd was the sixth man that weekend at Madison Square Garden. In my opinion, the real sixth man wasn't even in the building.
Riding this wave of faith, I bought a round trip flight to Dallas with no game tickets. I couldn't rationally justify my decision; I just knew it was the right one. Faith. I knew I had help from above. I knew I had the sixth man with me. On Saturday night I was in AT&T Stadium, the largest single-day crowd in college basketball history filing in from the bottom up. There was no way I could finagle myself into better seats. From my seat in section 400, I noticed an opening three rows behind the UConn bench next to family friends. I began my descent. Ten minutes later I had passed three levels of Final Four security into a seat that got me on the front page of the Dallas Morning News without so much as a single question. We won.
Stars aligning.
On Sunday, a good friend who flew in for the championship game happened to have an extra ticket. It was not discussed; it was not planned – it just happened. Hours later I found myself back at AT&T Stadium sitting behind NBA star Andre Drummond in a row that included former UConn greats Charlie Villanueva and Jerome Dyson. As Kentucky surged, I took peace in knowing we had the sixth man on our side. I knew we would win. And we did. National Champions.
Stars aligning.
After a month of searching for answers, UConn was the only definitive answer I had.
As I mentioned earlier, the last time I saw Nate was when we watched Louisville beat UConn. Following the loss, Coach Kevin Ollie was asked why his team was not playing together this late in the season:
"We've been playing good basketball so we have faith in ourselves," Ollie said to reporters. "We're at the bottom right now. This is the worst we could ever play. But guess what? As bad as we played, we can turn it around. So I'm not giving up on the season. I'm just talking about right at this moment, we didn't play together. This season is not over yet, but I told them if we play like this we have two games and then they can go to spring break."
Recently, I revisited the quote in search of significance of our last encounter. Reading through the lines from a basketball perspective, it made sense, but from a life perspective it gave me chills. My friends and I were at rock bottom. Shock barely numbed the sadness of failing one of our closest friends when he needed us most. Distractions lasted momentarily as the mind fixated on what you could have done differently, things you could have said, or ways you could have shown you were there. The longest periods of relief came from reminiscing with close friends and sharing common experiences, such as this championship run. Put simply, relief came from being together with those who mattered most.
It is through these experiences you start to realize that you have not failed. It hurts every night to have missed this chance, but there will be many more chances I will not miss. Failure is a refusal to learn from this tragedy and miss an opportunity to make a difference in the future. Failure is becoming so engrossed in mourning that you forget to carry on the legacy of a great young man. Failure is neglecting to spend as much time as possible with those who matter most. Failure is not paying it forward.
The aftermath of Nate's passing only heightened the sense of camaraderie within our community. When you see how quickly a life can be lost, it gives you a greater appreciation for not only what you have, but also what you had. Through this experience I have been able to reconnect with friends I had lost touch with for years. We celebrated Nate's life with a former high school classmate in Buffalo. We did the same before the Villanova game with a collection of old high school friends so odd I couldn't have put it together better myself. A former classmate in Dallas graciously opened up his apartment to anyone making the trip. Tyler Olander gave his last ticket to our friend in Austin, allowing him to partake in the experience. Middle school friends flew in from Florida. Others journeyed from Boston, Houston, and Minneapolis.
It's awful it takes tragedies such as these to bring to light what is most important in life, but the real tragedy is not taking advantage of future opportunities to make a difference. At least you know we made it count and will continue to do so. This year has been a dream season defined by faith and togetherness. I had the faith; we just needed to do it together. Well, Nate, we won the National Championship, and we won it together.
I have just finished writing this in the midst of a lunar eclipse.
The stars have officially aligned.
– Matt Ouimette, April 15, 2014
We're so grateful for everyone who has created a page or donated in honor of those who have struggled. From now until the end of NSPW, every dollar raised through our NSPW 2014 StayClassy page will go directly to funding treatment and recovery. There is still time left if you would like to join us.
If you would like to support Matt in continuing Nate's legacy, please consider making a donation to his NSPW fundraising page.