Growing up, I had never put much thought into if a single word could forever change one's life. I had never put much thought into mental illnesses either. At the time, they only existed on TV. But at 14, my doctor, believing my experiences were distinctive and conclusive enough, diagnosed me with schizophrenia. When my mom and I walked back to the car, she asked me how I felt. The only thing I said was, "I guess I'll have to learn how to spell it." But inside, my body was frozen.
Years have passed since then, seven in fact, and by now my body is in tune with the word and everything that comes with it. Zoned in on my condition, symptoms, and triggers. Fully aware of the heavy, gray fog and giant, crashing waves of stigma and shame that surround the disorder. When I tell someone I have schizophrenia, my body tenses for a fight, for any sort of negative reaction, mentally preparing for the possibility of a backlash, for the possibility that the word "crazy" will be spit at me.
Since being diagnosed, it took me a while, a long while, to feel confident in myself and who I am and who I've become due to my mental illness.
Stability tends to ghost through me, sometimes sticking like our hands are glued together, other times passing by like a phase of the moon.
Strength, I have learned, comes in many forms, for many reasons. I find strength every time I'm able to realize my paranoia is unfounded. Leaving it nowhere for it to truly rest upon. I feel it every time I'm able to calm myself down following a meltdown or an episode. I embody it when I recognize I'm hallucinating and can consciously wipe it away like fingerprints on a window.
Bravery is similar. It stems from still being alive despite everything, despite my brain and its imbalance. It comes from living and dealing and adjusting to a life filled with challenging things like hallucinations and paranoia and delusions.
Schizophrenia isn't really an illness that you can shoulder on your own, not for myself at least. Needing that somewhat constant, semi-fleeting reassurance that I am or am not hallucinating. Reality checks. A firm hand to hold or a tangible body to hug. Someone to stop me from clawing at my skin.
Schizophrenia affects everyone in your life one way or another, but it affects no one more than the person who has it. It develops in your brain and comes into your life, and it stays forever.
I used to think that my life ended when I was diagnosed. The world, my world, was polluted and dying, and I was never going to be OK again. And I think maybe everyone thinks that at least once, too. But the important part of everyone thinking that is eventually getting to the conclusion where they realize it's not true.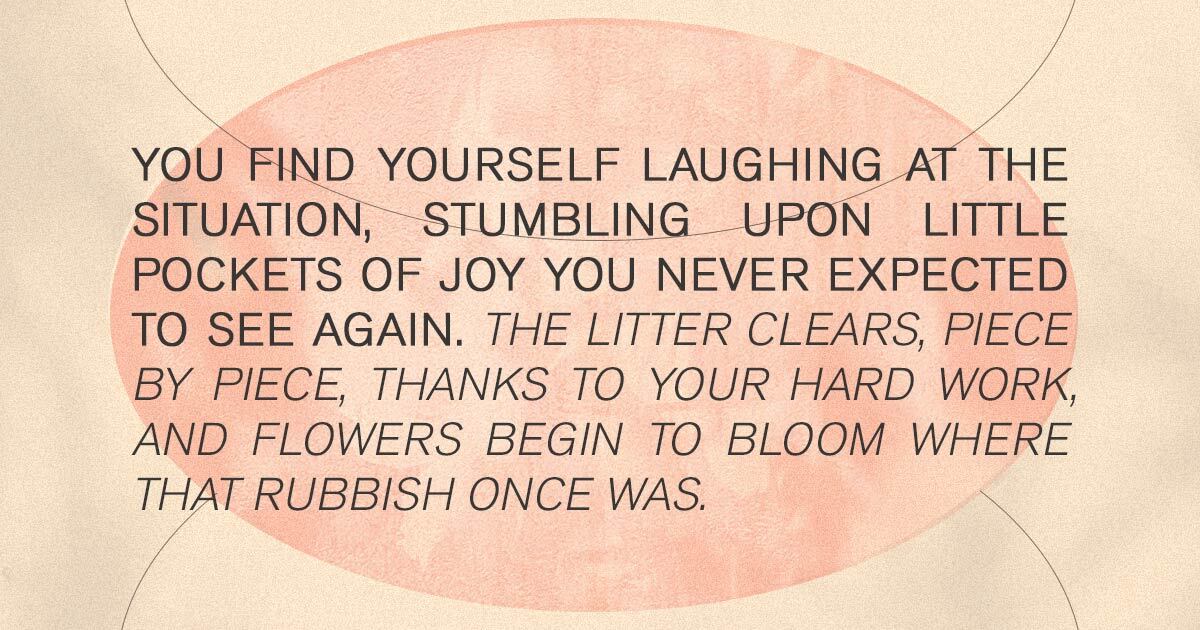 This isn't me saying that having schizophrenia is a gift, but it doesn't have to always be bad. Eventually, you get to the acceptance stage. You find yourself laughing at the situation, stumbling upon little pockets of joy you never expected to see again. The litter clears, piece by piece, thanks to your hard work, and flowers begin to bloom where that rubbish once was.
Schizophrenia is a hard pill to swallow, but it doesn't make you broken. Sure, it's not supposed to be there in your brain, but it is. So you cry and scream, and then you cope and heal and accept that you can't get rid of it. It might be rough and brutal even, but it isn't a death sentence. It isn't the end of you.
---
Your diagnosis is not the end of your story. You are capable of living with schizophrenia. We encourage you to use TWLOHA's FIND HELP Tool to locate professional help and to read more stories like this one here. If you reside outside of the US, please browse our growing International Resources database. You can also text TWLOHA to 741741 to be connected for free, 24/7 to a trained Crisis Text Line counselor. If it's encouragement or a listening ear that you need, email our team at [email protected].