I've spent the last week trying to figure out what to say. I came back from Las Vegas exhausted, but not from late nights at the casino or visiting all the classic tourist stops. I came home carrying the grief and the heaviness of a city still in mourning.
I had never been to Las Vegas before. I couldn't picture or place Las Vegas Boulevard when it was mentioned on the news. I didn't know it only took three rights from the airport to reach the strip, or that the first hotel you see is Mandalay Bay. The view was beautiful and frightening. The streets were almost empty as we arrived on Wednesday night. The vibrant "Welcome to Las Vegas" sign was surrounded by flowers, candles, painted rocks, and 58 crosses—one for each individual who lost their life that day. Billboards lined the street leading up to the hotel: VEGASBRAVE; VEGASPROUD; VEGASRESILIENT. Passing Mandalay Bay, a huge banner reads: #VEGASSTRONG. The outdoor concert venue is marked off by caution tape—the Route 91 stage still standing.
There's no pretending October 1, 2017 didn't happen. You can feel it in the air.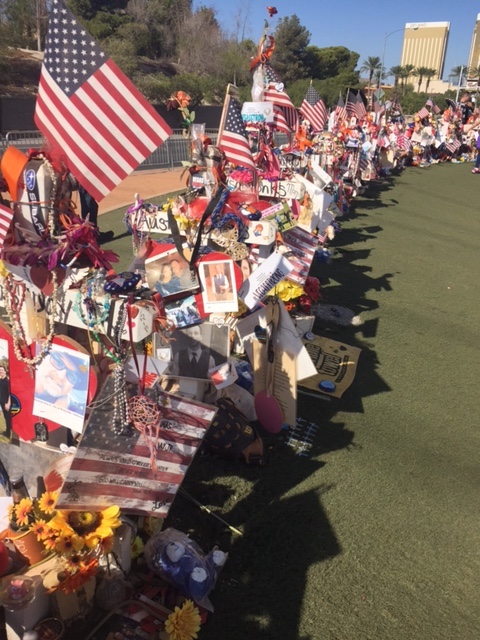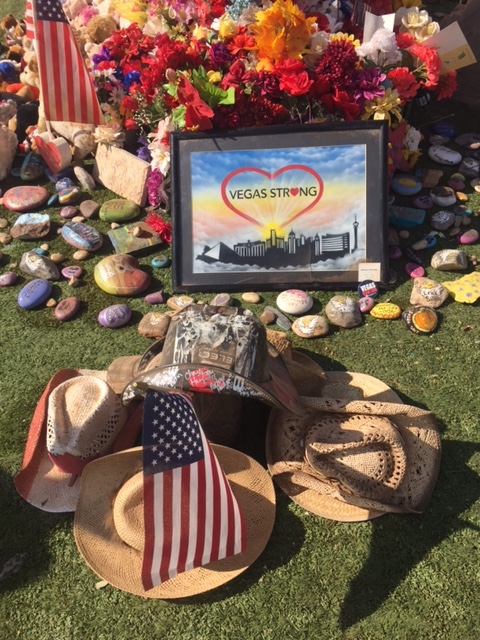 Two days following the tragedy, we launched our Las Vegas shirt and the LoVe campaign to benefit those affected. Behind the scenes, we began reaching out to mental health professionals, knowing people would need resources immediately—some not being able to afford the help they needed. Trauma, flashbacks, triggers, grief, fear, survivor's guilt—all things that wouldn't go away overnight. Fortunately, the folks at UNLV School of Medicine's Mojave Counseling, Red Rock Psychological Health, and Aspire Mental Health were ready to help.
On Thursday, my sister Emily and I met with all of them. For the past seven weeks, they have seen anyone affected for free. No co-payment or insurance needed. Individual sessions, group sessions, you name it.
That's where you came in.
While these groups extend their hours and drive across town to the Lyft headquarters or the hospital to meet those in need—the money we raised is covering the cost of these sessions. As of now, over 150 sessions have been paid for with your donations. And that number will continue to grow in the weeks and months ahead, as UNLV School of Medicine's Mojave Counseling has committed to offering these free sessions for the next year because of the help we've been able to provide.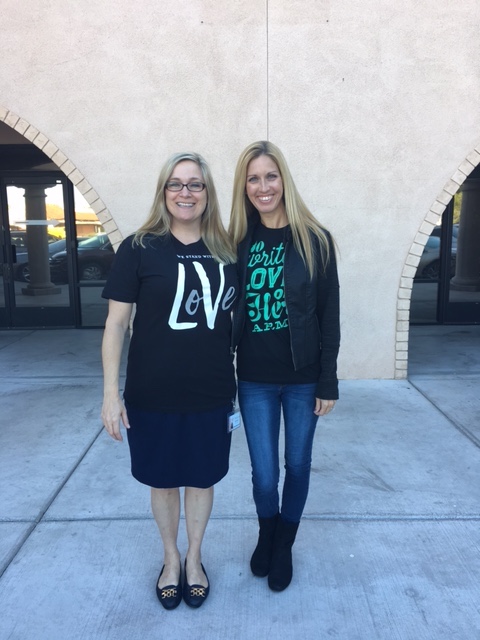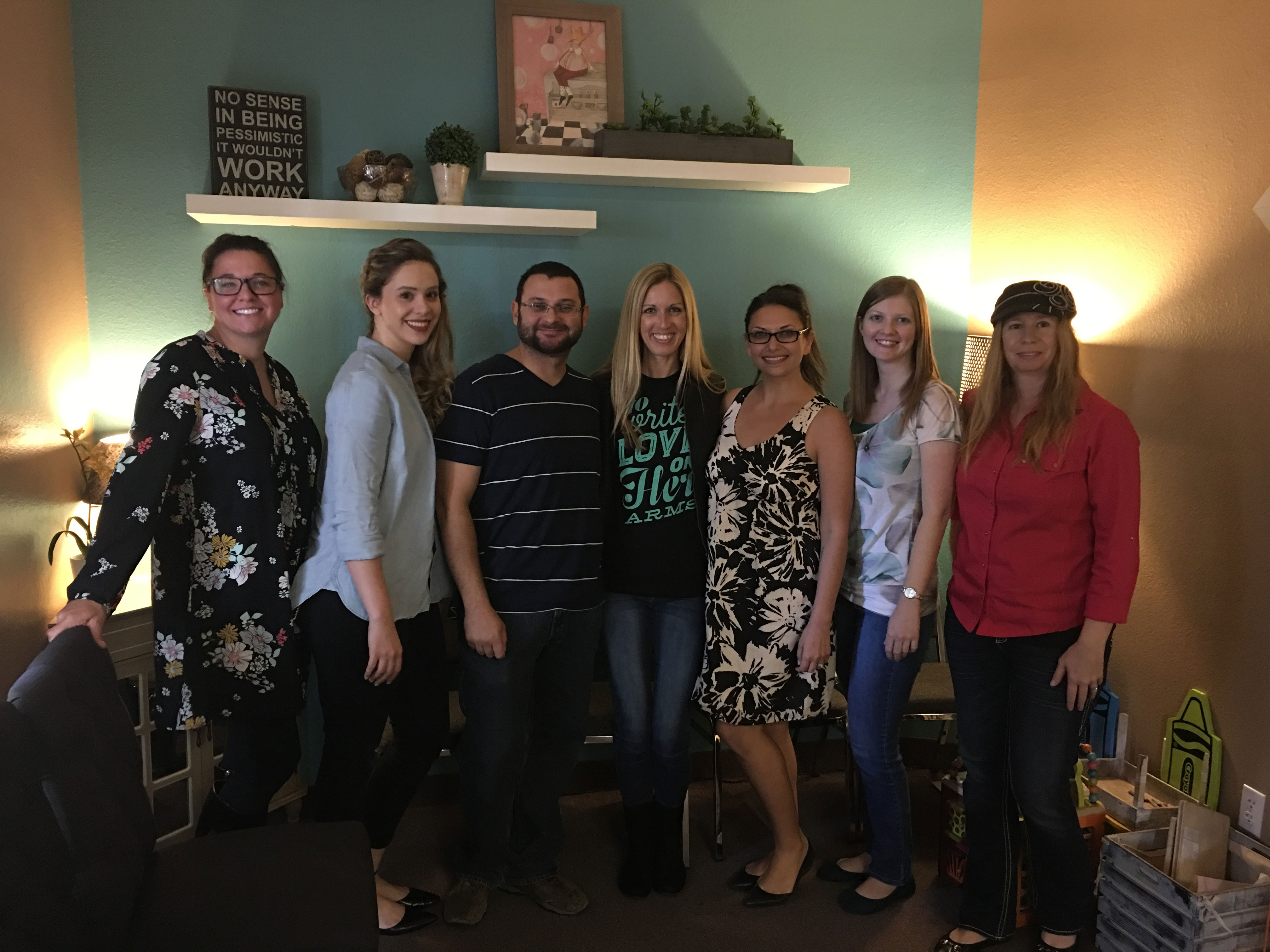 Later that evening, we met my friend Kayleen and her friends for dinner. They were there that night, singing along to some of country music's finest—just enjoying a weekend of music and fun. As we ordered dinner, we learned that two people around the table had been shot during the festival. Somehow, they all made it out alive.
They all have different memories, varying thoughts attached to the same night. Some can recall every detail, while others felt hyper-focused on a single person or event. One friend shared that she went straight to a counselor's office the Tuesday after. She wasn't certain about much, but she knew she needed to talk to someone. Another shared about the moment he had been shot as he and his girlfriend fled the area.
Eventually their memories brought our dinner discussion to the hospital that night, where they all searched for one another. While there, they met a young woman. She had been crying in the bathroom all alone, waiting for an update on her boyfriend who had been injured. For the rest of the night, they sat together, offering her one of their sweatshirts and a hand to hold. They've kept in touch ever since.
In the days and weeks that followed, some admitted to being afraid to walk to their cars. Others felt OK in the moment, but every day continues to differ. They shared their triggers—for some it's noises, for others the running water in the shower. Their roads to recovery look and sound different, but we could tell they were doing it together. There was still laughter at the table. There were jobs to wake up to and a Friday night kickball game they'd all be playing in. We even talked about the best moments of the festival—betting on what song Jake Owen would open with and Chris Young's set. Those memories are still there, they're just harder to get to.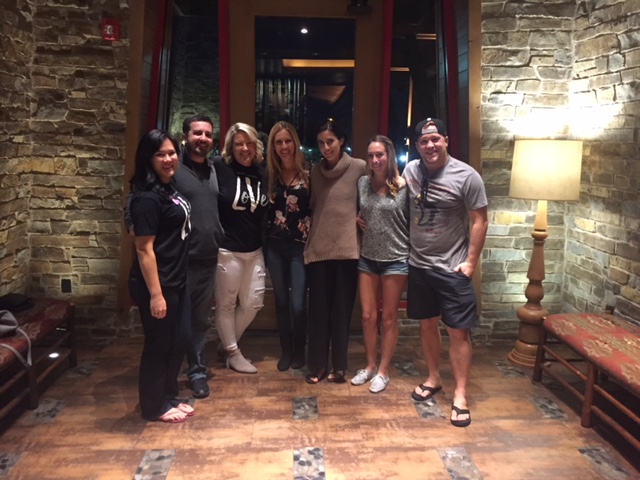 Friday night we found ourselves in Old Vegas for "First Friday." We set up our booth, excited to share TWLOHA with the locals. With some time to spare, we walked a couple blocks away to a memorial garden. The garden was lined with newly planted trees for each person who lost their life, a remembrance wall with names and pictures attached, personalized tiles, flowers, gifts, and letters. I imagined the garden in ten years—the trees towering closer to heaven, providing peace and shade for a small part of town.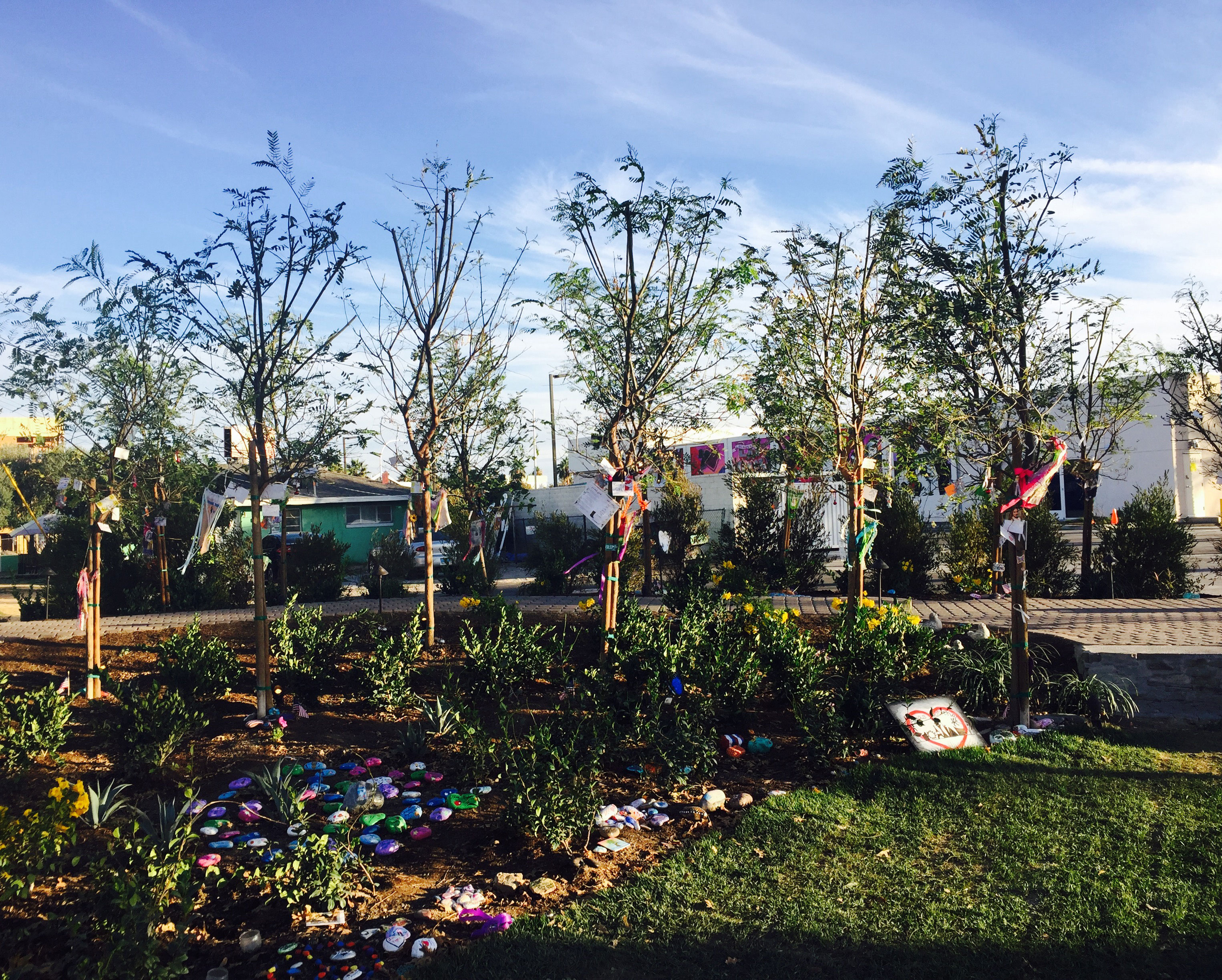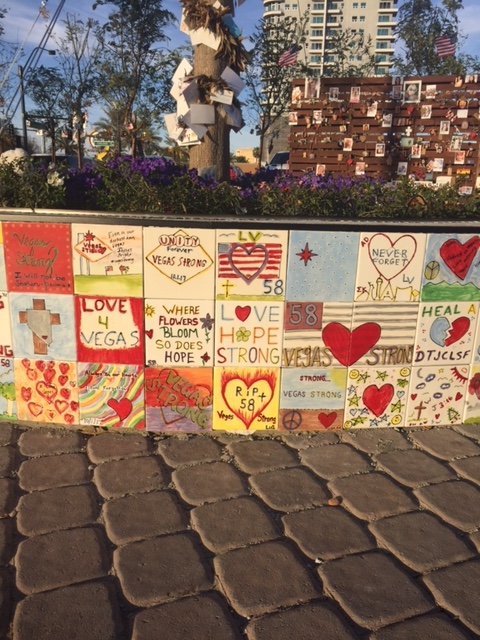 As the evening went on, the mural-lined streets filled with food trucks and vendors, selling everything from jewelry to art to air plants. A saxophone player set up near us drawing in the crowds.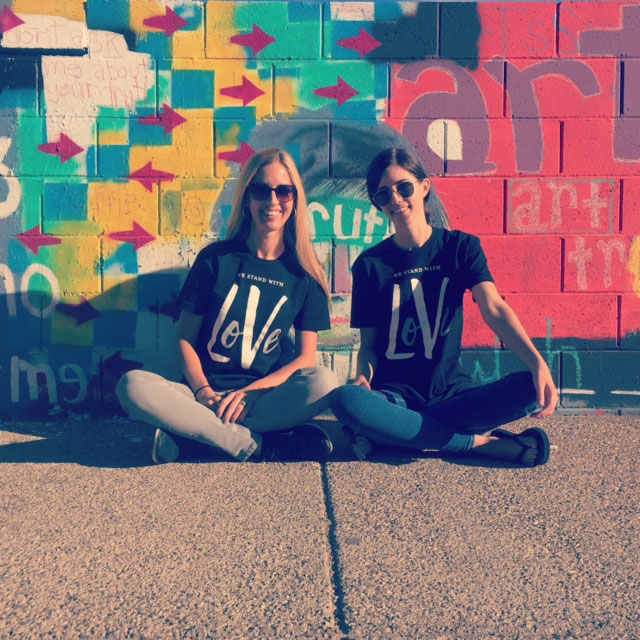 That night, with the help of Chris, a long-time TWLOHA friend and Vegas local, and his husband Parker, we talked with so many people at the booth. Some had never heard of us. Some knew exactly who we were and couldn't believe we were at this event. Two girls told us on separate occasions, "We came here just for you!" There were talks of the tragedy, but also of everyday life: A mom scared for her daughter struggling away at college; a grandmother who was afraid for her grandson who had recently come out. There was a girl who took one of our Find Help pamphlets, specifically for Las Vegas. As she walked away from the booth, she broke down, resources in hand. There were countless thank yous and questions of "How can I help my city?" We met a family who had lost their niece, her funeral taking place earlier that day. We met a girl who left the Route 91 Festival two hours before all hell broke loose, she was on the phone with a friend at the concert when it started.
And we met Lisa, who, by facial expression alone, we could tell knew of us. Her jaw dropped as she made her way over. With excitement, she pulled up part of her jeans to reveal a tattoo. But it wasn't just any tattoo—it was the LoVe design from our Las Vegas shirt inside of a first aid symbol. The design that my brother Jamie first doodled on a post-it note and the logo that our designer James perfected. The symbol that spoke to so many was now forever inked on a hero, a nurse at a local hospital that took overflow and non-crisis patients the night of the tragedy.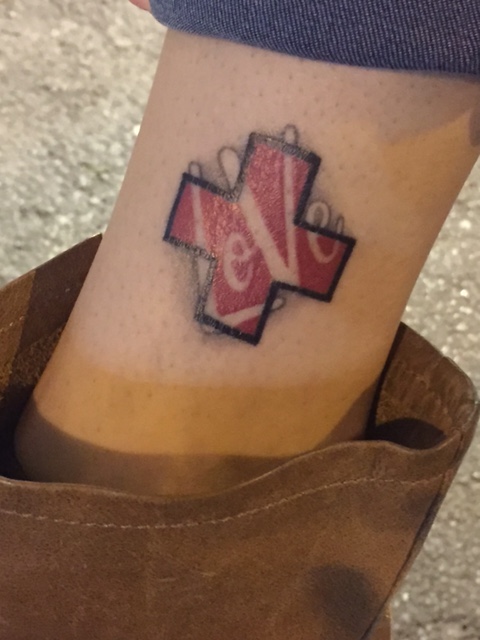 While I only saw a small glimpse of Las Vegas—a long weekend—this trip showed me a lot: A hurting city that has still found a way to smile; that some days, and hopefully most days, there is room for both laughter and tears. October 1, 2017 is a day that will always have more questions than answers. It's a day that we all wish never happened. It's the reason my sister and I went to Las Vegas. We can't change what happened, but we can respond. We can love. We can listen. We can help. It won't fix everything but damn it, we're going to try.
As always, none of our efforts would be possible without the contributions of so many: We want to thank our long-time friend, Jared Padalecki, who donated an additional $25,000 toward our efforts through his Always Keep Fighting campaign. We want to thank the wonderful folks at Suiteness, who covered our entire stay at The Venetian (the closest I'll ever get to Italy) in Las Vegas. We want to thank YOU. Whether you ordered a shirt or donated to our LoVe campaign. We are so grateful. So far we have yet to receive a request for funding that we haven't been able to meet. And finally, thank you to the beautiful, strong, and resilient people of Las Vegas.
We stand with Las Vegas. We stand with LoVe.