Stories From the Road: Welcome to Rockville and Middlelands
For years we've made it a priority to meet people where they naturally come together and where they feel most alive. Our events run all across the spectrum from coffee shops to some of the world's largest music festivals. In everything we do, and everywhere we go, we carry a much greater hope than simply being noticed. We go with the loving and stubborn anticipation that you will be noticed. Heard. Welcomed. Cared for. Encouraged. What you read here is a small sampling of faces we meet and the hopes that we carry. May you be encouraged as you read to continue seeking the audience you deserve.
We are glad you are here.
We celebrate your life.
Your story is important.
_________________
Welcome to Rockville
April 29–30 — Jacksonville, Florida
Sam's voice was thick with southern charm—raised to introduce himself with a specific cadence. First name, pause, then first and last name with a handshake to follow. After cataloguing our merch selection with close-up snaps via his phone, he looked up to smile at me, "My daughter is gonna be so excited to see these pictures, man. I just want to make sure I bring her exactly what she wants."
Sam's daughter is freshly back home after spending some time away for a psychiatric evaluation. Three weeks ago, she attempted suicide, and until that point, Sam was unaware of the battles she was facing. He was happy to share that his daughter has since found a counselor and their first couple of sessions have reportedly gone great.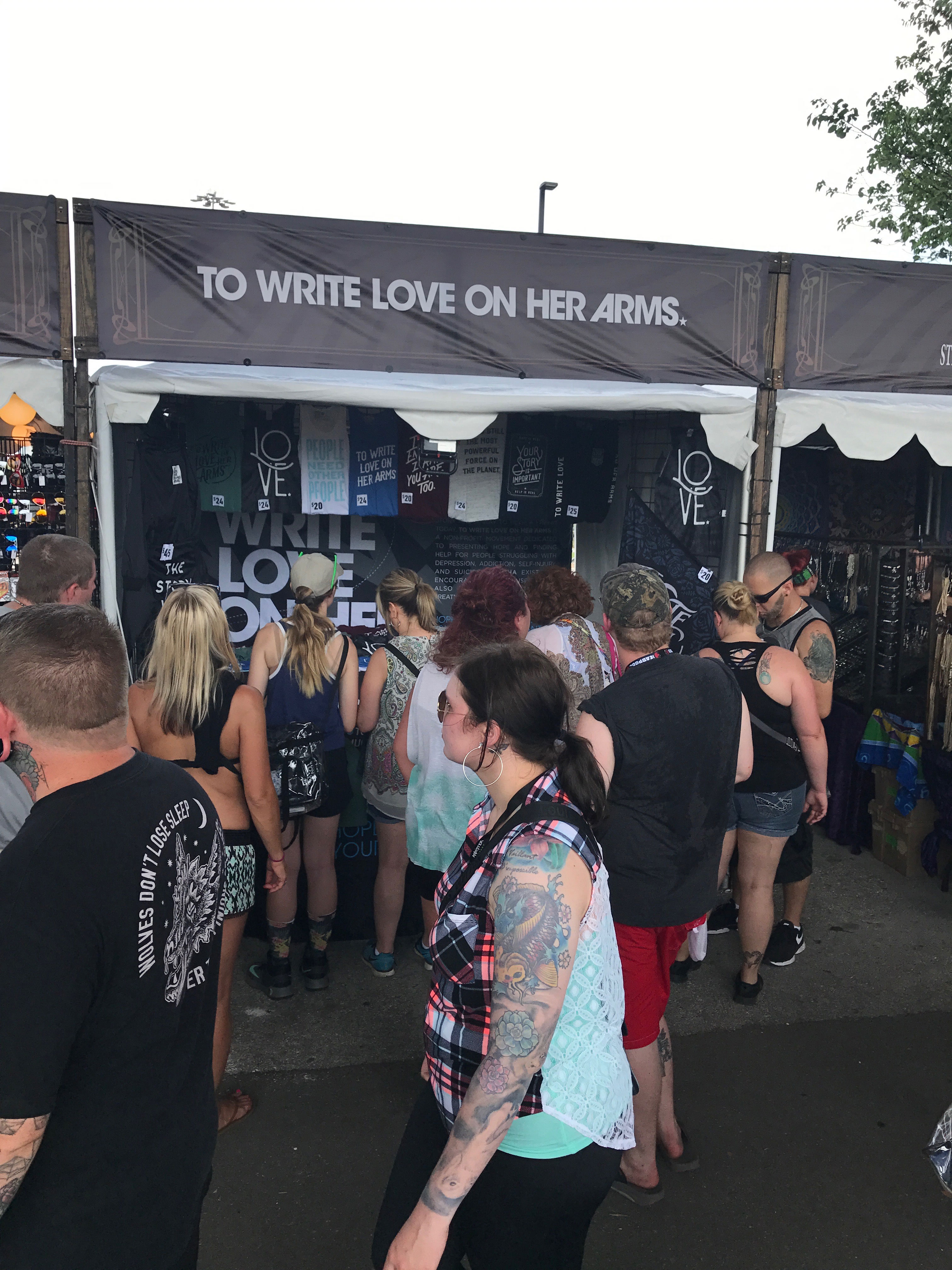 Fiona works at Hot Topic and has been following us for some time now. She actively reposts our blogs and campaigns on social media as a way to stay in the loop and encourage others. During our encounter, she told me about an interaction she had with a middle school aged shopper a handful of weeks ago.
Fiona initiated the conversation as any kind sales manager would, but the conversation gradually steered into a safe space so that this young woman could feel the opportunity to speak freely if she should want to. Fiona identified some points of common ground (she was enrolled in catholic school, like Fiona had been, and was a bit of social outlier with dyed hair and eyeliner). Soon thereafter, she began opening up and hinted at walking through some difficult situations. She mentioned watching 13 Reasons Why and Fiona was quick to recommend the new blog, noting that the show doesn't have a monopoly on the topic—that other people exist who are fighting for stories to keep going.
I thanked Fiona for not only her support, but for the creativity she utilized in her efforts to help people. In turn, she thanked us for equipping her with ways to care for the people she interacts with every day, and starting this week, our "Direction" lanyard will be a part of her work uniform.
_________________
Middlelands
May 5–7 — Todd Mission, Texas
Brandon will be in my thoughts for a while. On the plane down to Houston, his family and friends tried to call him. Upon landing, he saw he had a dozen missed calls, each one alerting him of his best friend's death by suicide. My heart ached in multiple ways for Brandon. To have a weekend circled on your calendar for months as a retreat, and now wanting nothing more than to forget this weekend even happened. He was in shock, but I am hopeful that an ounce of joy fell on him for at least a second or two.
I hope he had more hugs than just mine to help hold him together on the impending lonely trip back home. I hope the wristband he walked away with reminds him to visit our Find Help page. And if I am honest, at times such as this, it occurs to me how silly "hope" can sound when vocalized or written down amidst such a sudden pain. But he did pass by a few more times throughout the remainder of the weekend—making it a point to wave and say hi. So perhaps simply hearing his name uttered from the mouth of a stranger was a reminder that he's being thought of—and maybe you can join me in thinking of Brandon too.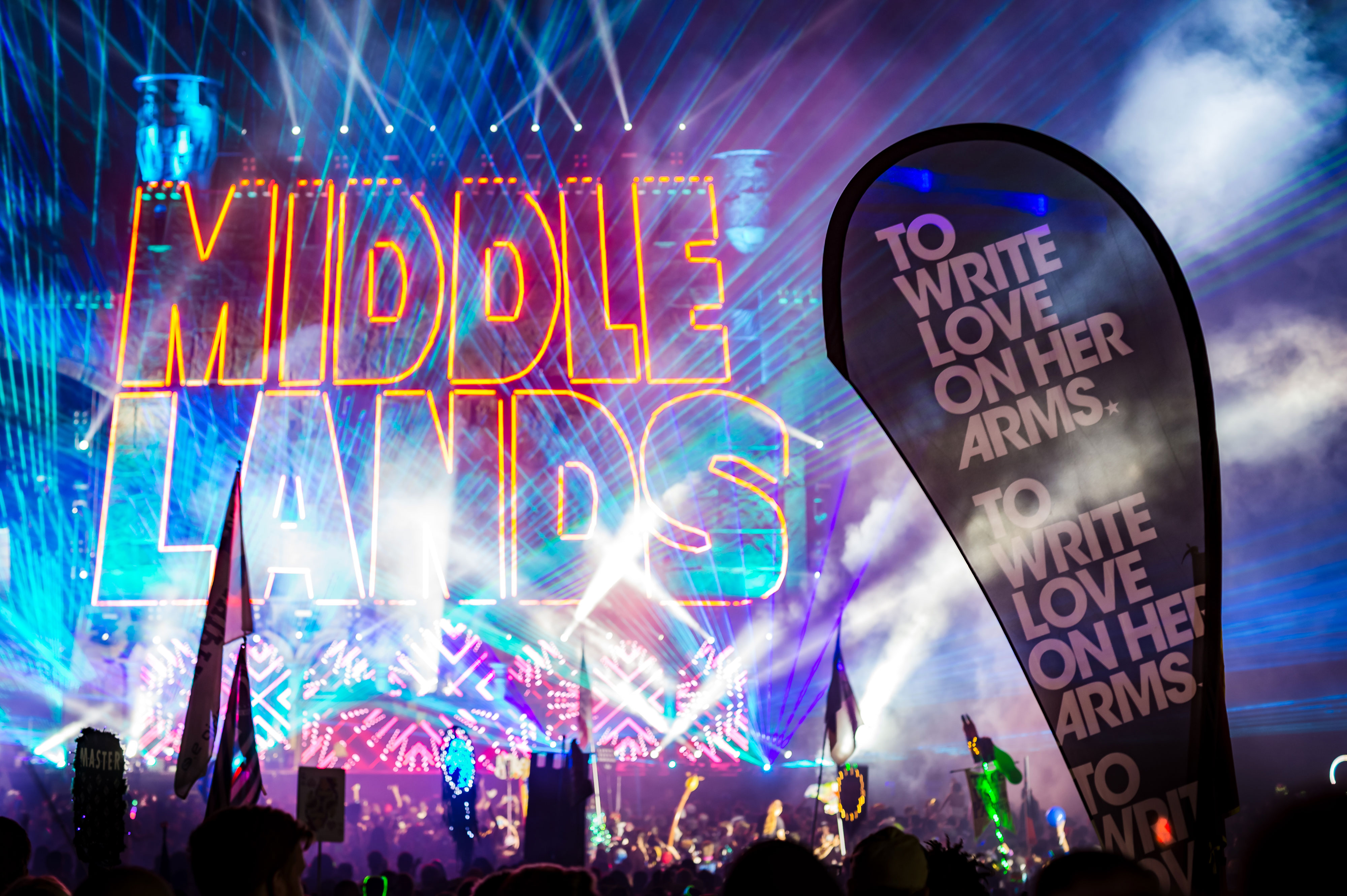 Jax had never heard of us before, but had wandered to our booth between acts. After hearing our mission statement, she opened up a bit about her own story. She explained that she has always been a relatively happy person, and knowing that about herself made a bout with Depression this past winter particularly difficult. She felt broken and ill-equipped to cope with this foreign sense of darkness. Jax noted that Depression has since subsided, but in retrospect, she's still perturbed by the fact that she can't pinpoint a reason for it in the first place.
When I told her that we make it our business to tell people that it's OK to not be OK, she started to cry. It was as if that was the permission she needed to integrate that heaviness into her continuing story. Before leaving the booth, she repeatedly stated how thrilled she is to know that organizations such as ours exist and care—and she cannot wait to wear her "Continue" sweatshirt around town in hopes of letting other people know she also cares.
It has been a really encouraging refrain over the past few years to hear people say, "I remember TWLOHA, you saved me when I was in high school." It happens frequently at places like Bonnaroo, Nocturnal Wonderland, and Electric Forest. Places that are filled with people who once went to Warped, and people whose stories aren't as neatly defined as their choice in music genres. We received thanks from people who said that at some point we had said something, or listened to something, or hugged someone at just the right time. Their smiles are nostalgic and expectant—filled with faith that now we can do what we do in new places.
All names have been changed to provide anonymity to the people who share their stories with us. If you, like them, find yourself in need of hope or help, please reach out.