2021 looked and felt different from 2020, but not in the ways most of us expected. There were gatherings again and hugs shared. Some events came back while others were canceled. Broadway returned and Zoom remained a daily part of our lives.
It's natural to reflect, healthy even. And moments like the end of one year and the start of another have become a pausing point for so many. It's a time where we can stop to take inventory of the last 12 months, bookmark the highlights in our mind's eye, and grab hold of comfort for the memories that bring more pain than joy.
If this is what this season looks and feels like to you, that's wonderful. Celebrating your past accomplishments and recognizing the moments that held growth and triumph is one of the many exceptional ways to celebrate. But you also have full permission to do things differently.
Glennon Doyle wrote, "Be careful with the stories you tell about yourself."
This one line got us thinking. With reflection comes stories. And many of us here at TWLOHA know that we're not always the best at making ourselves the hero—so we hope you'll join us in sitting with this reminder.
The way we look back on the previous year matters. This is not a moment for us to tally all that we have not accomplished. This isn't a burn book of how we've failed to meet the mark on our dreams. We are here. Our minds, bodies, and souls have endured and are still living (even within a global pandemic). That is not a small thing.
And so we want the stories we tell about ourselves as we reflect to look like a reminder of the times we found joy through hardship, light within the dark, and hope despite fear. The times we continued being stories still going through it all. 
That's what we are. We are stories still going. Stories deserving of compassion—for our progress and authenticity rather than perfection. Closing one chapter and beginning another looks different for each and every one of us. It looks different from our expectations, from last year, and from a decade ago. And that's OK.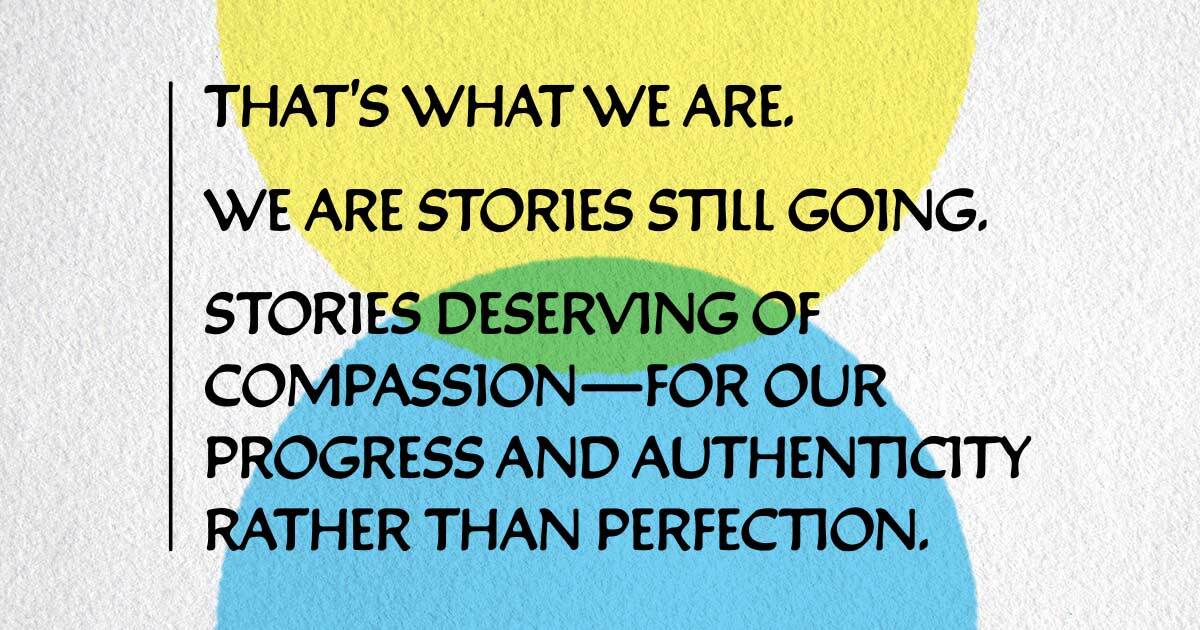 We'd like to think we've all become rather good at being comfortable with being uncomfortable. Every one of us has learned what it was like to have entire plans crossed out with no reschedule date in sight, to have to shift with life and all it entails. To move with the tides and take it one day at a time. And there's a beauty in that.
Along with pain, there's been so much good found within the chaos. And we're not sure what 2022 will bring, but we're starting to realize, thanks to the past two years, that we've never known. We've theorized, hoped, and prayed, but the future has always been a mystery in the making. We're just maybe a little more OK with that reality than we've ever been before.
So here's to the unknown, to plans that can always suddenly change, to moments where we can gather and the internet for when we can't. Here's to remembering how vital the voice inside of our head is, how we're never as bad as we think we are.
We've been carrying stories from one person to another since 2006, and we're grateful that we're here, continuing this honor with all of you, even if it's the only thing that feels familiar to us lately. So rather than anticipate the upcoming year, we're going to say: Thank you for being here. We're going to remind you how lucky we are to be celebrating the close of one chapter and the start of another in your presence.
Here's to the blank page.
Here's to saying cheers in person or through computer screens.
Here's to finding the joy and holding the heavy.
Here's to beginnings and the certainty that we don't know what's next.
Here's to hope.
---
To support TWLOHA in bringing hope + help to even more people in the new year, we invite you to learn about and donate to our #into22 campaign here.