I used to love the holiday season. It felt like safety and warmth and home. I have so many precious memories I associated with the time of year: sparkling lights, hot chocolate, cheesy Hallmark movies, decorating our house with Santa figurines, ceramic Christmas trees, and a wire light-up snowman, the almost-palpable buzz of energy in the community, and playing Vince Guaraldi's A Charlie Brown Christmas soundtrack on repeat.
After my mom was diagnosed with cancer two and a half years ago, I didn't love the holiday season nearly as much. The feelings of safety, warmth, and home were shrouded by panic and hospital visits and dread. On Christmas Eve of 2017, I journaled, "Tonight was all sorts of beautiful, but everything hurts so much because we can't have one (holi)day without the glaringly obvious fact that Mom is sick."
She passed away six months later.
Last Christmas, I was lost in a haze of post-loss numbness. The holiday season was painful, but I was also somewhat protected by the numbness. It felt like I was sitting in the middle of a storm that kept shape-shifting — a fierce blizzard, then a hurricane, followed by a wildfire, a sandstorm, a thunderstorm, and then back to a blizzard. I had nothing stable to hold on to, and my life felt like a blur.
This year, I'm still in the storm. But its shifts are slower, there's some stability to be found. I'm not as numb. And I have taken comfort in knowing I survived the first year without her. Still, as this holiday season approached, I felt myself tense in preparation for the pain I was too numb to feel last year.
Honestly, it hurts. I'm often flooded with emotions. I'm afraid that this pain won't ever go away. The anger I feel at the unfairness of losing my mom when I still need her is unrelenting; the sadness I feel from her absence is palpable.
But I also feel gratitude. I'm grateful because I know I'm not alone in my grief.
To others who have lost a parent: It makes sense if your heart feels especially heavy right now. The holidays have a way of emphasizing loss and making it seem like you're the only one who isn't happy. Not everyone else is happy, though… It's a hard time for so many people. In this sense, you are not alone. There's a distinct loneliness when it comes to moving through the holidays when you've lost someone. My hope is that you will be gentle with yourself, lean into the things that bring you contentment and comfort, and reach out for support when you need it.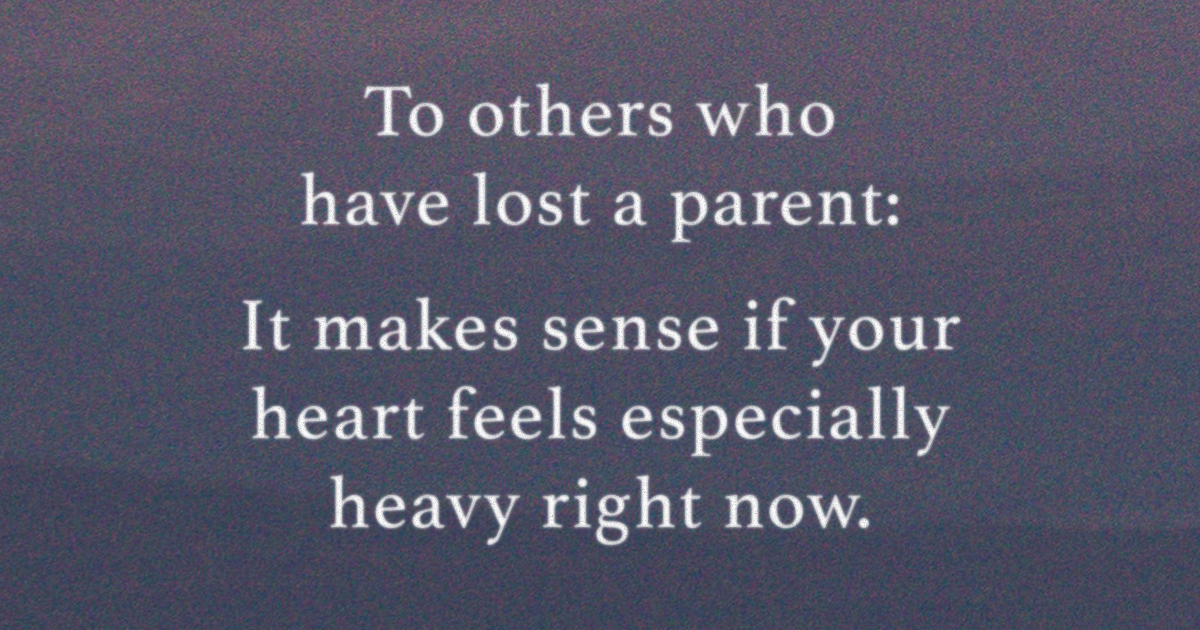 To anyone and everyone: Don't buy into the myth that the holidays have to be "The Most Wonderful Time of the Year." You don't need a reason to feel the way you do, whether you're depressed or lonely or happy or hurting or content—your feelings are valid simply because you feel them.
This time of year will never resemble what it used to for me, but maybe that's okay. It can still be good in its own way. I can work to cultivate the missing feelings of safety and warmth and home in my life, and I can ask for support when they seem far away.
I'm not alone in this. You're not either.
I have hope that it won't feel this heavy forever.
For support during this holiday season (and any other time), please reach out to [email protected] and/or our friends at Crisis Text Line by texting "TWLOHA" to 741741.