I can feel my heart pounding in my chest before I ever open my eyes. The familiar knot in my stomach yells to me. The rapid speed of my breath my final warning.
Doom. There is impending doom. For as long as I can remember there has always been impending doom.
I slowly get up from my bed, grab my pillow and iPad, and make my way to the couch. I don't need to look at the clock to know the time. It's roughly the same time every night. 3:00 am. It's always 3:00 am.
My head barely hits the pillow on my makeshift bed before the worry starts.
'I need to make sure I finish that budget. I need to send those billings first thing in the morning. Oh shit! I think that contract has expired. What does that mean?! People aren't going to be able to get what they need. I don't have anyone to blame but myself. What if this causes us to lose our contract? That will be my fault too.'
I fight off the urge to get up and start working right now.
"Panic. This is panic."
I take a long slow breath, allowing the air to travel all the way down to my belly, just the way I learned in training to be a yoga teacher.
"Panic. This is panic," I repeat because my inner critic acts as though she cannot hear when I talk back to her.
I continue breathing long and slow, bypassing my internal alarm system. Though she frustrates me, it's hard to stay mad at a voice I recognize is only trying her best to keep me safe.
Sometimes labeling and breathing are enough to calm her down. Other times I meditate with Insight Timer. The last weapon in my arsenal is a trusted old yoga Nidra recording from January 2020 from the yoga studio I still claim as home. If those fail, I will just have to hope she tires out—sooner rather than later.
Though I have known these feelings most of my almost 52 years of life, I have only recently felt unable to manage them. Healing from trauma is so far from being linear. It's like walking a slippery floor in six-inch heels to one hell of a spiral staircase. Some days I feel like I have almost made it to the top. One misstep though, one wrong move of the foot, and before I know it I am at the bottom again, assessing the damage before I cautiously begin the familiar journey.
Looking at me, no one would know. I check every box for "success."
Healthy? Check.
Happy 20-year marriage? Check.
Two grown, well-rounded children? Check.
House in the suburbs? Check.
New car? Check.
Master's Degree? Check.
Vice President at a company that appreciates me? Check.
But beyond the external…
ACE Score 8? Check.
Abandoned by biological family? Check.
Grew up in abuse, neglect, and utter chaos? Check.
Worked 16 years in abuse, neglect, and utter chaos of residential programming with children who had been discarded? Check.
Trauma.
On top of trauma.
On top of trauma.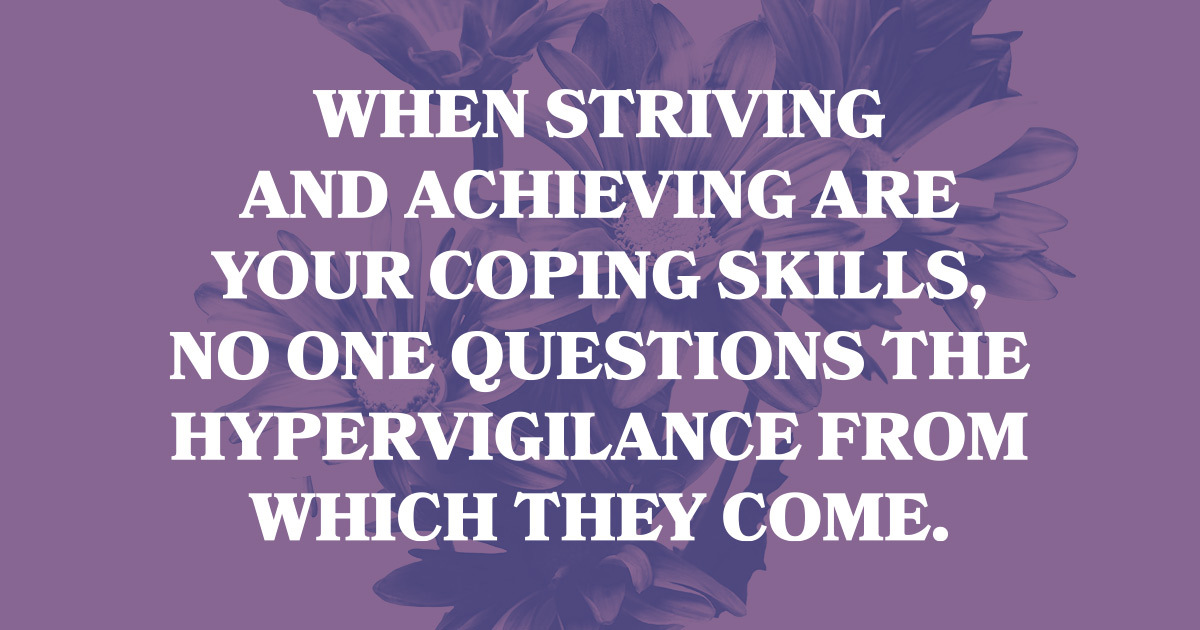 When striving and achieving are your coping skills, no one questions the hypervigilance from which they come. Instead, they reward the behaviors through promotions and more responsibility and bigger titles and a larger salary. Even still, none of those rewards prevented me from landing at the bottom of this staircase faced with the task of climbing out.
I have never been too tired to climb out. Perhaps the biggest reason I have made it this far in life is because I have always believed that if I could influence the outcome, if I could work hard enough, that it would turn out OK.  Not because I'm special or deserving or most days even enough.  But because I would work with every cell in my being to make it so. However long.  However hard. I would do it.
But as the pandemic stretched far beyond my imagination, I found myself feeling like no matter what I did, I could not work myself out of this situation. I was full-blown stuck. No end in sight. I spiraled and spiraled until finally, I entered therapy again.
Therapy has never been super helpful to me. I have a Master's in Social Work and have been a mental health practitioner myself. I know the lingo. I know the work. So perhaps all that made me less amenable to the treatment. Having been to therapy two other times in my life, I have previously been diagnosed with Generalized Anxiety Disorder and Adjustment Disorder. This time I felt more committed to healing so I researched and found a therapist who specializes in the treatment of trauma.
It has been several months now since I have been in weekly treatment for PTSD (Post-Traumatic Stress Disorder). I have learned things about the patterns I engage in because my entire nervous system is wired for survival. Things I knew about others but had never stopped to consider might apply to me. My inner critic still rings that damn alarm. Like me, she is doing the best she can. But today, I'm grateful that the staircase feels less slippery and these heels feel less clunky on my feet.
---
You're more than your pain, more than what happened. You are strong enough to heal from the heavy you carry. We encourage you to use TWLOHA's FIND HELP Tool to locate professional help and to read more stories like this one here. If you reside outside of the US, please browse our growing International Resources database. You can also text TWLOHA to 741741 to be connected for free, 24/7 to a trained Crisis Text Line counselor. If it's encouragement or a listening ear that you need, email our team at [email protected].