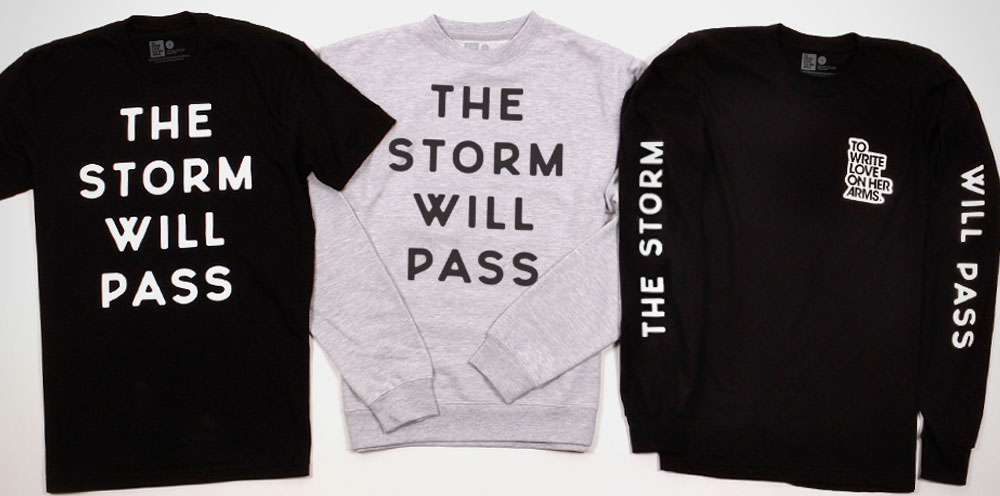 It started with a rain jacket.
We spend so many days in places like Warped Tour and Bonnaroo. The TWLOHA Tent helps us hide from summer sun and thunderstorms. We've always sold t-shirts but when the storms come, people show up looking for something to help them stay dry. We decided to make a rain jacket and we wondered if it could be more than just a rain jacket.
"THE STORM WILL PASS."
We chose those words for the back. The jacket itself would help keep people dry and the words would serve as a reminder, to encourage folks to keep going. For some, it simply means the rain will stop. For others, it has nothing to do with weather. It means maybe things can change. Recovery is possible. Life can get better.
The jacket became one of our best sellers. People started posting photos, proud to stand wearing the statement. By popular demand, our STORM design is now available on both a short sleeve and long sleeve t-shirt, as well as a sweatshirt.
Maybe your storm is related to this moment in America. Maybe your storm started years ago. For some it's grief, for others addiction. For some it's about a loved one who is struggling. Whatever the metaphor means to you, we're proud to offer this reminder to keep going. We're proud to stand with you in believing things can change.