Last week, one of my clients asked me why I chose to become a therapist. While I don't share my story with everyone, there was a look in her eyes that told me she needed to know why I was so committed to helping her. She needed to know that I am more human than I am "expert," and that beneath all the professional titles, there is a person who understands what she's going through. So, I told her.
I shared that I had walked in shoes similar to hers many times as a teenager. Shoes branded with words like depression, trauma, self-harm, and suicide. Shoes that felt like they cemented my feet to the floor under the weight of the pressure, rather than helping me walk through life. I told her that I wanted to be the support I needed but never received as a teenager. That I wanted to be someone who encourages others to believe that help is available for them.
I am a therapist. And, beyond that, I am a human who has struggled significantly to get to where I am today. I found myself in a therapist's office for the first time when I was 15 years old. I was showing up to therapy because I was desperate. Because, quite frankly, I didn't know how to continue living without it.
I wish I could tell you that my first experience with therapy was wonderful and life-changing. It wasn't.
Seeking an informed therapist in a small town in the bible belt who won't tell you to just "pray the pain away," is like looking for a needle in a haystack. Despite this, I showed up for my appointment that day in what happened to be a church basement (I know, off to a great start). I don't remember much about the appointment, but I do recall feeling like my worst fears about therapy had been confirmed. I felt unheard, misunderstood, and even more overwhelmed than I had beforehand.
Looking back, I feel so much compassion for the 15-year-old version of myself who was taking all the right steps to receive the help she needed but still struggled to find the care she deserved. It took me five more years of struggling in silence before I mustered up the courage to go back and give therapy another try. Thankfully that time with a therapist who was able to offer the guidance I needed and restore my hope in the therapeutic process.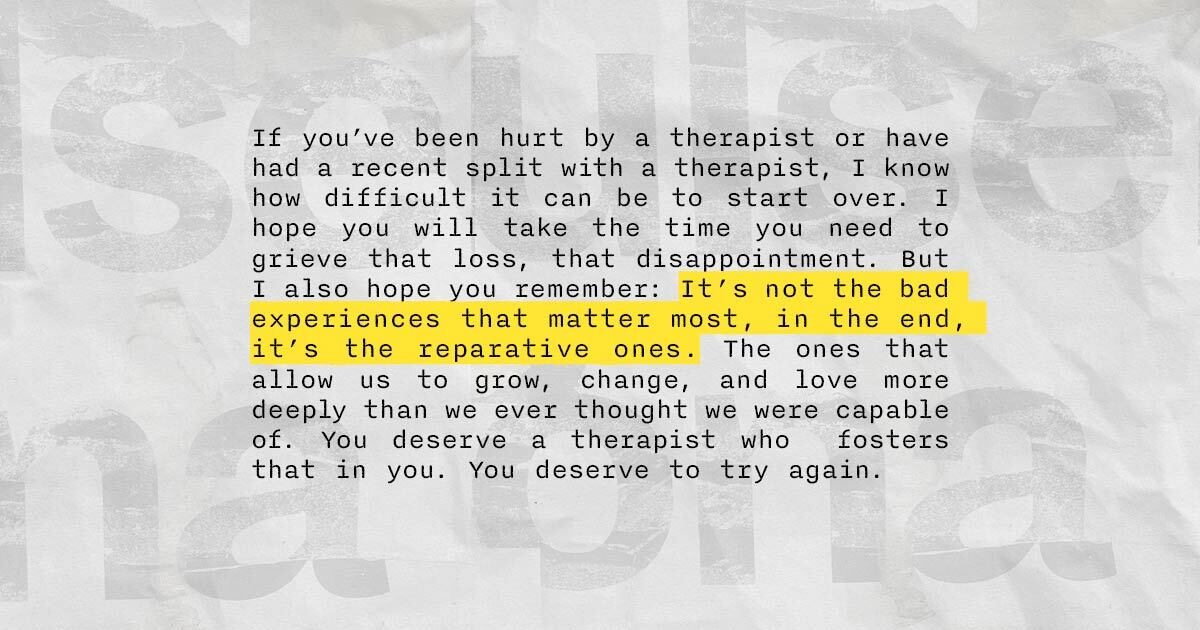 One of the first things I ask clients who enter my office today is if they have past experiences with therapy. I do this because 1) I know the my-heart-is-going-to-beat-out-of-my-chest feeling that most people experience during their first-ever therapy session, and 2) I know how difficult it can be to re-enter therapy after having been hurt by a therapist in the past. It is a pain not many people talk about, and I'm here to tell you that if you've been hurt by a professional who was supposed to be there to help you, that pain is valid.
I know it can take a while to be ready to try again after experiencing something so devastating, but I believe therapy is still available for you. Below are some things to consider when searching for a therapist:
Pay attention to demographics such as age, gender, race, sexuality, and culture. Many people feel more comfortable talking to a therapist who they feel can relate to their lived experience (for example, I identify as a white heterosexual female, and so does my therapist).
Look to see what the therapist's specialties are and which populations they work with. Some therapists will be a better fit than others based on their qualifications to treat your presenting problem(s).
Many therapists offer a free "consultation call" to allow you to talk with them before committing to making an appointment. This can be a safe way of seeing if a therapist is a good fit without having to pay or even interact with them face to face.
Don't be afraid to ask a therapist how they view and practice therapy, and why they chose to become a therapist in the first place.
I am who I am today—not because of my hurtful experience with therapy—but because of the therapists who followed that experience. The therapists who showed up for me, advocated on my behalf, and encouraged me to believe a kinder narrative for myself. If you've been hurt by a therapist or have had a recent split with a therapist, I know how difficult it can be to start over. I hope you will take the time you need to grieve that loss, that disappointment. But I also hope you remember: It's not the bad experiences that matter most, in the end, it's the reparative ones. The ones that allow us to grow, change, and love more deeply than we ever thought we were capable of.
You deserve a therapist who fosters that in you. You deserve to try again.
---
People need other people. You are not weak for wanting or needing support. If you're seeking professional help, we encourage you to use TWLOHA's FIND HELP Tool. If you reside outside of the US, please browse our growing International Resources database. You can also text TWLOHA to 741741 to be connected for free, 24/7 to a trained Crisis Text Line counselor. If it's encouragement or a listening ear that you need, email our team at [email protected].