It's no surprise that the rates of suicide and suicidal ideations/attempts are higher among gay, lesbian, bisexual, and transgender persons. Navigating life as a young person is challenging enough without having to grapple with your own identity. I still find it difficult to candidly discuss my journey of being gay. How do I express such an unfathomable amount of inner turmoil? A personal struggle unlike anything else.
It's indescribably damaging having to hide an intrinsic part of yourself during your formative years. You're battling something you don't fully understand and may even have been taught to fear or hate. There's an entire world of hidden pain within being LGBTQ+. Little deaths you experience every day; unbeknownst to the world around you. You carry this secret cemetery. Adding new plots as you go while concealing an unbearable truth as if your life depended on it; and sometimes it felt like it actually did.
I spent a long time living in this sort of suspended hell. The longer you endure that type of masked existence the more damage you incur. It's as though I spent over half of my life in a cage from the first time I feared my sexual orientation wasn't "normal" until I "came out" in my late 20s. This cage doesn't magically disappear once you've revealed your secret. The only difference is that now the door is unlocked. Even though I can leave my cage at any time, I still find myself hiding there. Out of shame. Out of fear. From the pain of reactions and rejections. Even long after being "out," the cage still sometimes feels safer. The isolation is comforting because it's familiar to someone who's spent a lifetime locked inside themself.
The process is long and arduous; but above all, it's incredibly lonely. I think the most painful part of being gay is the visceral loneliness of it all. It's not something I talk about often because it strikes a chord I don't particularly like listening to. I felt alone more than anything else. More than sad or angry or confused. More than afraid or ashamed. It was a type of loneliness that seemed to erode me. It felt unsurvivable at times and there were moments I wished it was.
My heart is heavy knowing countless queer people live this way. Trapped and imploding. Many of whom are plagued with other secrets besides the invisible fortress surrounding their hidden sexuality. As Audre Lorde once said,
"There's no such thing as a single-issue struggle because we do not live single-issue lives."
The turmoil of being gay is usually not the only weight being carried. Some LGBTQ+ people are also simultaneously battling mental illnesses. Or they've experienced trauma in their lives adding to their suffering.
Struggling with my sexuality made me feel like I was constantly fighting to keep my head above water. Then my mental illness only pulled me down further. Like someone dragging me from below. The lower I sank, the darker it got. Way down below where trauma lives eagerly awaiting the opportunity to plunge me even deeper, beneath the seabed where only skeletons live and prized possessions once lost and never to be found again.
There's a largely untapped amount of revolving emotions wrapped into the LGBTQ+ experience.
Confusion.
Fear.
Shame.
Sadness.
Anger.
Rejection.
Then factor in mental health challenges, traumatic experiences, family dynamics, and/or lack of support—it's a lethal combination.
As I grow older, I realize how much battling my sexual orientation adversely affected my ability to cope with not only my mental illness but also childhood experiences. I believe feeling alone was one of the greatest contributors to my desire to give up and escape life. Amidst all the hopelessness and despair, I think the rock I was lying on when I hit bottom was loneliness. It's a dangerous emotion. It thrives on destroying any shred of hope in its path. If we want to decrease suicide and suicidal thoughts amongst LGBTQ+ individuals, we must help alleviate their loneliness.
One of the best ways to dismantle the feeling of being alone is to divulge your secret and discuss the pain associated with hiding. Many queer people do not have a trusted friend or family member to share such information which is why counseling/therapy is so important. When I started therapy, I wasn't fully aware of my loneliness or its detrimental effects on my well-being. Even though lessening my loneliness was not my presenting concern, it was one of my greatest benefits of therapy.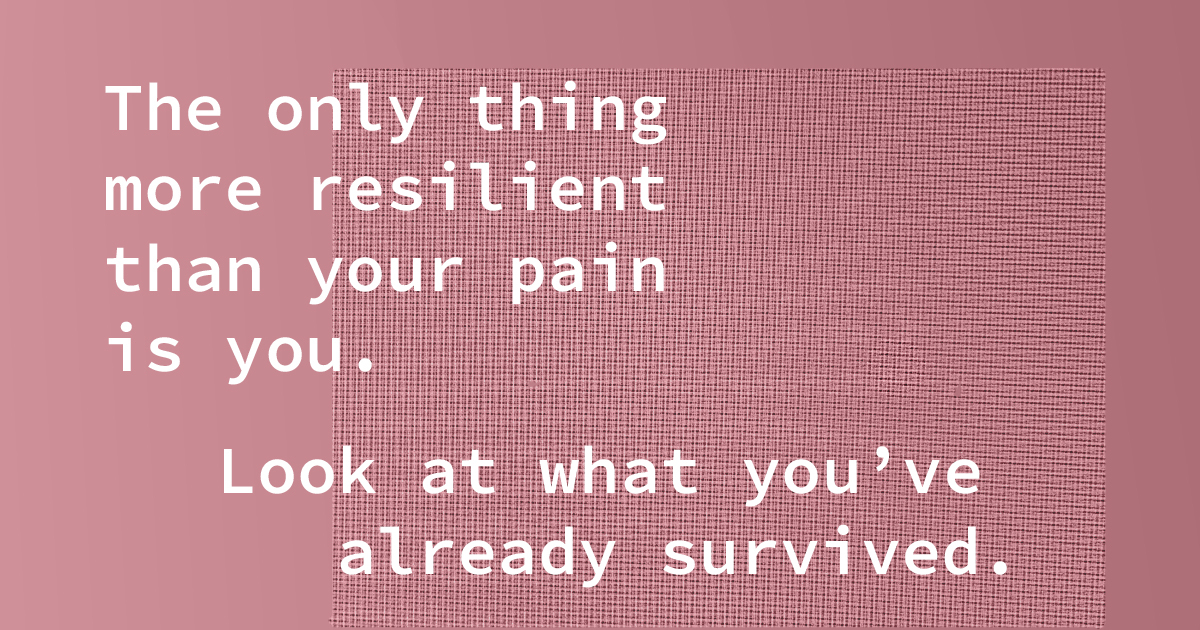 Being LGBTQ+ is a perpetual struggle. The pain involved is past, present, and undeniably future. Though this reality can be overwhelming, it does not have to be in vain. We can choose to find help to combat all the negative emotions like loneliness that threaten to steal our desire to live. The only thing more resilient than your pain is you. Look at what you've already survived. Your pain doesn't have to be what ultimately defeats you but instead what propels you into the future; catapulting you toward a life you never dreamed possible.
Don't spend years in the trenches only to surrender before having the chance to see what victories lie ahead. Choose to stay knowing the LGBTQ+ community stands with you; in pain and solidarity. Even in the grips of agonizing loneliness, reach out and find help so you can step out of the darkness and into the light where you belong.
I can't promise there won't be recurring moments when you feel as though your life is hanging in the balance—but I hope when you find yourself there time and time again, you'll always tilt towards hope and rise.
---
You are welcome here. All of you. Remember that—always. We encourage you to use TWLOHA's FIND HELP Tool to locate professional help and to read more stories like this one here. If you reside outside of the US, please browse our growing International Resources database. You can also text TWLOHA to 741741 to be connected for free, 24/7 to a trained Crisis Text Line counselor. If it's encouragement or a listening ear that you need, email our team at [email protected].