"Look at yourself. You don't deserve to feel this way. You deserve to get better."
My whole body was shaking. I was anxious, exhausted, and could barely form a coherent sentence. I was sitting in a small office with a social worker who was completing my intake assessment. Her words weren't empty, pithy advice. They were true, reaching through the fog and piercing the darkness.
My depression and anxiety had convinced me that how I was feeling was going to last forever. Suicidal thoughts became normal. To the point that I had a plan in place: I was prepared to die.
Hence, why I was being admitted to a behavioral health unit.
The classic symptom of major depressive disorder is a sense of hopelessness and helplessness, which can lead to suicidality. If feeling a lack of hope is a symptom of depression, one could come to the conclusion: We are meant to live feeling hopeful. Even in the description of Depression's symptoms, there is hope contained in the word "feelings." Feelings are often temporary. Even more so, our feelings are not always an accurate reflection of reality.
Throughout my first hospitalization numerous situations brought me hope. Despite my belief that hope was something I would never feel again, it found me in my pain. Hope came when I looked into my husband's eyes and he said, "You got this, babe," before he had to leave me in the hospital. Hope came as I sat alone and scared, and other patients talked to me and became my friends. Hope came one morning as another patient and I read the Bible together. Hope was strongest during family visits when "I love you" was spoken. Even at my lowest, hope was there.
Recovery was a slow and grueling process. When battling mental illness we can choose to live no matter how much it hurts. We can stay and wade through the pain, work until the weight of what we are carrying gets a little lighter with each battle.
Throughout the muddy, confusing, terrifying, and sometimes lonely process, I began to believe in hope. Not just the word—four letters and a single syllable—I began to believe in all that it embodies.
Hope is the belief that life has something for us. It is rooted in believing something good will come from the shattered pieces of our lives. Among the messiness, hope lives on. Hope isn't butterflies and flowers. It isn't calligraphy over a scenic landscape. Hope is relentlessly stubborn. It is perseverance, endurance, and determination. Hope is what gives us the motivation to fight.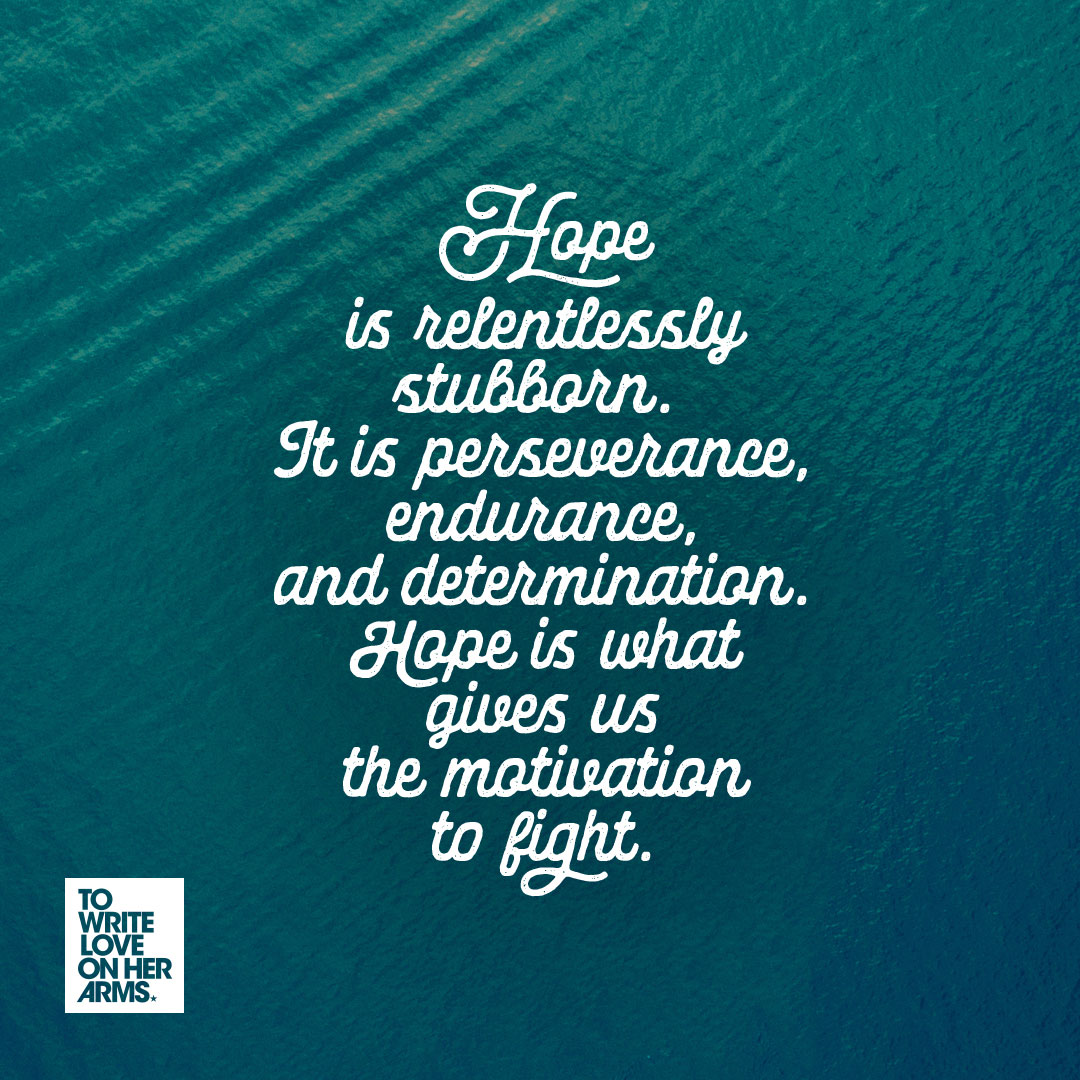 Hope believes all of the circumstances of our life have meaning. Somehow, our experiences weave together our story. Our pain can grow us as individuals or can connect us with others. Every time we attend a therapy session, take our prescribed medication, get out of bed, shower, eat a healthy meal, spend time with other people, exercise, or ask for help, we are fighting. Each step in recovery is an act of defiance toward our mental illness leading us to hope.
It's okay if you don't believe me; if you don't feel hopeful right now. Find someone who does and don't let go of them. Let them fight for you, alongside of you. Let them believe hope is real for you.
Because it was believing in hope, in believing that I was deserving of recovery, that I refused to accept my diagnosis as a curse. My anxiety and depression are no longer a death sentence, a cocktail for perpetual darkness. They're an aspect of my life—not who and all I am.
My name is Michelle and I have Major Depressive Disorder. It's severe and it's recurrent. But I am not my depression, and my depression is not me. MDD is a part of my story, but it isn't my identity.
And my request to you is simple: I ask that you choose hope, each and every day.
Michelle also runs an Etsy shop where she sells "handcrafted decor with a purpose." 10% of every purchase is directly donated to TWLOHA!