I once heard that grief happens when we are full of love or feelings we didn't get to express toward the person we lost. When you lose someone to suicide, you often think you have forever to express and share your love with them, and then forever ceases to exist without warning or time.
The future you envisioned for yourself always included them, and in an instant, it no longer does. When my brother died by suicide, our whole world shifted.
When he died, we existed in a world that encouraged silence. We felt the weight of stigma surrounding his death immediately—in our town, our religious communities, and from people we didn't even know. I didn't know how to talk about losing a sibling to suicide. No one did. If you have siblings, you're hopefully lucky enough to have a beautiful and unique opportunity to create a world of shared memories as you grow together through different phases of life. To lose a confidante, a role model, an adventurer, and all that our brother was—left a gaping hole in our lives. And the world we lived in wasn't ready to have conversations about this type of loss.
It was hard to focus in school and attend social events. Some days it still is. I've since learned that we can't blame ourselves if we can't focus or be present. When we experience loss, the emotional parts of our brain often create a new filter through which we view the world. All of the rational thinking we need to plan and function has to pass through the emotional filters of our lower brain. When our experience of emotions is more intense, our ability to communicate and act rationally decreases. And when shame, guilt, and discomfort encourage those emotions to be quiet, we hold onto them tighter. And they get heavier. This makes it more difficult for us to talk about loss. Or hope. Or healing. Or to even think about how to make space for these things.
I am learning that it is OK if it takes time. That there are no rules. That you don't have to have the entire story sorted out and pieced together before it can be shared. And maybe if we share our true feelings and stories, the ones that feel impossible, things can get better, and more people we love might stick around so we can love them some more. It takes a willingness to be vulnerable. But the strongest antidote to shame? Your whole, unedited story. Being met with honesty. Empathy. Understanding. Validation. Love. It can be awkward and uncomfortable, and the fear of being misunderstood or judged because of the stigma is tremendous. But you can't sit there in that fear alone.
Let people meet you there. The place where you hold all of your stories. The place where you grieve the loss of the future you had planned and where you are trying to figure out how to forge a new one. The place where you hold the love for the person you have lost and the grief and the sorrow that come when you can't share it with your loved one anymore.
Losing someone to suicide is traumatic.
It took me a long time to learn that a sudden, often unexpected loss has the power to change not only our physical brains but also our thoughts and beliefs about ourselves and the world we live in. Sometimes, it reshapes our whole lives. It certainly reshaped mine. It was thanks to the patience of empathetic people who met me where I was, when I was ready, that I was able to begin to accumulate days and years of small (and not-so-small) positive interactions in my life. Only then was I able to start to rebuild a new foundation from the wreckage.
There is no formula to calculate how long it takes to grieve. There is not one way to do it. Suicide is complex, confusing, and so often misunderstood. We are human beings. We are unique. Our grief is, too. 
Human interactions, when healthy, safe, and loving, are nurturing. Connection is regulating, rewarding, and healing. Loss can lead to changes in your body and your mind. Community healing can reverse them. Feeling safe with other people, I have learned, is probably the single most important aspect of healing. Human connections are fundamental to building a meaningful life worth living.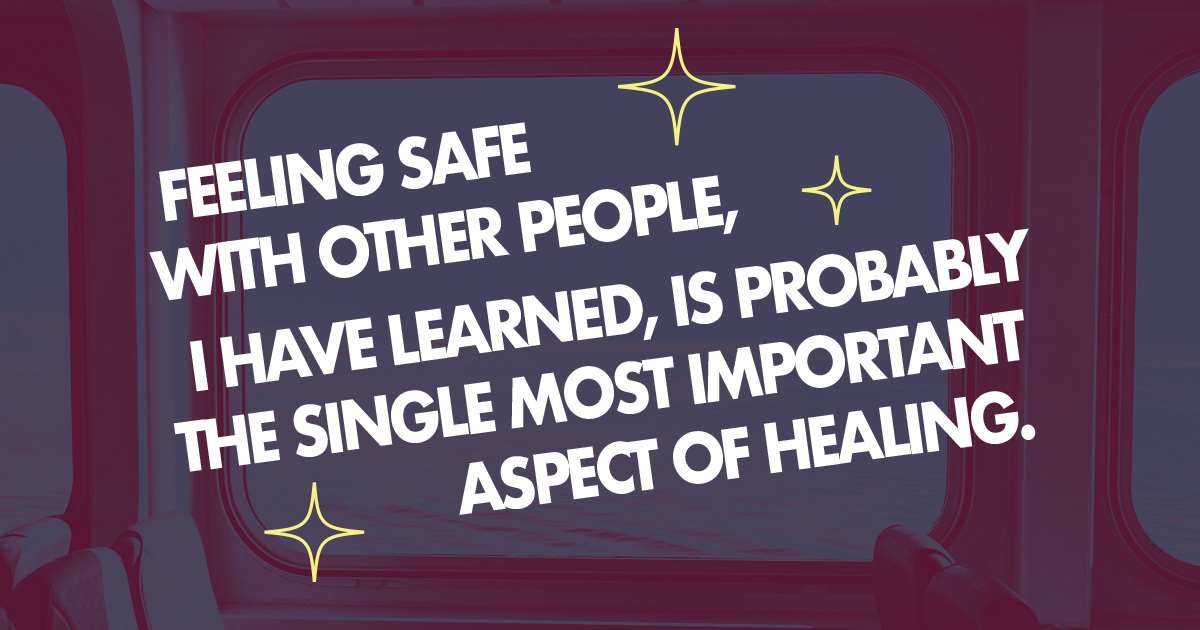 It continues to take time to understand that it is OK to take part in the life you were creating together before the loss. I am trying to honor my brother in that way. Allowing myself to acknowledge my life without him while still wishing for his presence and sharing both of those with the people in the here and now. The journey after a suicide creates a specific strength and perspective. Every single day is a work in progress. Tearing down walls is hard. We all need someone to be present and help us feel heard and seen. To help hold the heavy and share the light.
If you are carrying a heaviness today, know there are people who want to carry it with you. And share the light again. Even if you feel like you will never be able to see it. There will always be someone who wants to help you find it. If you don't know them yet, let us help you find them. The light might look different than you remembered, but people will help you figure that out, too. When you feel as though you're stuck in the darkness of trauma or the heartache of loss, they will remind you of how far you've made it and that you are safe in the here and now.
We do not get any tomorrows with the people we have lost, but we can have them now with each other if we are still willing to believe that something beautiful can possibly exist. And if it feels like the weight of your past is preventing you from wanting to open your eyes for one more day, I hope you have people who do not ask for big answers or hold life expectations, but simply state, that for right now, they will talk to you tomorrow. All that they ask of or expect from you is tomorrow.
I hope you let the world see you tomorrow. I hope you see something beautiful in the world tomorrow, too.
---
Whatever you are facing, there is always hope. And we will hold on to hope until you're able to grasp it yourself. If you're thinking about suicide, we encourage you to use TWLOHA's FIND HELP Tool to locate professional help and to read more stories like this one here. If you reside outside of the US, please browse our growing International Resources database. You can also text TWLOHA to 741741 to be connected for free, 24/7 to a trained Crisis Text Line counselor.