"Can you tell me what brings you here today?" The doctor's kind voice might as well have been sounding from a thousand miles away as I stared blankly at the white-washed walls of the hospital room. My mind felt even farther away as I strained to understand what was happening. What did bring me here? After all, it was my choice to come to the emergency room. Well, maybe not my choice exactly, but rather a lack of one. It was a beautiful August summer morning in 2020 as I sat in that sterile room, but I felt as cold as ice. I'd been growing colder by the second since the previous evening when life as I knew it ended. No smoke signal, no flare, no warning. The person I loved more than anything had evaporated like a dream interrupted by my alarm clock.
I could write dozens of pages trying to paint the picture of what I've faced since then; I've written and deleted more false starts than I can count. But I keep coming back to this day at the hospital. It took me a long time to accept what led me there. To put it bluntly, I found myself on the brink of insanity. A nasty culmination of gaslighting and narcissistic abuse that I had subtly and oftentimes blindly endured for two and a half years by my former partner.
For those unfamiliar, gaslighting is a form of emotional abuse in which the abuser makes the victim question their sense of reality. I was literally crawling in my skin, each second grew more intolerable as I slowly realized that the story he had told me and everything I had counted on was a massive manipulation and ultimately, not real. One day he was there building me up, and the next he had vanished, tearing me down with a coldness that still makes me shudder. And as if that weren't enough, I was made to believe it was my fault. That combination practically left me for dead, and on that morning I wanted to be. 
Picture your life—everything you know, the person you love. Now imagine waking up and finding out it's all in your head; everything you counted on, everything you trusted is a lie. That discovery was startling and shocking enough to make me nearly lose my grip on reality. I felt like a ghost. It took every last ounce of strength I had to pull myself out of bed and make my way to the emergency room.
I wish I could tell you that that day was the worst of it, but in actuality, it was only the first taste of the most painful and trying year. I had no idea there was a freight train headed full speed right for me. Sometimes I wish I could go back and warn that unknowing girl, squeeze her hand, and tell her she'd make it through. I'm still working on forgiving her for not anticipating the unexpected.
I have lived with depression and anxiety for 16 years. I am no stranger to rock bottoms or trips to hell. I know how to ride the wave of grief and I know how to cope. And in many ways, all of those years of learning how to brace for impact welded me together for this. Those experiences have taught me that while I might not be able to control what happens, I can control my response. After that trip to the emergency room, I told myself, "I have control over what I do next." Throughout all of the mind-bending bombshells, my muscle memory kicked in over and over, and I've reflexively willed myself to survive over and over. Amidst all of the rinsing and repeating, however, something was still different this time. I needed to reclaim my narrative and I needed to tell my truth. And that's when music stepped in.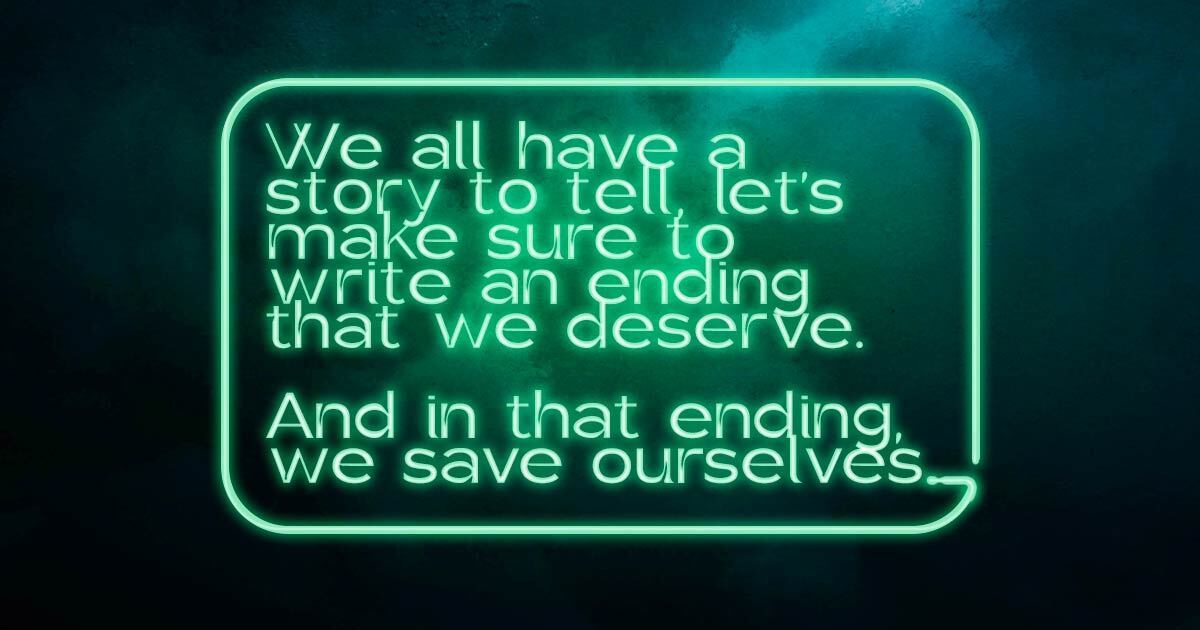 I cannot go a day without singing any more than I can go a day without breathing. I decided to use everything I was thinking, feeling, and struggling to process and turn it into art. About a month after that ER visit, I entered the recording studio. I had no idea what I was doing or how I would do it, but I knew I needed to be there. I knew it would help me. Fast forward to today, and I have released multiple songs and music videos. I've built relationships with people who believe in my music and in what I'm trying to do. I got to meet Kelly Clarkson and tell her my story. I saw my name in Rolling Stone.
But while all of these great things were happening, my mental health was being challenged in unprecedented ways. Most people only ever saw the highlight reel, the perfect make-up, the accolades. Very few know that at every turn, my abuser was there trying to make me quit. No one knows about the close calls in moments of desperation, the late nights on the bathroom floor, how I literally felt myself being swallowed by the darkness. But I willed myself to fight back through my songs and I discovered a resilience that I didn't even know I had. And now here I am. Free.
I find myself looking out from my bunker praying that the cease-fire is real. Normalcy and I still aren't quite reacquainted. I am slowly reprogramming my nervous system. My fight or flight response has been active for so long that stillness often feels agonizing. I frequently experience anxiety so intense that it sometimes feels like I'm being ripped in two. Peace is all I've wanted since last year, and now it's cradled in my hand like an egg I don't want to crack.
If you're struggling with depression, if you've experienced abuse, or if you've had your power stripped from you in some way, you can take it all back. Tap into your passion and let it become your oxygen. You can shock yourself at your own strength and abilities simply by deciding that you're going to reclaim what's been taken, simply by deciding that your purpose is greater than your demons. You can heal and thrive by living for what you love. All of the things that seem impossible to achieve are already within you, and I believe that you are capable of finding the bravery to unleash them.
Depression may be your co-pilot, but it doesn't mean you can't navigate together. Abuse may be a part of your story, but it is not the narrator. You can take your trauma and let it catapult you into a new orbit. We all have a story to tell, let's make sure to write an ending that we deserve. And in that ending, we save ourselves.
---
You are not weak for wanting or needing support. If you're seeking professional help, we encourage you to use TWLOHA's FIND HELP Tool. If you reside outside of the US, please browse our growing International Resources database. You can also text TWLOHA to 741741 to be connected for free, 24/7 to a trained Crisis Text Line counselor. If it's encouragement or a listening ear that you need, email our team at [email protected].