Tuesday was World Suicide Prevention Day. It was one of the busiest, most exciting days in TWLOHA history, with support for our "You Make Today Better" campaign coming in from people all over.
Jarrid Wilson had posted his photo a few days before, smiling in our campaign t-shirt, helping us spread the word. His support of TWLOHA always meant a lot to me, and surprised me in a way, because in addition to his work as a pastor, Jarrid was leading his own mental health organization, Anthem of Hope.
On Monday, the day before World Suicide Prevention Day, Jarrid tweeted about World Suicide Prevention Day, encouraging people to get involved. This was nothing new, as Jarrid was always posting good stuff about mental health. He was always pointing people toward hope and help.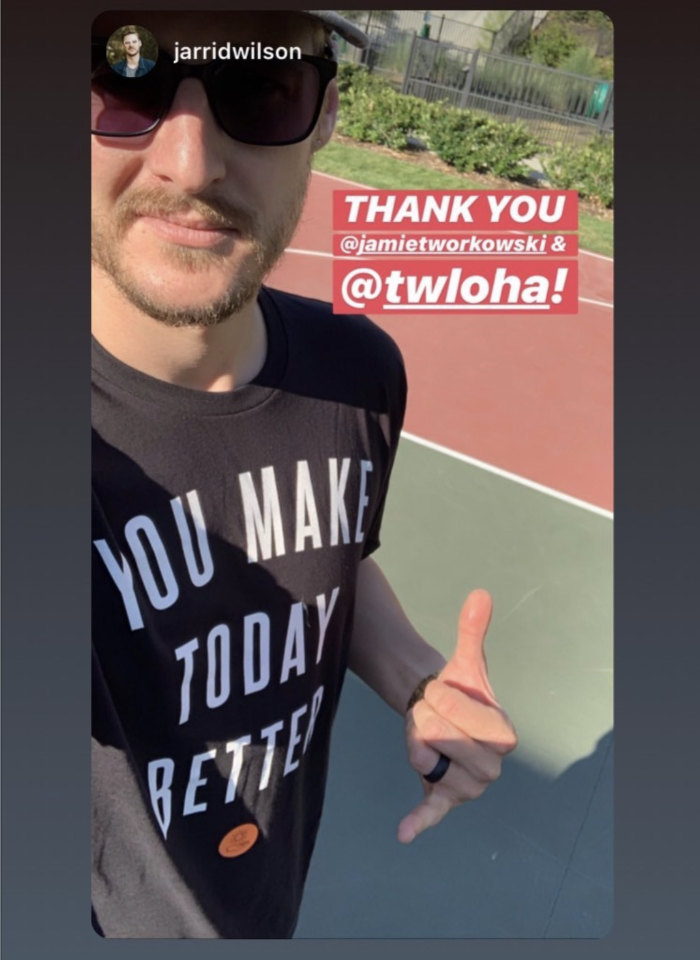 In response to a tweet that i posted during a Reddit AMA that afternoon, Jarrid replied, "Love ya bro." We never met in person but this was par for the course. We shared so many moments like this on Twitter. He was always encouraging and kind, always cheering me on. We were perhaps kindred spirits, teammates in this work of saving lives.
Jarrid died by suicide late Monday night, under the same roof as his wife and two young boys.
i stumbled upon the news of Jarrid's death the following afternoon, Tuesday, World Suicide Prevention Day, around 5pm. My brain rejected it instantly. Impossible. The words could not be true. There was no way i could accept this information, especially on the day dedicated to staying alive.
i had hoped to write this blog yesterday but the truth is that i don't know what to say.
Jarrid had the tools. Jarrid spoke the language. Jarrid had every reason to live. Jarrid died by suicide.
Jarrid's life and work touched thousands of people. And so thousands of people are heartbroken. Thousands of people are shocked and grieving and confused.
There's a lot i don't know and don't understand, but here's what i do know:
i know my friend Mike called me Tuesday night to tell me he loved me, to tell me that he's thankful for my life, my friendship, and my voice.
i know that Aaron texted, "Let's promise to call each other if it ever gets that dark."
i know that Dustin reached out to say, "Hey man. You doing okay? I'm thinking about you. Just want you to know I'm always here for you." What Dustin said next was direct but i felt loved: "Don't white-knuckle that shit. Don't bury it under helping other people. You make my today better. And a lot of other people's too."
Their words meant the world to me. Because their words represent why life is worth living. Relationships. Love. Connection. Feeling known. Feeling seen. Invitations to be honest.
We are not alone. We are all in this together. Other texts and calls and messages have arrived, and i've been reaching out as well. It's been a moment to check in, to check on, to ask questions, to listen, to remind people they are priceless, to say the words, "I love you."
Tuesday felt like a month. Tuesday felt like a movie. So much good, so much hope, so much to celebrate, and then also awful news. A horrific reminder of why World Suicide Prevention Day exists, why National Suicide Prevention Week exists, why TWLOHA exists.
Perhaps that "why" is simply pain. We do this work, i write this blog, because so many people are in pain. Because so many people struggle. Because so many people feel confused, alone, overwhelmed, afraid, stuck in darkness. Because 800,000 people die by suicide each year.
And how do we move forward? How can we have hope when even someone like Jarrid can be lost too soon?
For starters, we will mourn with those who mourn. Hundreds of people have already rallied to help meet the needs of Jarrid's family in the difficult days ahead.
Beyond that, we will continue to do this work that Jarrid believed in. We'll lean on everything we've learned since TWLOHA's surprising beginning back in 2006. We'll lean on the thousands of messages from people who have shared what saved and changed their life. We will continue to reduce stigma by talking openly about mental health and about suicide. We will encourage people to get whatever help they need for as long as they need it. We will encourage those struggling to connect with professional help. We will serve as bridges to counseling, to support groups, to crisis hotlines. We will let people know that if they need to take medication, there's no shame in that. i'll take my 40mg Citalopram pill before i go to sleep tonight. i'll go to counseling tomorrow afternoon.
We'll get outside for sunsets, for exercise, for hobbies, and friends. We'll come back inside to rest, because we've learned we need to rest.
We'll keep showing up. We'll keep checking in. We'll keep saying, "I love you." We'll keep being honest. We'll keep asking questions. We'll keep listening. We'll keep learning. We'll keep seeing people. We'll keep reminding people they are priceless. We'll keep reminding people that life is worth living.
We'll believe the air in our lungs might also be a gift. We'll live as long as we possibly can, finding and sharing every good thing. We'll be surprised along the way, by love and joy and wonder, by people, and by things that feel true.
We'll make today better.
You make today better.