For more than half of my life I've been plagued by the darkness of depression. Over the past decade I've seen mental health awareness grow significantly—for which I'm immensely grateful. Still, there are those who ignore the well-accepted fact that mental illness is well, a legitimate illness.
Witnessing mental illness being regarded as a choice is a powerful source of anger and frustration. And watching depression and anxiety romanticized ignites a certain kind of rage within me.
There is nothing romantic about not being able to work because your illness has rendered you lethargic and incapable of focus. After skipping out on personal hygiene for days or weeks on end, depression is no longer "cute." Anxiety is no longer a charming, little quirk when it traps you in your home out of fear. And suicide is hardly a choice made by a weak, selfish person.
Losing a person by their own hand is soul-crushing. One only needs to think back to a time when they heard about a loved one even attempting to take their own life to get a taste of the sickening drop in their stomach that follows.
For those of us on the other side, the ones dealing with the thoughts of suicide, I want to promise healing and solutions. But I can't. Today and tomorrow have the very real possibility of bringing pain and struggle, I'm sure you're well aware of that. But, they also have the opportunity and space for joy and hope—no matter how fleeting those moments may seem.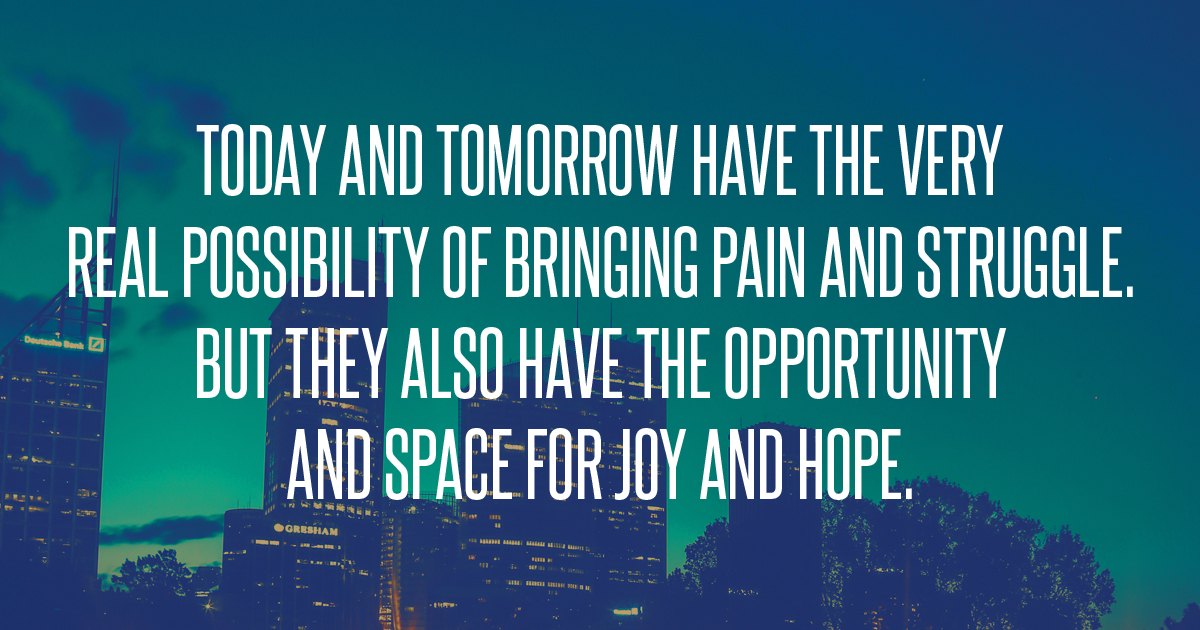 Within a span of two years I've been hospitalized four times and made three attempts. This summer I spent 30 days in two psychiatric hospitals. Less than one week after leaving one hospital, I made another attempt. With that track record, I hardly seem like the right person to be stating that tomorrow needs you or me, or sharing about God and his power to heal. However, I believe my track record is the exact reason why I am the right person.
One of my favorite book-adapted film series is The Sisterhood of the Traveling Pants. In the first movie, 12-year-old Bailey, who is dying of cancer is seen star-gazing with Tibby. Tibby asks her if she's scared of dying, and Bailey replies, "I'm afraid of time… I'm afraid of what I'll miss."
Her reply always confused me. How could she miss anything if she was gone? What is there to miss when you're sick and hurting? A life of pain, suffering, and mental illness? What could you possibly miss about that? But Bailey was speaking with a wisdom beyond her years. We all understand how a person is missed when they pass away. It could be accidentally, naturally, or a death by suicide at the end of a long road of mental illness. Regardless, the loss is palpable, and there is no doubt the person is missed. However, the person who is missed, is missing out on things as well.
This summer alone, I missed a month of sunshine (hard to come by in Ohio, and hard to accept for this Arizona girl), a month of being home with my husband and our cat, a month of routine and community—overall, a full month of doing a majority of the activities I often times forget I love or take for granted.
It's painful to imagine what I would have missed had any of my attempts been "successful." So instead of listing off the things you and I could miss and be missing from, I'll leave you with one example from my first hospitalization: During the ambulance ride, I told the medic about my brother. He said he had worked with him as an EMT. I proudly told him that Robert had recently received his paramedic certification, in the fall would finish his degree, and would eventually start fire academy training. His response—telling me how great of a guy my brother is—was genuine and made my heart swell.
It was in that moment, in the back of the ambulance, that I quietly wept at the realization that had I ended my life, I never would have seen my baby brother fulfill his dream of becoming a paramedic. Flash forward into the future a little more, and I wouldn't have been able to pin on his boutineer on his wedding day, kiss him on the cheek before the ceremony, or help his beautiful bride not stress out.
That day needed me to live. Those people needed me to fight and stay. I needed to be there, for myself.
Tomorrow needs me too. I have a husband who needs kissing. I have a cat who needs cuddling (but who mostly needs and wants food). There's coffee that needs to be drunk, and delicious food to be made and eaten. There are life-giving conversations needing to  take place, and friendships to foster. And I believe God needs me to be alive right now to share my story.
Whether this comes off narcissistic or not: Tomorrow needs me. Tomorrow needs you. Tomorrow needs us. For what, I'm not 100% certain, but isn't it worth staying to find out?