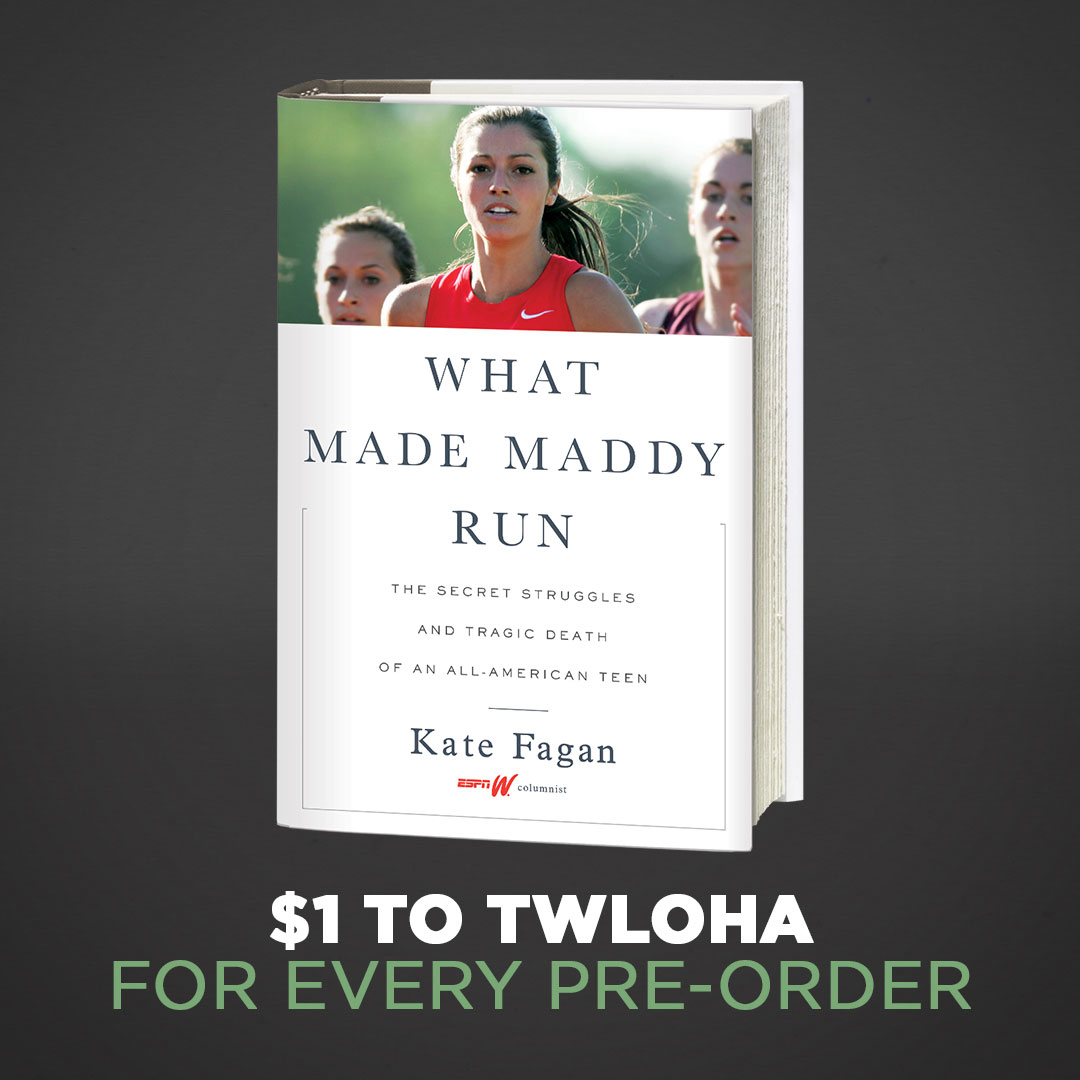 We're excited to announce a collaboration with ESPN commentator and espnW columnist Kate Fagan. Her book, "What Made Maddy Run: The Secret Struggles and Tragic Death of an All-American Athlete," releases on August 1. But before the official launch date, Kate and her team (Little, Brown, as well as Anthony Mattero of Foundry Literary and Michael Klein of Maxx Sports) will be donating $1 per book of the first 1,000 copies sold in presale to TWLOHA.
Over the years, Kate has been a vocal supporter of TWLOHA's mission to spread hope and help to those struggling by sporting our shirts and actively fighting the mental health stigma. Below, she shares the inspiration behind her book and the personal connection she has with our organization.
_________________
I always believed that Madison Holleran would have loved To Write Love On Her Arms—if only she'd had the chance to find it.
Madison died in January of 2014, just one week into the second semester of her freshman year at the University of Pennsylvania. The track and field star jumped off a parking garage in downtown Philadelphia. On Aug. 1, my book about Maddy's story, What Made Maddy Run, hits shelves. But while Maddy's story is certainly at the center of the book, its purpose is much broader: we investigate the dangers of perfectionism (among athletes and non-athletes alike), the tricky transition to college, the effect of social media on our brains and how we communicate, why the rates of anxiety and depression are increasing among young people, and many other issues impacting our culture.
Every time I pull on one of TWLOHA's tank tops, emblazoned with words that make me feel something, I think of Madison, and I wonder what part of TWLOHA she would have most connected with.
She loved quotes, all quotes, but especially the kind that made you feel something. In fact, on her computer, she had a file she started actually labeled "good quotes" and she would add to it as she came across ones she liked.
It is for this reason that I feel so connected to the mission and energy behind TWLOHA, and it is the driving reason behind our partnership with the organization.
We took great caution to tell this story truthfully and accurately, but also sensitively, and we are honored that TWLOHA is supporting this book, and that we can support them in return.
Buy the book
_________________
"And this would make me feel less alone, would be the gust that pushed me back to safety," is the line that inspired our collab shirt with Kate. She discusses the tension of making a big change, in her case quitting basketball in Ireland, and hoping the worries and concerns she was carrying would fade away. Athlete or not, we can all relate to this. We live in a world full of expectations and constantly want to give off the persona that we are okay. We are so thankful for Kate's voice, for her wanting to use her platform to highlight so many important aspects of Maddy's life, for sharing her own personal journey, and for standing with us as we let people know it's okay to ask for help.
Shop the collection