I feel like a mess most mornings, laying in bed, hitting the snooze button for the fifth time in a row, pretending to be somewhere else just for a moment, because I know the second my feet hit the floor, it's all over. See, I know my mind will take my body hostage, dragging it upstairs and into the kitchen. For some people, the kitchen is a place of joy or maybe even relaxation for those who love to cook. For me, however, the kitchen is resolutely and irrevocably terrifying. 
There are no monsters in my kitchen—I don't need monsters to live there. One lives in my head and chomps away at my thoughts with its rough teeth and talons. This creature is my eating disorder, and it claws at my brain, screaming that I need to eat everything in sight or I will die from neglecting it. Every morning, I go to war with this monster. It likes to tell me I am not enough, that nobody loves me, that I cannot handle the emotions that arise in my body. It tells me that food will cure me. And most mornings, I choose to believe it because when I do, the monster ceases screaming, my anxiety and stress diminish until they aren't even blips on my radar. Just a moment, when I am eating, I can breathe. And then the binge is over. Reality comes in like a fist, hitting me powerfully in the stomach.
It's not just the pain that comes with bingeing, it's the shame and guilt that follow. It's my eating disorder cooing in my ear, now you cannot eat to make up for the treachery you have enacted on your body. It's depression chiming in that maybe I'd be better off dead than deal with this binge-restrict cycle.
Every day I choose to wake up, I also choose to fight an illness that acts like a chameleon, blending in with its background so nobody can see how sick I really am. My eating disorder looks quiet to the outside world; I look like a healthy young woman. But internally, my eating disorder is LOUD, often screaming in my ear. It tells me everything I am not and everything I should be. One moment, it sees coffee as breakfast, lunch, and dinner, and the next it believes two pints of ice cream is a snack.
My experience does not fall into the neatly defined categories society has placed on eating disorders. My eating disorder does not stem from negative body image, but from trauma. My eating disorder does not conform to society's expectations. My eating disorder is messy, inconsistent. Like me, it cannot decide what it wants to be. Because I do not have anorexia, or bulimia, or even binge eating disorder, I have Eating Disorder Not Otherwise Specified (EDNOS) and most of the time, my tongue trips over this term like it's a prison sentence rather than a diagnosis.
Within, l exist on an internal battlefield—my eating disorder always at war with my mind. But I am learning how to fight it. Through on-going treatment, I have adapted coping skills, like grounding, mindfulness, and how to allow emotions to arise without needing to push them down, out, or away with food. I have accepted that my experience is valid even though it does not fit one of the given molds. I am learning that I am a mess and that is okay. 
There's a  good chance I will wake up tomorrow and I will still cringe when my feet hit the floor, knowing the monster will try to lure me to the kitchen. But now, I am ready to fight back. I am ready to feel every emotion my body can hold and I am ready to channel that intensity into a ray of light because this is recovery.  Recovery is fighting the demons in my head every day, and winning some of the time.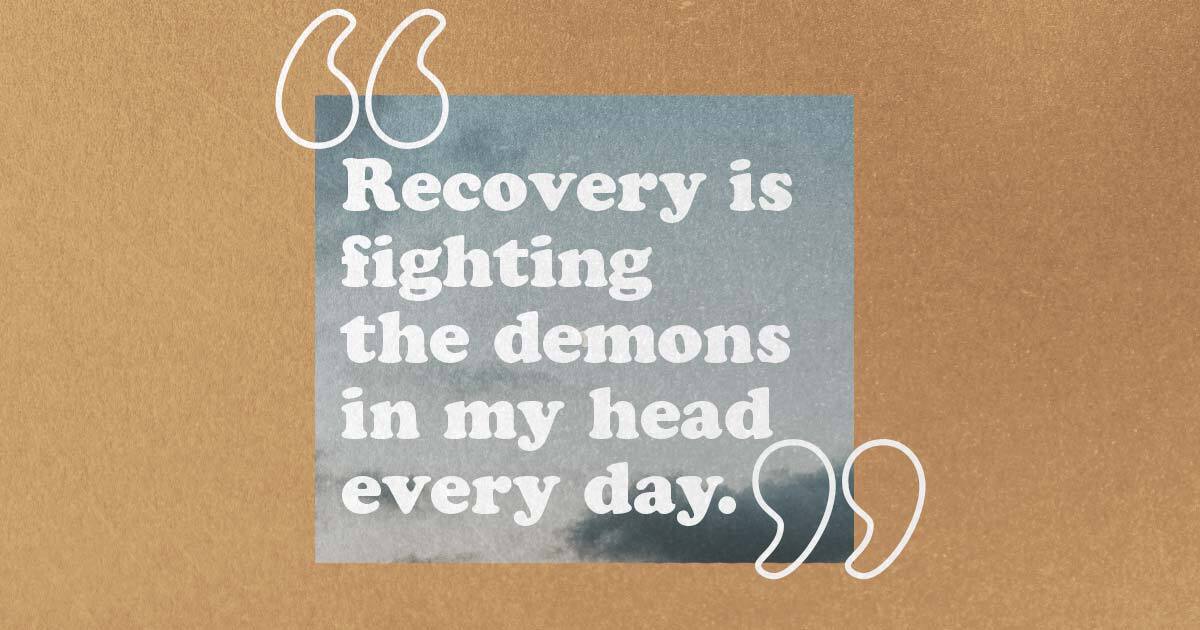 ---
You are human. Messy and whole, capable of so many good things, regardless of your eating disorder. We encourage you to use TWLOHA's FIND HELP Tool to locate professional help and to read more stories like this one here. If you reside outside of the US, please browse our growing International Resources database. You can also text TWLOHA to 741741 to be connected for free, 24/7 to a trained Crisis Text Line counselor. If it's encouragement or a listening ear that you need, email our team at [email protected].