Too often we hear from people who are worried that they can't achieve their dreams or have a successful career because of their mental health issues. We hope our "Working It" interview series proves that it's possible to do that and so much more.
You can read previous interviews here.
TWLOHA: For our readers who aren't familiar with you or your work, can you tell us a little about who you are and what you do?
JOEL: Well, this is always a tough question, because I do a lot of things—but I'm Joel. I'm a father and a storyteller. Most recently, I released a book, "A Book About Things I Will Tell My Daughter," on November 15, 2017. The stories and methods of telling those stories change depending on the medium—I'm an emcee, a poet, an actor, a writer. The "dad" title is a relatively new one, though probably the one I'm most skilled at.
TWLOHA: How does mental illness affect your life and work?
JOEL: Mental illness, coping with depression and anxiety and suicidal ideations, has in some ways made me very aware of my work as an artist in confronting my demons and helping others do the same. I suffered sexual trauma as a child, and upon sharing my story, it became clear that there were many others, including Black men, who had struggled with some of the same trauma and pain. So, for me, dealing and coping with my mental illness is a part of my art as much as breathing. How I see the world and the work I do in it, is all shaped by my past and present experiences.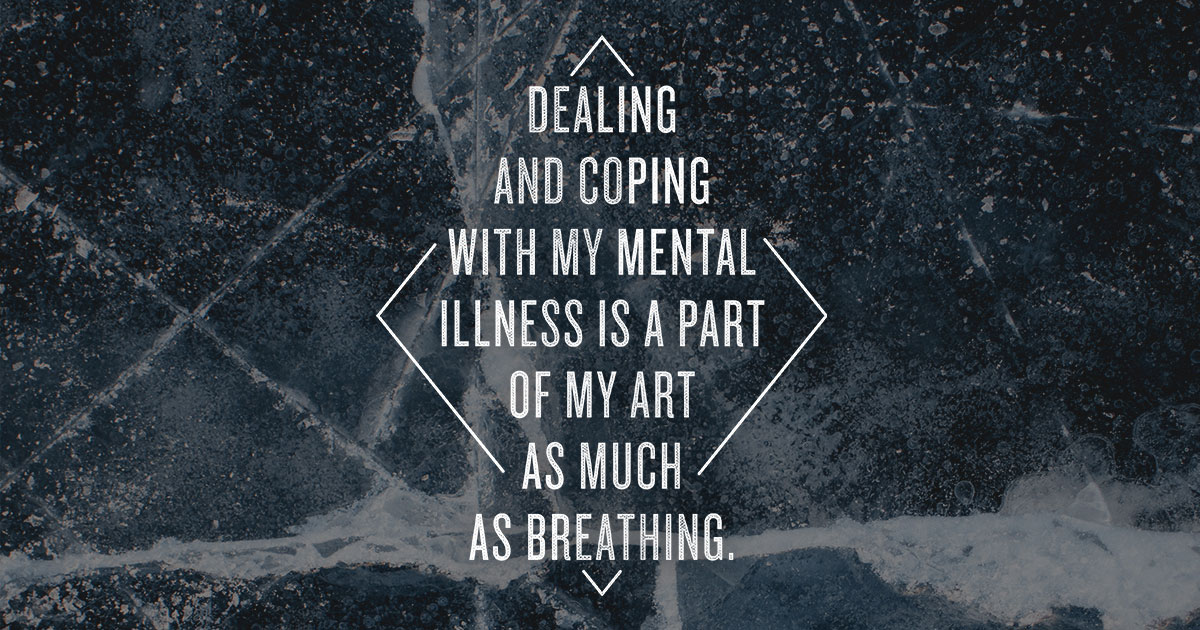 TWLOHA: You often speak and write candidly about your mental illness. Have you ever felt wary when sharing your struggles? If so, what pushed you to do so anyway?
JOEL: You know, I used to, but I believe part of my purpose is to share my story. Lauryn Hill said something very profound in her MTV Unplugged album, where she called herself a "mad scientist," in that she wouldn't bring anything to the people unless she lived through it first. Hearing that out loud almost makes me feel like I am attempting martyrdom with my work, which isn't the case at all. But I recognize that my platform and voice is something I'm fortunate enough to have and cultivate—so for me, it is par for the course. A large part of my purpose lives in my writing, and the nakedness of it really matters to me. It is scary at times, but the fear is part of the delicate tightrope of dealing with my illness and issues.
TWLOHA: What would you tell someone who doesn't think they can manage their own schedule or support themselves while dealing with mental illness?
JOEL: Seek help; confide in those you love and trust. I spent a year in therapy, I've called a suicide hotline before. If you feel alone, call a hotline.
Also, WRITE! Writing has saved my life more than once. It has allowed me the space and room to heal and to learn, and to also let go of the pain and hurt I may have clung to from my past. It doesn't have to be New York Times worthy either—just something to help loosen the illness' grip and get the clouds out of the way.
TWLOHA: We often hear from people who are afraid of getting on medication because they believe it will hinder their creativity. Being a storyteller, have you found that taking medication helps or hinders your work?
JOEL: While I've never been on any psychotropic regimen, as a person who has worked in social services and worked exclusively with the mental health population being released from Rikers Island, I'll say do what works for you. I've seen folks complain about how their medication makes them feel and I've heard others rave about the changes. We're all different chemically, right? It's important to speak with your doctor about a different medication—notify them about any side effects or symptoms. Open up that discussion so that they can work with you on a new medication regimen, attempt different therapy models, lower your dosage, or even try alternative holistic options as well. Whatever healthy ways you can use to not only cope, but thrive through your illness, are always going to be the best options in my book.
TWLOHA: Finally, is there anything you wish someone would have told you when you were struggling? Or something you'd like to share with our readers who are struggling right now?
JOEL: Your struggle does not define you. It is okay to NOT be okay. And that not every method works for everybody. Depression is not just some "wake up and think happy thoughts" idea, it is a clinical issue that requires treatment. Treatment that is out there.
Joel is a storyteller, father, and artist. His newest project, "A Book About Things I Will Tell My Daughter" is available now for purchase! You can also find his work featured in The Boston Globe, Medium, CNN Money, Huffington Post, and BBC Radio among others.
Follow Joel on Twitter: @JoelakaMaG