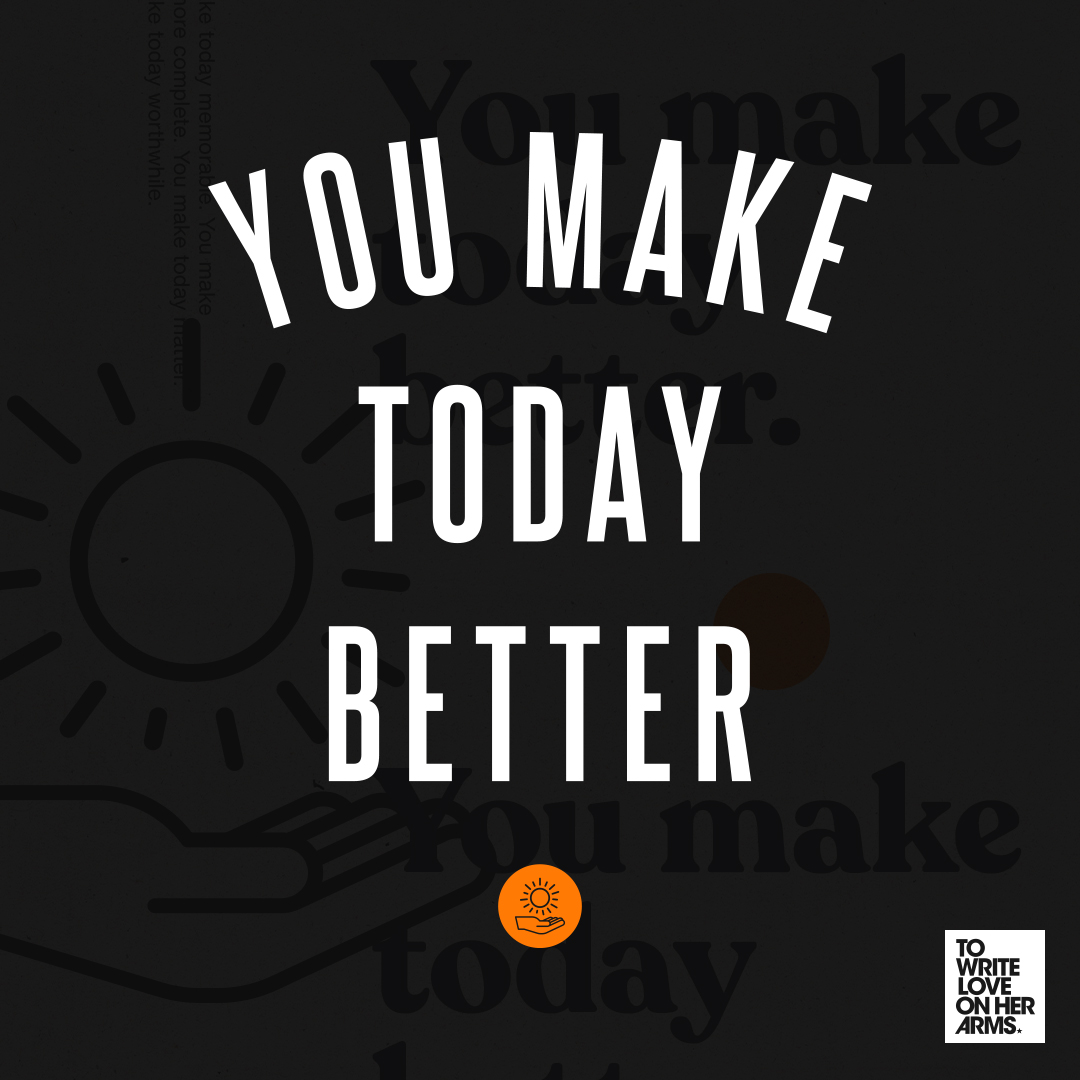 Hope involves the future and so we talk a lot about tomorrow.
We believe in a tomorrow that feels different from today. We believe in a tomorrow that involves love and wonder, healing and sobriety, and whatever else you need. We believe in a tomorrow where your dreams are within reach.
We hope beyond words that you will stay alive to see tomorrow. But we understand that you may need some answers now.
And so let's talk about today.
You make today better.
We believe that.
Our friend Sierra DeMulder says it this way: "You, whose voice is someone's favorite voice, someone's favorite face to wake up to. Nothing would be the same if you did not exist."
We believe that too.
Your friendship makes today better.
Your love makes today better.
You are loved, capable and deserving of love, even now.
Life is worth living even now.
You are already enough. Your story is already important. You are worth knowing in this moment, just as you are. You don't have to perform. You don't have to hustle or grind. You don't have to hide and you do not have to fake it. And you are invited to be honest. Your honest words give someone else permission to offer theirs.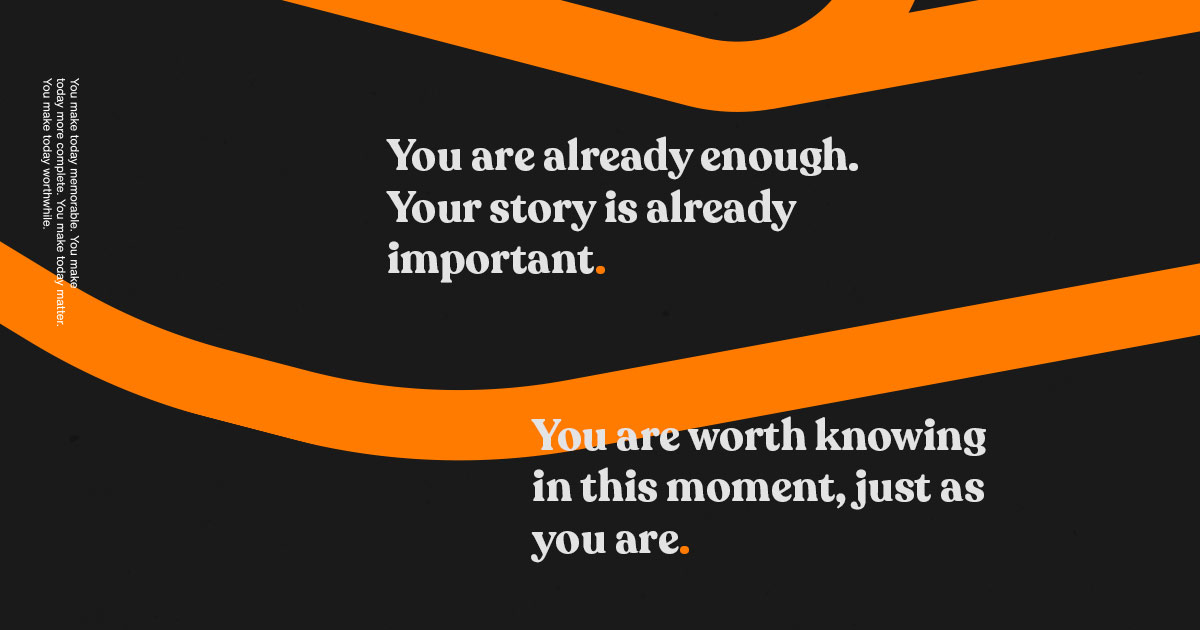 Your voice makes today better.
Your ideas make today better.
The way you love your favorite book and film and show and song, the way you love your favorite place, the way you share these things, it makes today better.
You the son or daughter, make today better.
You the mother or father, make today better.
You the sister or brother, make today better.
You the cousin. You the roommate. You the neighbor.
You are worth so much to so many. Your life adds so much to theirs.
You make today better.
__________
We can't do this without your help.
Here are a few ways you can get involved in the campaign.
Challenge stigma by talking about suicide prevention + mental health.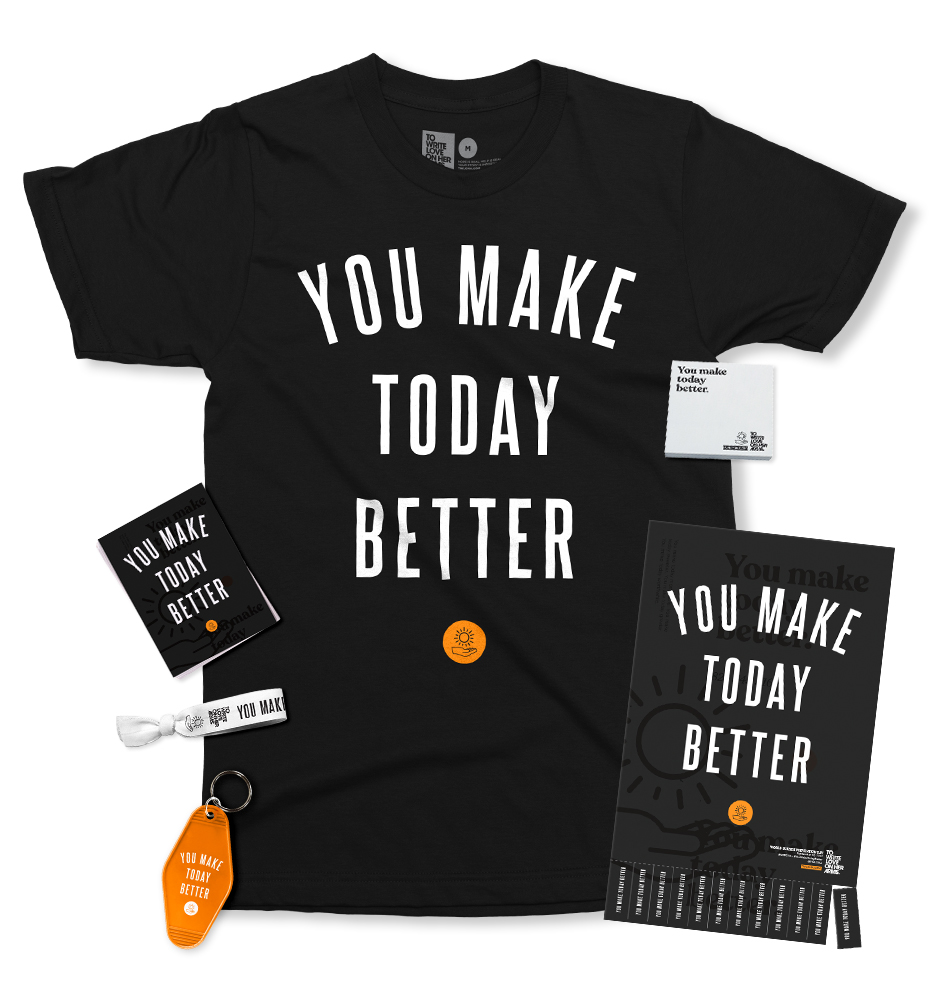 Our WSPD packs are designed to help you raise awareness and make an impact on the lives of those struggling. Every item features the message "You make today better" as a way of spreading hope to those who may need it. Our intention is to equip you with easy, accessible ways to start conversations about mental health and suicide prevention in your community.
Be a bridge to hope + help.
Each year we set a goal to raise money that will be invested directly into treatment and recovery for those facing mental illness and struggling to afford the necessary care. With the money raised during our 2018 campaign—thanks to fundraisers and donors alike—we were able to sponsor over 3,000 counseling sessions, provide scholarships for inpatient treatment, and connect thousands of people to local, affordable mental health resources using our FIND HELP Tool. This year, we're setting a goal to raise $150,000 to continue these efforts.
Refuse to be silent.
At TWLOHA, we believe in the power of face-to-face interactions, but we also value being able to use social media to reach millions of people with the message of hope. To help bring this year's campaign to every corner of the globe, we're asking you to join the conversation by making your voice heard online and in your very own community.
You can start doing this by downloading and completing the response card, using the #YouMakeTodayBetter hashtag when you post, updating your profile pictures in honor of the campaign, and more! When you do post, be sure to tag @TWLOHA on Twitter and Instagram so we can see, like, and repost!
Show the world why you make today better.
Use your phone to film a short video (10 seconds or less) of yourself saying "I make today better…" with your response to the prompt. We'd also love to see any footage that helps to capture the truth that you make today better. This could be of you doing something you love or of you simply spending time with those around you! And make sure the area is well lit and your phone is turned horizontal. You can email your video to us at [email protected].
Submissions must be received on or before September 1, 2019.