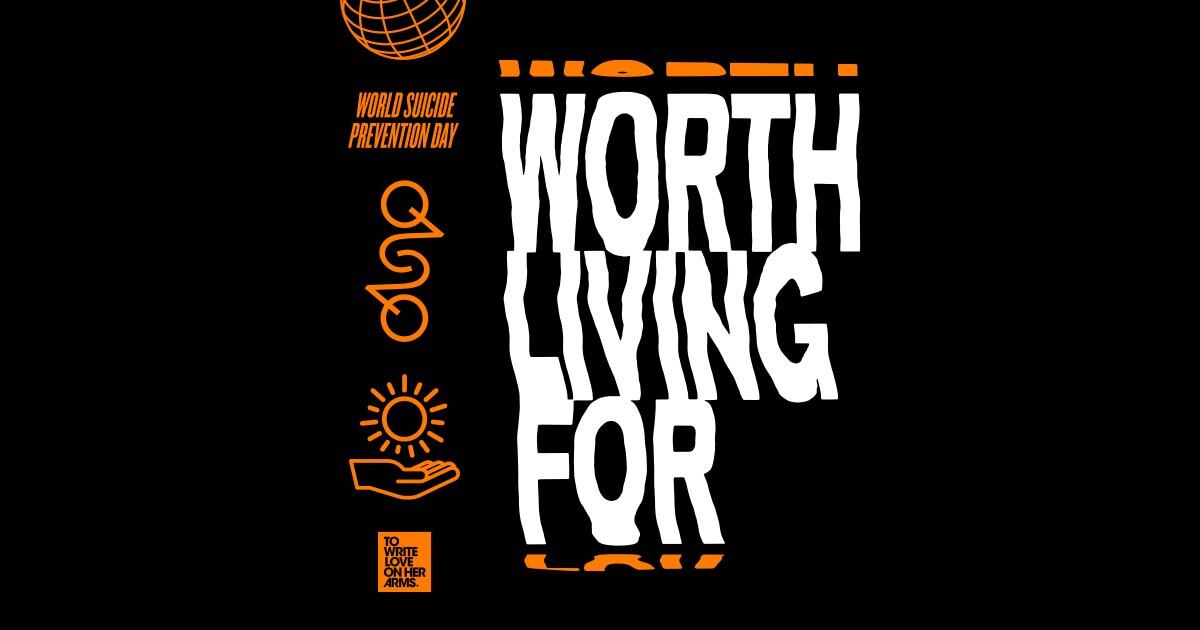 Every year, in the weeks leading up to World Suicide Prevention Day on September 10, we build a campaign around a statement or phrase that we believe in. The words we choose guide our hopes and dreams for a future where you and anyone struggling choose to stay alive. In 2017, Levi The Poet wrote a poem for TWLOHA. That poem provides the inspiration behind this year's campaign statement: WORTH LIVING FOR.
I write this having just revisited Levi's poem. He's a tough act to follow. By that I mean it's hard to read Levi's brilliant words and feel like I might have something to add. But of course, this isn't a contest—quite the opposite. Every year with this campaign our hope is to start a conversation. It's a conversation that is important not only to the TWLOHA team but to a community of compassionate people who live all over the world. It's a conversation that plays out over cups of coffee, over meals, in counseling sessions, in treatment centers. It's a conversation that leads to people getting help and people staying alive.
We know that conversations look different in 2020. They happen over FaceTime and Zoom. In person, they happen from a distance as we talk through masks that work to keep us safe. 2020 is a year of disconnect and isolation and yet in the midst of that, we know that connection is vital, especially when it comes to mental health and suicide prevention. Quite simply, we know that people need other people.
On the note of 2020, we want to recognize and participate in this moment of change. We want to acknowledge the fact that for generations because of systemic racism, Black, Indigenous, and People of Color (BIPOC) have faced unfair barriers and challenges related to mental health. In the weeks ahead, you will be hearing from a diverse group of voices. It's not enough to highlight "issues" and "facts." We want you to hear the stories of our friends, in their own words.
800,000 people die by suicide globally each year. That translates to one person every 40 seconds. With this new World Suicide Prevention Day campaign, we want to see those numbers change. We believe it's possible. We believe it starts with inviting you to consider the things worth living for. What's your list? What makes life good? What are your reasons to stay alive?
In Levi's poem, he keeps coming back to "the most godawful cup of coffee," but it's juxtaposed with "You've got to try it."
I believe what Levi is saying is that life doesn't have to be perfect to be good. And nearly everything is better when it's shared. Victory and defeat and coffee—good, bad, and in-between.
One of my favorite parts of the poem is this:
"you've got enough experience with people
trying to tame solar flares with band aids to know that
sprinkling
platitudes
onto the scars
on your arms
will not be enough to convince someone that life is beautiful,
but perhaps the wonder of another human being
actually subjecting himself to drink this
for the sake of being in your presence will."
I think he's talking about connection. It's hard to convince someone that life is beautiful. We can't control what someone else feels or believes. But we can show up. We can choose to care. We can keep showing up. We can keep remembering and reminding each other that friendship is a miracle.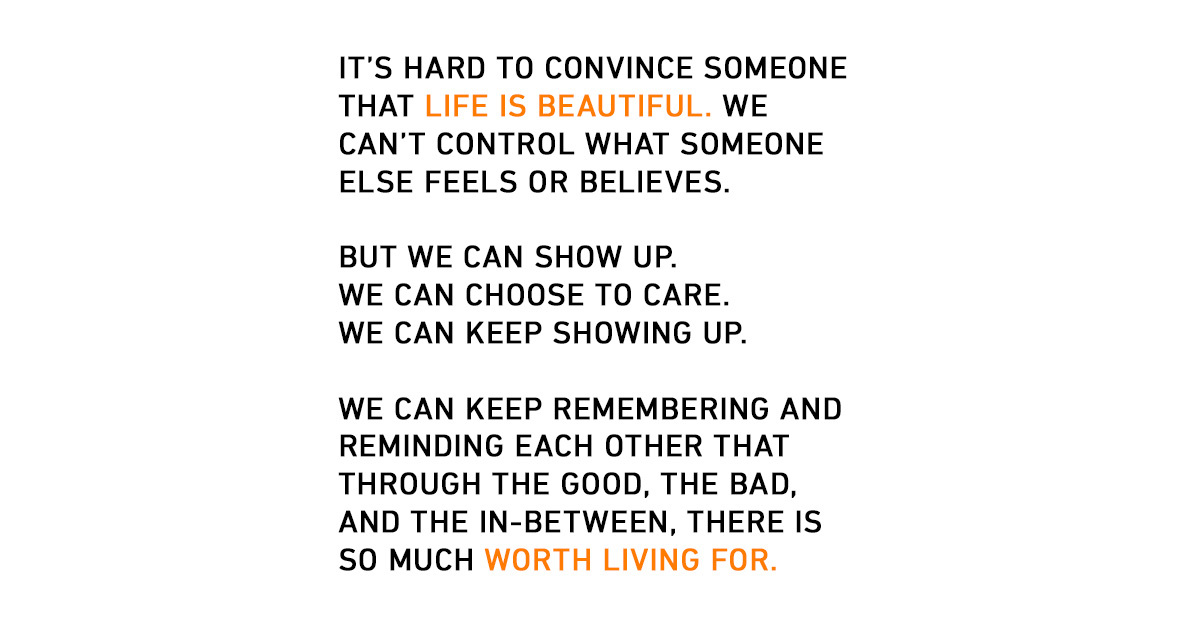 So maybe we need connection and we also need a list. And of course they overlap.
My parents are worth living for. My sisters are worth living for. My nephews! My nine-pound best friend Gracie. My human best friends are worth living for too. Mark and Ian and Karen. Surfing is worth living for. Being a basketball fan. Books and shows and films. Music is worth living for.
That's the top of my list but I need to tell you: Your list matters just as much as mine. And I wonder if you might feel some of what I felt as you make your list. I wonder if you'll find yourself smiling as you place your favorites side-by-side. I wonder if we could also call this hope.
I want to leave you with one final thought as you consider what's worth living for. Our lists will mostly be different. The names of people we love. The things we love to do. Our words won't be the same. But there is one word I want to remind you of as you consider reasons to stay alive:
Help.
Help is worth living for.
There are people who want to help.
There are people who know how to help.
There are people who will help you save your life.
There are people who will help you change your life.
Which is to say it's possible to change.
Which is to say you won't have to go alone.
Which brings us back to connection.
People needing people without shame.
In victory and defeat and coffee—good, bad, and in-between.
It's all worth living for.
You've got to try it.
We've got to keep trying.
Learn how you can be a part of the Worth Living For campaign here.
Watch Levi The Poet perform "It's All Worth Living For" here.